December 22, 2010
Program Contact: Barbara Cella, Director of Marketing, (925) 473-7322
PITTSBURG: The Community College Facilities Coalition (CCFC) a statewide organization recently presented Los Medanos College and TBP Architects with a Growth Award of Merit at their annual CCFC Professional Design Awards. The award, received for the college's Quadrangle Complex project, was presented at the 2010 CCFC conference held in Sacramento in November.
The CCFC is composed of community college districts and associated design professionals, construction managers and companies actively working to plan, develop and improve California's community colleges.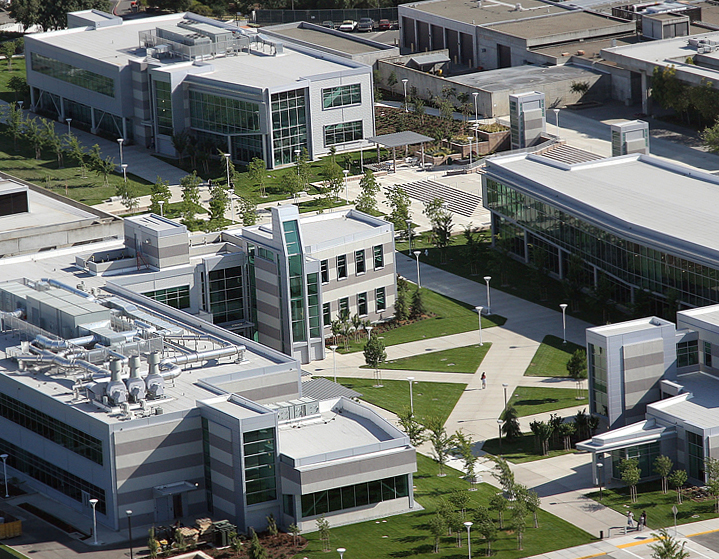 The Los Medanos College Quadrangle Complex includes three buildings that frame a large outdoor quad area. The new library, science and math buildings have increased the structural capacity of the campus by 50%.
The project embodies the master planning committee's vision to create a true college campus that reveals itself to the community. They provide a new entrance to the campus and central quadrangle that includes a large staircase, lawns, fountains and gardens. The steel and glass architecture provides great window expanses that maximize natural lighting and reveals the uses of the buildings to passersby.
The project was developed in an open, collaborative process with input from staff, faculty, students and administrators. The library houses not only the collections, but also a resource center and actively utilized community room. The science building provides two lecture halls, numerous classrooms, faculty offices, and eight science labs. The math building includes a large math lab, an entire floor of classrooms, and faculty offices. These new facilities have provided much needed and upgraded space for the college to grow. Enrollments have greatly improved since 2008 when the Science Building opened.
"The new quad is a true showcase which ties together our three new state-of-the-art buildings with the rest of the campus," according to Richard Livingston, interim president. "We are delighted that the college and our architectural firm have received this prestigious recognition."
The CCFC judges commented that the LMC Quadrangle Complex project "solidifies the center of campus, and makes maximum use of natural light, reducing the need for artificial lighting. The extensive glazing and new materials work in harmony with existing structures. It reinforces the administration, faculty, and staff commitment to the students and community."
© Copyright Los Medanos College
---