Media Contact: Barbara Cella, Director of Marketing (925) 473-7322, bcella@losmedanos.edu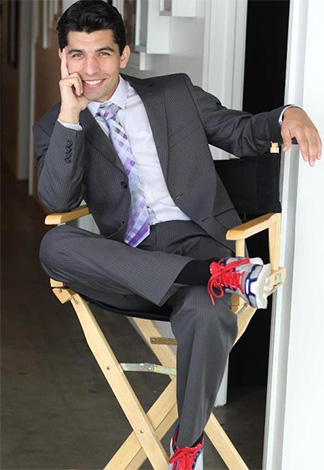 Chuck Ojeda is one funny guy. He also knows sports and has melded the two together for one great opportunity! The LMC alum just got his big break at ESPN Radio 1100 (Las Vegas) where he now is a producer and on air talent. How'd he do that, you ask? As a college student ultimately seeking a career in acting, he tried his luck as a contestant in a sports talk show competition for 710 ESPN Los Angeles and was one of four finalists, leading to his big break!
When Chuck began his college career and dreamed about his future, he was a realist. He chose LMC, "…to be honest, because my mom (Laurie Huffman) was a professor there." The Oakland native spent most of his time growing up in East County, and graduated from Freedom High School in 2002. He was fairly complacent about applying to 4-year universities. Sure about his career aspirations - to become an actor in Los Angeles - he wasn't so sure about how to get there.
In started at LMC, "the focus was on completing my GEs to transfer. That was what I was encouraged to do because UCs gave first priority to community college students so I knew I had as good of a chance (if not better) than any if I focused on my work. I didn't realize at the time how important it was to put everything else aside and focus on school."
When asked what helped Chuck most to succeed at LMC, he responded, "I have to make it personal - my mom, Laurie Huffman. I know everyone will not be so fortunate as I was to have a family member in the faculty helping you, but the lesson to everyone is to find a mentor - someone who you can dedicate your time to as much as they can you. Unless your business consists of being alone in a basement, there is going to be a time where you are going to need to rely on others and a mentor can show you the process. I don't know many in my life as important as my mother."
Chuck transferred to Cal State University of Los Angeles, chosen because, he explained, "Alright, confession time....I followed a girl. I knew I wanted to be in Los Angeles so when she decided to go there I followed. I wouldn't change it for the world, she left, I stayed and graduated because I found my place there and eventually knew it's what I wanted for myself. I'm grateful to her that she was the catalyst."
When asked if he was prepared to transfer to CSU Los Angeles, he responded, "Every level of education prepares you for the next step as long as you pay attention. I can't identify any specific thing at LMC, but I know there are lessons there. However, no one is totally prepared to transfer. You are going be in debt, you're going be scared, and you will always be filled with regret if you don't do it. JUST DO IT!"
"The biggest problem was not asking for help when I knew what I needed. I found the support I needed when I asked for it. There are a lot of people who need help, but their biggest mistake is that they ask for the help up front. Begin by developing the relationship and the support will come back ten fold."
Chuck's support system mainly focused on his family. "My parents are the two most important people in my world. If I grow to be the best version of myself I will only be a fraction of what they raised me to become. I owe everything I am to my family."
"My career aspirations were surprisingly to become an actor and I think initially it was because I sought recognition for my work. I find that most of my studies in acting guided me to my current job as well as my relationships. I understand the impulse to have a plan and stick to it, but sometimes the direction and the drive is enough to sustain you until you discover what it is you were really meant to do."
Chuck was very involved in drama at LMC. He explained, "The study of drama became a science of communication that focused on what people innately want out of life. Drama, as a performer, was broken down into a question that was very simple in the beginning: What do I want? Furthermore, how do I get it? My goal was to be paid to act and I just used every class that I had available in school to get there.
"The more I realized that everyone in LA had the same drive and resources to get there, I knew I would have to depend on my own individual talents so I turned to comedy. It began as an idea to get people to notice my acting, but it became the only time where I felt like I was telling the truth. As an artist, discovering our personal truth is all we can hope for and wish we can achieve it, so if you find a vehicle to get there, use that.
"Right now, I am a producer/on air talent for ESPN 1100 Radio in Las Vegas (Lotus Broadcasting). I began as a contestant in a sports talk show for 710 ESPN Los Angeles. Hoping to find my way to become an anchor on ESPN's SportsCenter."
"I like the job a lot, but I'm the new guy. No matter what you do, you are going to arrive in an environment with people who are more experienced, so my current goal is to become an asset rather than a burden. I run the 3-6 pm Cofield and Company drive time show every day and am proud to be a part of the team. Looking forward to knowing how all the buttons work so I can leave my own personal mark on the shows."
"Everyday I look forward to the challenge. Despite my accomplishments, I know that my goals are merely milestones in what I hope to achieve. I spend my life learning from my mistakes and feeling grateful for the hardships I never had to overcome. I was given every opportunity in the world to succeed, and although it may not be as fast as I wanted it to be, I will take advantage of all I've been given. I hope that others find inspiration in my words, but I want to be clear that I am not special. I am a product of many convenient circumstances and I have been conditioned to take advantage when opportunity arises.
Update: Chuck recently was in Los Angeles covering the X Games for his radio station. Go Chuck!
© Copyright Los Medanos College
---