MEDIA CONTACT: Tim Leong, Director of Communications & Community Relations, Contra Costa Community College District, 925-229-6823 and Katie Livingood, External Relations, Office of Education, NASA Johnson Space Center, 281-244-1908
PROGRAM CONTACT: Francesca Briggs, Engineering Professor/Faculty Advisor, 413-455-8650
One never knows where opportunities may strike. But a recent venture was just such an opportunity, opening even more doors for Engineering Tech. This Los Medanos College (LMC) student team (Haoran Sean Xu, Justin Bullock, Elizabeth Castro, Kyle Mc Eachern, Jeffrey Johnson, Marc A. Magarin, Guillermo Reyes, Claudio Roman, Victor Shaw, Jordan Stafford, Jackson Wise), along with two LMC faculty advisors, traveled to NASA's Johnson Space Center in Houston, Texas in early June. They had been invited as a NASA Micro-g Neutral Buoyancy Experiment Design Team (Micro-g NExT) to test their spacewalk tool in NASA's 6.2 million gallon Neutral Buoyancy Laboratory (NBL), a 40-foot deep pool where astronauts train for spacewalks.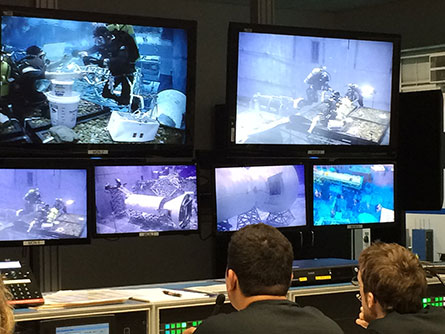 Micro-g NExT, a collaboration between NASA's Office of Education and Human Exploration and Operations Mission Directorate, challenges undergraduate students from community colleges and universities to propose, design, and build a spacewalk device that could be used by NASA astronauts in the future - addressing current challenges based on real world space exploration needs. Participating teams have the opportunity to experimentally test their tool in the simulated microgravity environment of the NBL. The design concepts and lessons learned from the NBL testing will support the development of space-ready geology tools on NASA's Journey to Mars.
LMC's Engineering Tech team is composed of 11 engineering and physics undergraduate students working on this research project under the guidance of their faculty advisors: new full-time Engineering Professor Francesca Briggs, and Physics Professor Jeanne Bonner. The team successfully proposed, designed, and manufactured a device - the Isolate Regolith Inspection Sampler (I.R.I.S.) - that enables an astronaut to obtain a core sample for loose, rocky material from an asteroid while maintaining the stratigraphy of the core. This is the second time LMC students were selected by NASA to conduct experimental research, with the first LMC student team selected in 2011 - guided by Professor Bonner, along with student advisor Jacqueline Gessner - to participate in NASA's Reduced Gravity Education Flight Program.
This more recent journey began in October 2015, when the team submitted their original technical design concept to NASA. On December 9, 2015, the team received notice that they would take part in this prestigious opportunity based on the technical merit, safety evaluation of tool usage, and community outreach plan. LMC team's concept progressed to the testing phase of Micro-g NExT along with 25 other teams from institutions across the country, including Virginia Tech, Purdue University, University of California San Diego, and Cornell University.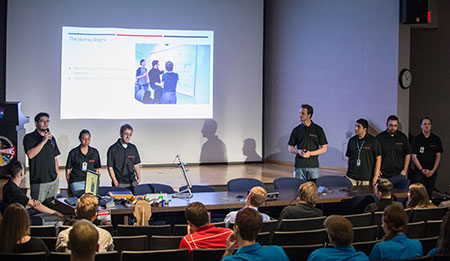 "Professor Bonner and I had all of these students in our engineering and physics classes last year. We gave them the information about this NASA project and from there they decided to form a NASA team, the Engineering Tech team, and participate in NASA Micro-g NExT 2016. This was a great learning and rewarding experience for all of us. As Micro-g NExT visiting researchers, we worked alongside NASA engineers, scientists and astronauts, taking what was learned in class and applying it to the real spacewalk tasks," explained Professor Briggs.
The overall experience included hands-on engineering design, experimental testing, and educational/public outreach. LMC's team spent countless hours writing technical reports, iterating the I.R.I.S. tool's concept and design, prototyping it, and testing it in and out of the water. A big part of this project was also community outreach. Students engaged with local high schools and social media throughout this project to share their story, and to spark others curiosity for science and its applications.
"I have seen our students bringing their ideas and engineering design to life. I have seen them manufacturing the prototype, working on numerous technical presentations, collaborating as a team and working hard to meet the numerous NASA deadlines. I have seen students meeting weekly and working around the clock on this project. I can tell you they are driven, capable and motivated to succeed. The team is diverse in terms of student roles and academic background, characterized by students proficient as CAD modelers, welders, machinists, materials scientists and physicists. This is what made the team really versatile and dynamic, and contributed to its success," said Professor Briggs.
"Overall, great design and I can't see anything I would change!"

"It was evident from our arrival at NASA's NBL that there was interest in the team's tool. To see their Micro-g NExT project go from conception, to design, and through testing has been a sight to behold. The diversity of this team - life experiences, perspectives, strengths - clearly served them well. We are proud of what they have accomplished," said Professor Bonner.
Students have been praised on multiple occasions for their innovative and effective engineering design, smooth tool operation and materials choice by NASA engineers and divers. The LMC students and faculty advisors have been encouraged by NASA to seek intellectual property rights for this device and protect it through patent attainment. This technical advancement and invention are being pursued through LMC senior leadership at this time, led by Professors Briggs and Bonner.
"LMC's campus community is tremendously proud of our students and faculty involved in this project, and we congratulate them on their ingenuity and hard work. They earned the respect and admiration of NASA engineers and staff, and the tool they developed will have a significant impact on the future of scientific exploration. The members of our Engineering Tech team are another example of the many opportunities available - and countless successes achieved - at Los Medanos College," said Dr. Bob Kratochvil, LMC President.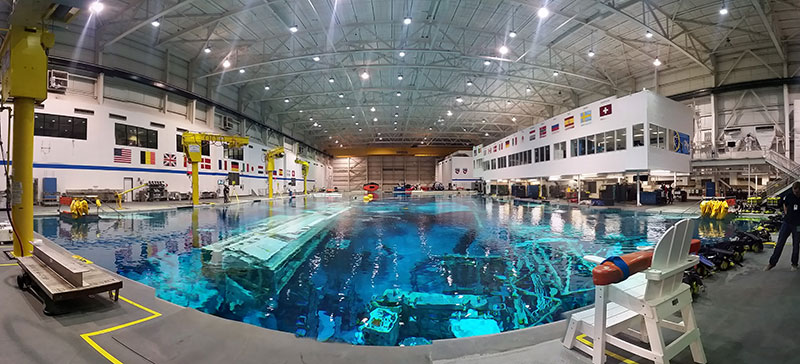 NASA's 6.2 million gallon Neutral Buoyancy Laboratory (NBL)
Overall, the journey to Houston has been such an inspiration for both the students and faculty advisors on LMC's Engineering Tech team: working with NASA's distinguished staff, state-of-the-art equipment and facilities, and astronauts training in the NBL pool; receiving constructive and positive feedback from NASA scientists and engineers; and interacting with engineers from all over the country - even meeting an Apollo astronaut!
"This has inspired each of our students deeply. It is motivating them to reach for the stars and I couldn't be more proud of them. Most of them will be applying for internships at NASA," explained Professor Briggs.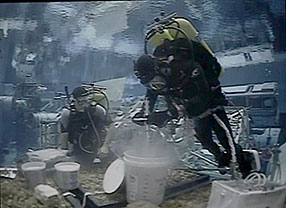 And that's not all!!! The Exploration EVA Tools Development Team (EETDT) at NASA's Johnson Space Center was also impressed by the tool design and will put the tool through additional testing during the 21st mission of the NASA Extreme Environment Mission Operations (NEEMO) to be conducted later this summer. NEEMO is a NASA project that sends groups of astronauts, engineers, and scientists to live in Aquarius - the world's only undersea research station- for up to three weeks at a time to test tools and techniques for future spacewalks among other objectives. The opportunity to be a part of NEEMO 21 is just another outstanding accomplishment for LMC in terms of academic excellence and student success. Professor Briggs and Professor Bonner are now negotiating with NASA engineering and management contacts to carry on and formalize this new research and development opportunity.
"Great work! Los Medanos College inspired us!"

"We are very thankful for the opportunity we had to go to Johnson Space Center, and to meet and work alongside NASA. It has been very impressive and extremely inspiring for us all to contribute to design challenges and solutions for exploratory-based research. I can't express how proud we are as faculty advisors, and how inspired both we and the students are of the overall mission and NASA's confidence in us to help them (and us!) achieve success. After seeing the investments NASA is making in outreach and the overall devotion to duty that all NASA scientists exhibit, we are extremely motivated and inspired to help shape our next generation of scientists and engineers to possibly join the NASA team," said Professor Briggs.
Professor Bonner has been touched, once again, by student creativity and passion. "It is deeply rewarding to see what students can achieve when presented with an opportunity and given the support to explore their interests. We are so proud of LMC's Engineering Tech team!"
Los Medanos College (LMC) is one of three colleges in the Contra Costa Community College District. LMC prepares students to excel and succeed economically, socially and intellectually in an innovative, engaging and supportive learning environment. It provides quality programs and state-of-the-art facilities to serve the needs of a rapidly growing and changing East County while enhancing the quality of life of the diverse communities it serves. LMC is located on 120 acres between Pittsburg and Antioch, with an additional education center in Brentwood.
More photos, videos and design specifications can be found:

Checking out the NBL tools being used with the Tool #MICROgNExT
---