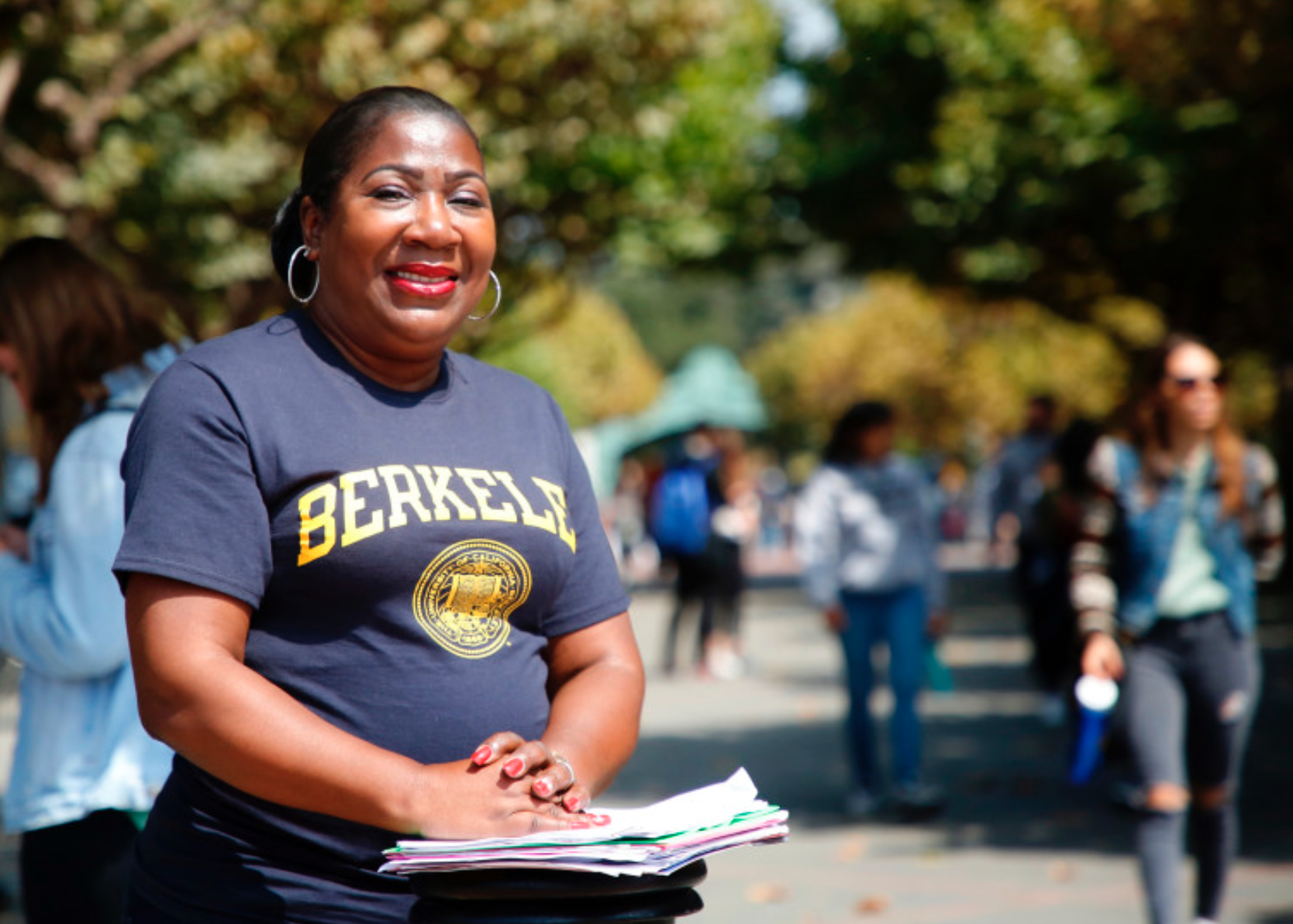 Jules Patrice Means, 64, poses for a portrait in Sproul Plaza on the UC Berkeley campus during orientation on Wednesday, Aug. 16, 2017 in Berkeley, Calif. Means, a mother of four, recently walked the stage in a cap and gown after earning five degrees from Los Medanos College and Diablo Valley College and then was accepted at UC Berkeley as a transfer student majoring in psychology. (Laura A. Oda/Bay Area News Group)
Her mother, Marion Silk, always told her to write her plans in pencil, but give God the eraser — and it's a good thing she did — because now Jules Patrice Means, age 64, is heading to UC Berkeley this fall.
Faced with challenges along the way, Means, a retired, single mom of four men ages 46, 41, 31 and 22, stepped foot on the Los Medanos College and Diablo Valley College campuses as a re-entry adult student. Three years later, she walked the stage in cap and gown — receiving not just one degree but five — this year.
Four of them with honors, her degrees are in administration of justice, psychology, arts and humanities, social science, behavioral science, social science, and intersegmental general education. With a high grade point average, Means feels anything is possible with determination.
"If at my age I can earn a GPA of 3.9 and be accepted into a prestigious university such as UC Berkeley, so can you!" said Means, of Brentwood, who is also a grandmother to nine kids and one great-granddaughter.
"Never give up on your dreams and aspirations," she added. "It is my firm belief that education is the key to unlocking those doors that are preventing you from reaching your goals. I encourage you to reach for the stars."
Means said her sister, Nyona Graves, helped her get A's.
"When I was about to take my final exams, she would pray for me," she said. "Her prayers were answered because I would receive an A grade each and every time."
Berkeley wasn't the only university with an acceptance letter for her.
"I received admission letters from UC Davis, San Francisco State University, Cal State East Bay (in Hayward), Stanislaus State University and Stockton State University, offering me full paid tuition," said Means. "I chose to attend University of Berkeley. GO BEARS!"
Retired from Ernst & Young, LLP, as an executive coordinator for the lead partner at the firm, Means suffered a stroke in 2010. Depression set in as she lost faith in herself and sense of direction.
"I was told by my doctor that I would not be able to walk without the use of a cane or walker," she said. "I felt my life was over and the world as I knew it ceased to be the welcoming and recognizable place it had been before."
Through prescribed medications, a therapy program and writing her plans in pencil, her life took on new meaning.
"I realized that my life was not over, merely that I was moving in a new direction. This revelation gave me strength and purpose to continue, and continue I did. I began to believe in my therapy regimen, and soon was able to regain mobility in my legs," she said.
Born in San Francisco, Means once had dreams of becoming the mayor of San Francisco and instead became mayor of her own life through education.
"I was terrified just thinking about going to college at my age," she said. "However now I believe you're never too old to fulfill your dreams and aspirations. I am excited about furthering my education, and I will not give up on my vision of earning my BA and master degrees."
She thanks LMC instructors Daniel Cabral, Michael Yeong, Marco Godinez, Nancy Petersen and DVC instructors Ray Faulkenberry, Jamie Nakama and Jayne Smithson.
"Their dynamic teaching style and warmth have inspired me to grow," Means said. "Most importantly, they had faith that I would accomplish my goals and objectives."
When she's not studying, Means enjoys traveling, spending quality time with her sons and grandchildren and reciting poetry — her favorite is "Sermons We See" by Edgar Guest. As a psychology major, she's found direction in giving God the eraser to her life plans.
"Even though I cannot control everything that happens, I can control my attitude toward what happens," said Means. "I live my life by mastering change rather than allowing it to master me."
---