April 2008
By Barbara Cella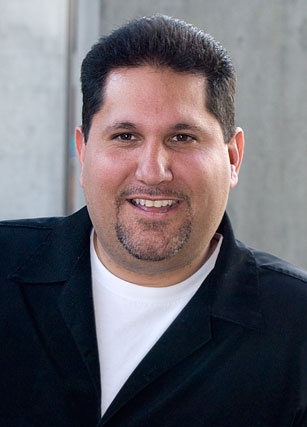 Marco Godinez was in fourth grade, a very impressionable time, when his sister began taking classes at Los Medanos College. She went on to earn her Associates Degree in Liberal Arts.
Originally thinking he would go into law enforcement, Marco's plans changed when he seriously injured his knee. But education was still of interest and he enrolled to take classes at LMC. He became involved with the campus student club, La Raza, which focuses on improving opportunities for Hispanic Americans. His efforts included working with middle school students at risk at Central Junior High in Antioch. It was here that he realized how much he enjoyed working with youth.
Marco had grown up in Antioch and loved attending LMC. He loved the East Contra Costa County community and found it all came together at the college. Eventually he earned his Associates Degree in Liberal Arts, still not clear what he was going to major in, but knowing that he had a connection with working with youth.
At Cal State East Bay, Marco blossomed more and earned his Bachelor's Degree in Sociology, then went on to John F. Kennedy University to get his Master's in Counseling and Psychology.
Marco was very interested in coming back to LMC to teach and be a counselor. However before that door opened, he worked for STAND for Domestic Violence, YMCA (Contra Costa), Lynn Center (working with children with special needs), and City College of San Francisco as a counselor.
Eventually the door did open for Marco at LMC and for the past seven years, he has cherished the experience.
"Los Medanos College was the epicenter of transformation for me, for me to begin to understand higher academics. People nurtured me and encouraged me to go on with my education and eventually to my Master's degree. "
In addition to his counseling responsibilities, he is also co-coordinator of Puente, a campus program which supports underrepresented youth in transferring to a 4-year university. He still is involved with La Raza, only now as an advisor; and he works with Pathways, a campus program supporting foster youth in their college experience. He's also the advisor for Brother-to-Brother, a student club where young men (formerly at-risk) work with at-risk youth to encourage them to pursue their education. And (as though he has ANY spare time) he's also the advisor to the Chicano Latino Engineering/Medical Association on campus.
When asked what he loves most about his job, Marco explains, "I enjoy cultivating tomorrow's leaders. And I love the LMC community. It is built on respect. It isn't just a job for me. I feel like I'm making a difference for my students. But I'm not the only one. The LMC campus really has a heart, and the faculty and staff have passion for what they're accomplishing."
© Copyright Los Medanos College
---