Guadalupe 'Lupe' Valencia
The statement "I can't do it!" isn't a part of Guadalupe 'Lupe' Valencia's reality. Now completing her first year at UC Berkeley, Lupe's story is a real-life success, right in our own backyard.
For many LMC students, faculty and staff, Lupe is a familiar face on campus. Maybe its because she was a student worker here in LMC's Transfer Programs & Services, assessment center, counseling department and information center (where she is employed as an hourly classified staff member today). Or maybe it's because she was involved with Puente, La Raza, Brother2Sister, and busy mentoring other Hispanic students on campus during her student time here. Or perhaps it was because last spring, she was an active mentor for UC Berkeley's Starting Point, a mentorship program supporting community college students considering enrolling at UC Berkeley.
At any rate, Lupe has made her mark at LMC. A first-generation college attendee and graduate, she stands out as an older student (now alumna) bent on succeeding with her education. Younger students have always migrated towards her for advice and support. Her daughter has joined her here for two summers while on break from a computer graphics bachelor's program at San Francisco State.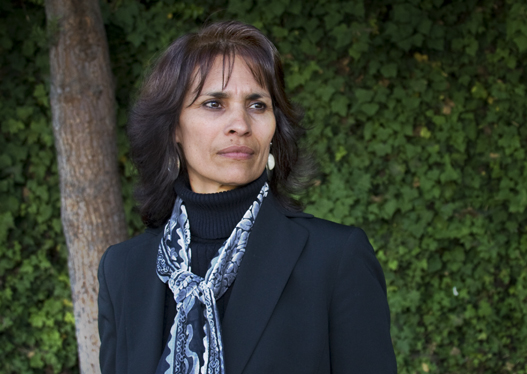 "It was the concurrent enrollment program that fueled my interest in trying Cal", explained Lupe. " I found out everything about it that I could. Another LMC classmate enrolled with me and we tested it out. The first class we tried to get into was full. The second, we just showed up and talked with the professor."
That professor, Alex Saragoza, teaches for the Chicano Studies department. He has had a connection with LMC's Puente program. When he heard that Lupe and her friend had taken BART from Pittsburg to Cal to take his class, he squeezed them in as concurrent students. They both loved the class and have continued on.
When Lupe expressed her own doubts about actually transferring to UC Berkeley, Professor Saragoza responded, "Lupe, you have what it takes to be here. I'll see you at Cal next year!"
Once Lupe successfully transferred, she was very interested in helping other would-be Cal transfer students at LMC. "Students are often in the dark about a lot of things. In talking to them about UC Berkeley, they often need help navigating the application process, and getting a grasp on prerequisites. As a mentor for Starting Point, I presented special seminars to prospective students, providing moral support and encouragement."
"Many times, students are under the assumption that UC Berkeley is looking for geniuses and perfect grades. They also question if they have what it takes to be there. Professor Saragoza reassured me that I could be a successful student at UC Berkeley. I see myself in each and every student who's scared, doubting and apprehensive. I like to open their eyes to this world. I consider myself so lucky and blessed that I was able to make my transition from college to university student. I want other LMC students to follow their dreams and I'm happy to answer their questions about transferring to UC Berkeley."
Students are referred to the Starting Point program by LMC counselors. If students are interested in learning more about the program or concurrent enrollment, visit the Transfer Programs & Services, ask a counselor, or contact Marcia Cantillana at marciacantillana@berkeley.edu.
Three of the students Lupe worked with last spring are now in their first quarter at Cal. Lupe continues with her studies; this past summer she even received an A in two of her courses. She's a double major in Chicano Studies and Spanish, and hopes to get her master's to become a counselor or possibly teach college-level Spanish. We're thinking she'll get there, and hope she comes back to teach at LMC.
© Copyright Los Medanos College
---