Group includes faculty in Counseling, Liberal Arts and STEM
Media Contact: Juliet V. Casey, Director of Marketing (925) 473-7322
Congratulations to Los Medanos College's newly tenured faculty. The Contra Costa Community College District Governing Board this week approved their tenure. Interim President Pamela Ralston lauded the group for their excellence and determination in achieving tenure despite the tumultuous changes of the past few years, including those necessitated by the COVID-19.
"It is a great honor to introduce our faulty who have spent the past four years working to earn tenure," she said. "These fabulous colleagues taught their second semesters in spring 2020, and helped our college and students manage the transition to online learning. Let's congratulate them as their final probationary year heralds our return to vibrancy in the post-pandemic era."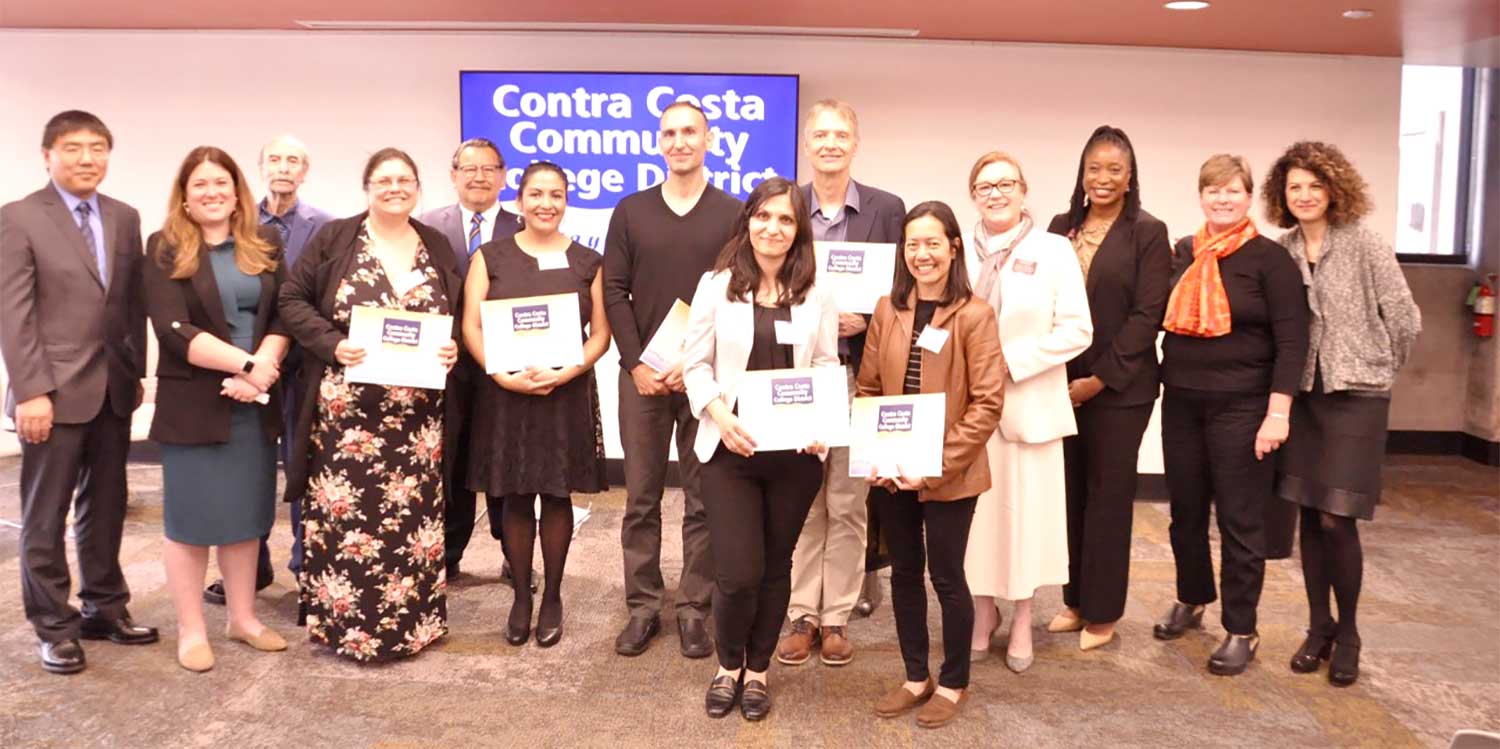 Newly tenured faculty celebrate achievement with Contra Costa County Community College District and Los Medanos College leadership
The new tenured faculty are:
Paul Cutino– Emergency Medical Services
Prior to becoming the full-time EMS instructor at LMC, Paul worked in the fire service and retired after 38 years in that field. He is currently working as a volunteer fire chief for the River Delta Fire District. Paul is devoted to his wife, four children, four grandchildren, and great-grandson. His commitment to education and service is clearly shared by his children: his daughter, Kristen, is a firefighter; his son, Joe, is a firefighter paramedic; Adrian received a degree in Psychology from LMC; and Kylie, the youngest, is a Counselor.
Sepideh Daroogheha – Mathematics
Sepideh is a dynamic and student-centered math instructor. She currently serves on the Curriculum Committee and has worked to develop co-requisite curriculum for transfer-level Applied Calculus and Statistics courses at LMC. Her high success rates in co-requisite Applied Calculus have been cited by statewide researchers, including The RP Group. Last month, Sepideh gave a presentation about her Applied Calculus curriculum and pedagogy in a statewide webinar sponsored by the State Chancellor's Office and the California Acceleration Project.
Nidia Gonzalinajec– Mathematics
Nidia's true gift is her support and compassion for her students. She is a caring instructor who works hard on developing thoughtful materials and presentations to use in the classroom. She is truly student-centered and is open to exploring innovative practices to support students and enhance the learning environment. Outside of the classroom, Nidia has been involved in and supportive of our MESA Program. She has also participated on many committees, including the EEO Committee and the Technology Advisory Group, and currently serves on the Teaching & Learning Committee as CSLO/PSLO Coordinator.
Julio Guerrero-Gonzalez – Mathematics
Julio is an engaging instructor, known for his one-on-one tutoring skills in math. He serves as a Co-Lead for the "Math Path to Transfer" Committee and has represented the department on the Academic Senate. In addition to expanding co-requisite curriculum for transfer-level Statistics courses, he has served as the co-advisor for the SACNAS Club and as the faculty advisor for the MESA Program. Julio is committed to providing support inside and outside of the classroom, and can often be found playing soccer with students, taking students on a hike, or solving calculus problems on the board.
James Madden – Biology
James is a dynamic and student-focused instructor. His excitement when teaching is infectious and clearly benefits students. James has innovative teaching techniques that extend beyond the classroom. As a colleague, he strives to be respectful, as well as open to and appreciative of feedback. James has a focus on providing students with practical preparation for their careers as whole professionals. That same commitment to is evident in James' role serving on LMC's Local Planning Group, which is responsible for coordinating our Focused Flex professional development workshops.
Robert Moore – Physics
Bob is known for being willing to put in the extra work to make something better than "good." He always does research to make an informed contribution to everything in his department. During the pandemic, Bob impressed his colleagues with his HyFlex courses before "HyFlex" was even a thing! He was key in designing the new and much-improved PSLOs for Physics and Chemistry and – when the GESLOs were reimagined – was instrumental in sharing a perspective that worked for all science disciplines. Bob also serves on the General Education Committee and is an alum of the Pedagogy Innovation Project.
George Olgin– English
George's commitment to student success and collaborative approach have been apparent since he joined the College. He has served on the Curriculum Committee and as the Academic Senate Financial Officer; he is currently a Co-Coordinator of the English Program. He also served as faculty support to academic departments and utilized a "backwards design" model to analyze opportunities for program development. George's focus on student success is evident through his professional development work, including involvement with the Distance Education team to create CVC-OEI-aligned courses that provide high-quality, accessible online education for all students.
Eva Padilla – ESL Counselor
As our full-time ESL counselor, Eva has made significant contributions to the LMC community by teaching ESL and Counseling courses, as well as coordinating the English Learner Advisory Committee (ELAC) and events for Day of the Dead and Multicultural Day. She has previously served on the LMC Foundation Scholarship Review Committee and continues to serve on both the AB705 Implementation Team and the Academic Senate. Eva's commitment to student success and equity has driven her collaboration with other Student Services departments to provide an efficient college experience for our ESL student population.
Eric Sanchez – Art
Eric is a dedicated member of the Art, Humanities, and Philosophy Department at LMC. Recently, Eric engaged in the Peer Online Mentoring Program and aligned his course to the CVC-OEI rubric to create a high-quality course to be badged on the CVC Exchange. In addition to his teaching role, Eric provides support to the department as the CTE Graphics lead and is innovative in his approach to curriculum design. He makes a point of providing students with opportunities to learn about and engage with tools and processes that they will encounter in the graphics industry.
Adrianna Simone – Social Justice Studies
Adrianna is the founding full-time member of our Ethnic Studies & Social Justice Department and her dedication to the discipline is evident across the College community. Adrianna currently serves as Chair of the General Education Committee, and has taken an active role in supporting student success with the integration of Area F requirements. She has been engaged in dialogue at LMC and across the district, as we work collectively to provide students with critical courses that will support their educational journey.
Girlie Sison– Chemistry
Girlie is a valuable addition to the LMC family. As the course lead for General Chemistry, she is making it her own. After taking on an "Intro to Chemistry" workshop, Girlie now leads it every semester to help students gain the skills and knowledge needed to hit the ground running in majors-level Chemistry. She also helped analyze data and present a Flex session on the success of the Chemistry workshop. Girlie currently serves on the Curriculum Committee, has supported the Women in STEM program, and is a great mentor for part-time faculty.
About Los Medanos College (LMC): LMC is one of three colleges in the Contra Costa Community College District, serving the East Contra Costa County community. Established in 1974, LMC has earned federal designations as a Minority-Serving and Hispanic-Serving institution. It offers award-winning transfer and career-technical programs support services, and diverse academic opportunities in an inclusive learning environment. With exceptional educators, innovative curriculum, growing degree and certificate offerings, and state-of-the-art facilities, the college prepares students to succeed in their educational pursuits, in the workforce, and beyond. LMC's Pittsburg Campus is located on 120 acres bordering Antioch, with an additional education center in Brentwood.