LMC STEM Research Symposium brings botanicals into focus
---
Media Contact: Juliet V. Casey, Director of Marketing (925) 473-7322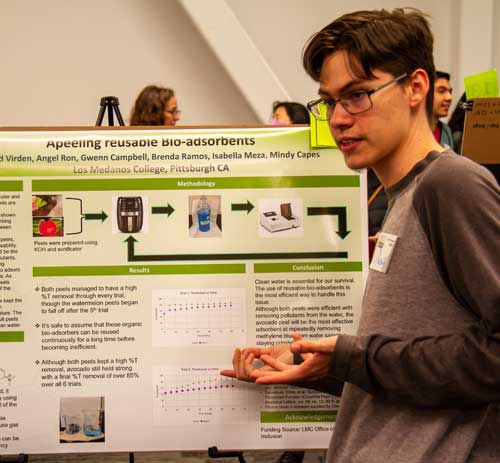 From how to help plants cope with heavy metals in the soil to removing pollutants from water, Los Medanos College students this semester tested some of nature's own cleaning products and presented their findings during the LMC STEM Research Symposium in May.
The experience inspired hope and enthusiasm for work the new generation of scientists could develop to address the adverse effects of pollution on the planet. The event showcased dozens of student projects.
David Virden, a chemistry major, presented a poster on research his team did using fruit peels from avocados and watermelons to absorb color dyes from water. The idea was to see if these materials would be effective in removing pollutants from water, and whether those materials could withstand repeated use.
The results proved hopeful, Virden said, noting that the avocado peels were effective in removing dye from the water, and became more effective even after repeated use. Watermelon peels also were effective, though not as efficient over time.
"Hope can come from the most strange places," he said. "Avocado peels – who knew? The same stuff used to make guacamole can be used to clean up polluted water. It may not be a universal solution. Maybe future research will show other peels from other fruits will work for different pollutants."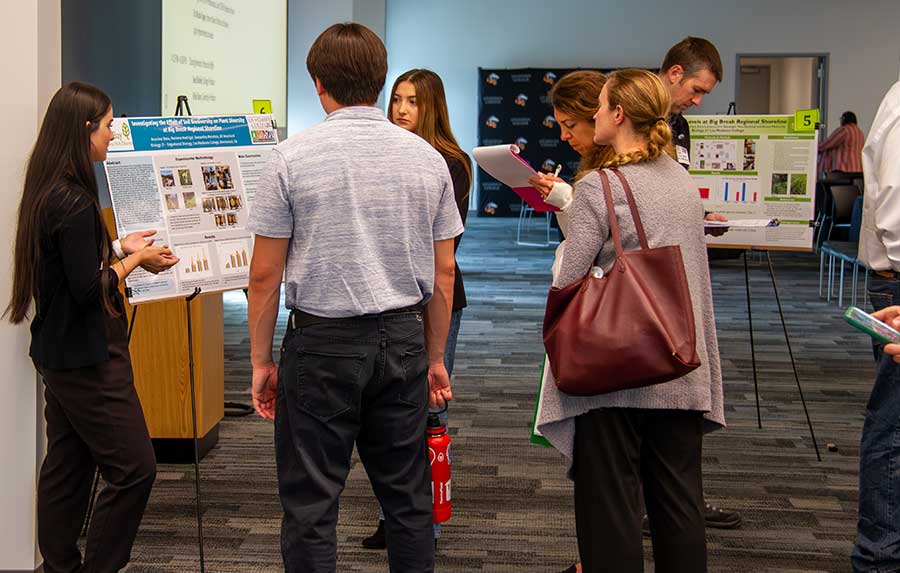 Interim Dean of Sciences Nicole Trager said LMC is committed to providing students with hands-on research experience, which has been shown to improve student outcomes. She said a large body of research suggests students who participate in hands-on research more quickly determine career paths in STEM fields and experience more success within their chosen fields.
Heath Galiwango, a biology major, and his team tested the effects of microbes on plants that had been in soil contaminated by heavy metals, such as lead nitrate. Microbes, he said, are known to remove contaminants and provide nutrients to plants. This research could inform industries that produce such metals on how to mitigate their effects on the land, he said.
"We didn't really get the results we hypothesized," Galiwango said. "Everything died. All our plants died."
Still, the experience helped him build confidence.
"This really helped me fight against discomfort of public speaking," Galiwango said.
Deer Valley High School students were invited to attend the poster session, which gave LMC students an opportunity to test their presentation skills and inspire future students.
For Rehanna Karimi, a first-year biology major, this was a highlight of the experience.
"Talking to the high school students was a lot of fun," she said. "I'd start by asking them what their favorite sea animal is and go into our project from there. It's amazing to see how much we've grown since our high school days."
Karimi's project focused on measuring the effects of salt water on plankton, and by extension its effects on food chain and ecosystem in Big Break Regional Shoreline in Oakey. The LMC study was the first of its kind for the area. Students had no prior data about Big Break salinity from which to build.
"The fact we're able to see and do this kind of research as an undergrad is really cool and a huge advantage," she said.
Graphic design specialist David Valencia contributed to this report.