Faculty bring experience and life lessons to lab to inspire students
Media Contact: Juliet V. Casey, Director of Marketing (925) 473-7322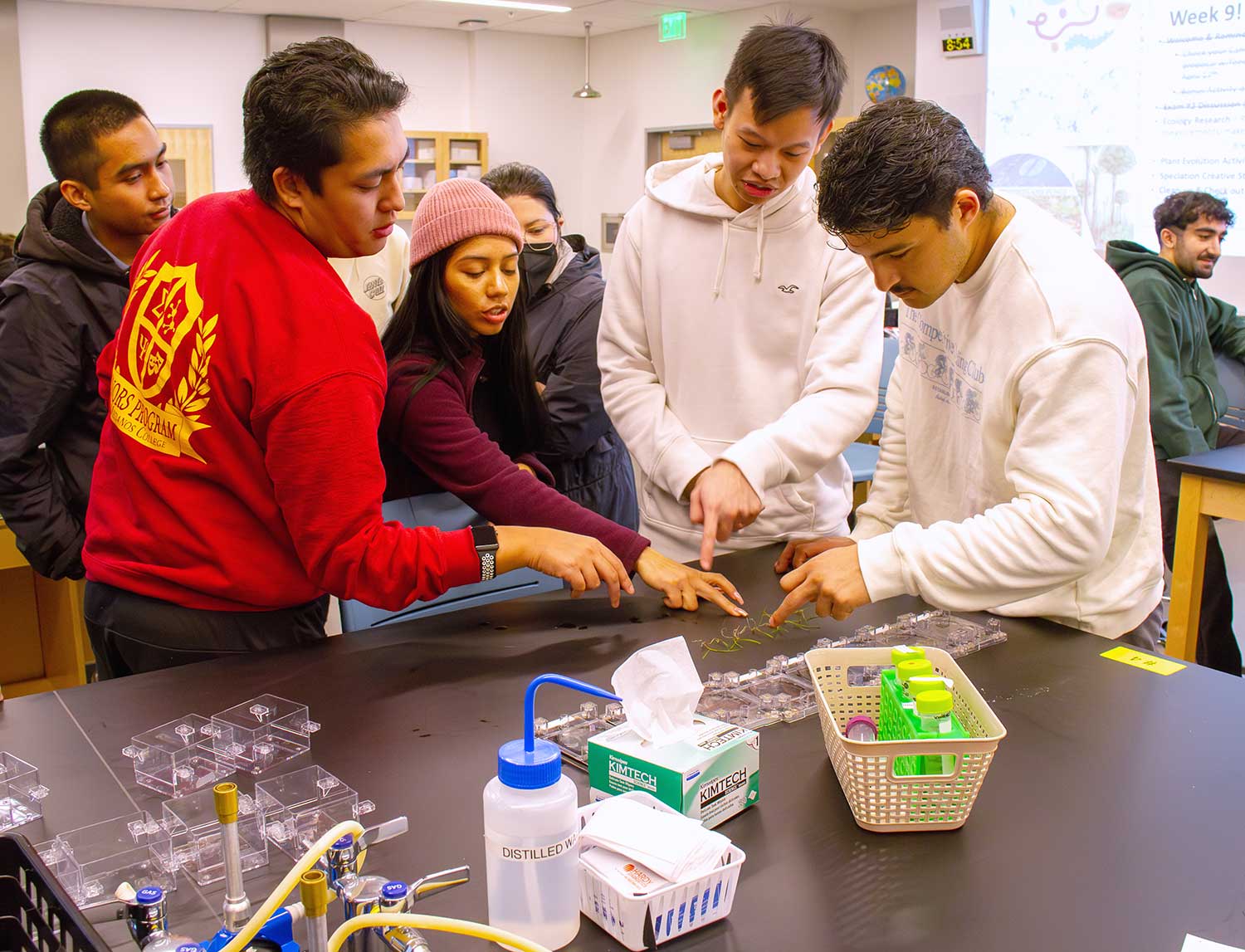 Students in Jill Bouchard's biology class huddle in teams around tables at the Brentwood Center lab. Each group peers into see-through boxes where seedlings are either sprouting roots and thriving or withered and struggling.
They take measurements. They take notes.
The groups have been testing variables to see how changing the environment might help or hinder their plants' growth.
Their work will be among the projects showcased at Los Medanos College STEM Research Symposium from 12:15 to 4:30 p.m. on Friday, May 5. The symposium, held in the Pittsburg Campus Student Union, highlights student-led research and the role of community colleges in advancing research across the region. It includes posters in science, math, chemistry and more.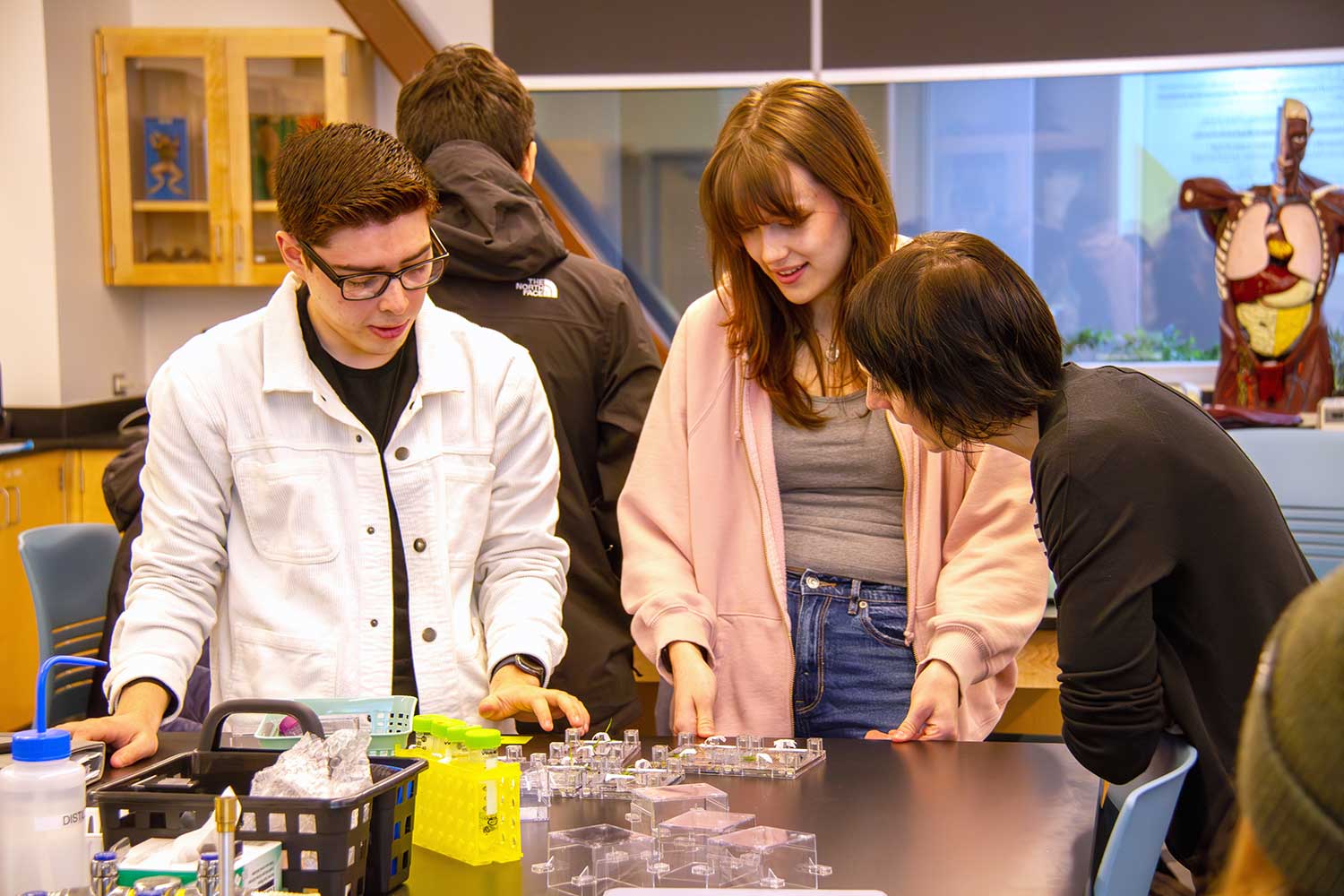 The experiments in Bouchard's class, for instance, are part of a partnership between Los Medanos College (LMC) and the Department of Energy Joint Genome Institute at Berkeley National Labs.
"Berkeley is providing us with 3D printed fabricated chambers called EcoFABs, as well as model organisms – grass plants called brachypodium distachyon – to d o research on. The grass plants often are used to study biofuels," said Bouchard, professor and Biology Department co-chair.
Bouchard said LMC piloted the EcoFAB projects in the fall. This spring, her class is working on EcoFAB pilot 2.0. Some students are investigating the role that microbes play on the grass plant when nutrients are scarce. Other students are collaborating with Big Break Regional Shoreline in Oakley to explore how different soils influence plant growth.
Benjamin Piamonte, a first-year student, said he is testing whether red light produces more growth than other colors.
"If our hypothesis is supported, there's a possibility we can use this on other crops to increase the amount of food we can grow," he said.
Bouchard said bringing the scientific method into practice in community college helps students acquire the skills and critical thinking abilities they will need to continue their educational or career path. She brings an interdisciplinary approach to the class.
"We often have a mix of students majoring in biology, engineering, and computer science," she said. "I like to think that the EcoFAB assembly and production may be appealing to engineering students, while computer science students may connect with the different types of data analysis associated with them. The research that we are doing is incredibly important for our students, especially since there are not traditionally research experiences available for STEM students at the community college level."
Interim Dean of Sciences Nicole Trager agrees. Having research experience using cutting-edge lab equipment that is in use in other major lab settings gives LMC students an advantage going into four-year universities.
"The research we do currently comes from collaborations or is informed by larger scale research occurring elsewhere," Trager said. "What our students are working on will be impactful for further research especially locally, like the work at Big Break. It's impactful for gaining scientific knowledge and as a way for our students to gain confidence in themselves as scientists."
Trager noted a large body of research that suggests students who participate in hands-on research more quickly determine career paths in STEM fields and experience more success within their chosen fields. Such research also prompted LMC to invite students from Deer Valley High School to the symposium.
The research is evident in Bouchard's own career path. Bouchard earned a biotechnology certificate from Foothill Community College, an associate degree in science from MESA Community College, a bachelor of science degree in biochemistry and cell biology from UC San Diego, and a Ph.D. in neuroscience from UC San Francisco. Although she did not have a straight trajectory into science from high school, her early experiences in science labs ignited her passion to pursue a career in biology and to persevere through challenges to succeed.
"I graduated from a continuation high school in Manteca, California, and moved out on my own in high school, at times living in my car and staying on friends' couches," Bouchard said. "I worked in restaurants as a waitress until I was about 21 when I received a flier in the mail that said, 'biotechnology program certificate at Foothill College in Los Altos.' I had no idea what biotechnology was, but it sounded exciting and I thought it would help me get out of the restaurant business."
Bouchard enrolled and struggled, taking 25 units a quarter for three quarters.
"I was in way over my head," she said. "But I was hooked on biology. I wanted at first to become a virologists and work on HIV or EBOLA. I soon realized I was way too clumsy and wanted to stay alive, so I scratched that path. I continued, spending another five years in community colleges but eventually earned my bachelor's degree in biochemistry and cell biology from UC San Diego."
She took a position in a neuroscience lab at the SALK Institute in La Jolla and then earned her Ph.D. in neuroscience. She also worked as a scientist at UC San Francisco on aging of the nervous system. She decided to go into teaching after having her son.
Bouchard is open with her students about her college journey and life lessons, an approach that seems to have endeared them to her and to biology.
"This class is awesome," said Tina Basu, a student interested in bio-engineering and psychology. "(Bouchard) is very interactive. Every day it's something new we learn in detail. She makes sure we understand with something hands-on, something visual, something for us to learn better."