Singer's visit honors the contributions of women of color for Women's History Month
Media Contact: Juliet V. Casey, Director of Marketing (925) 473-7322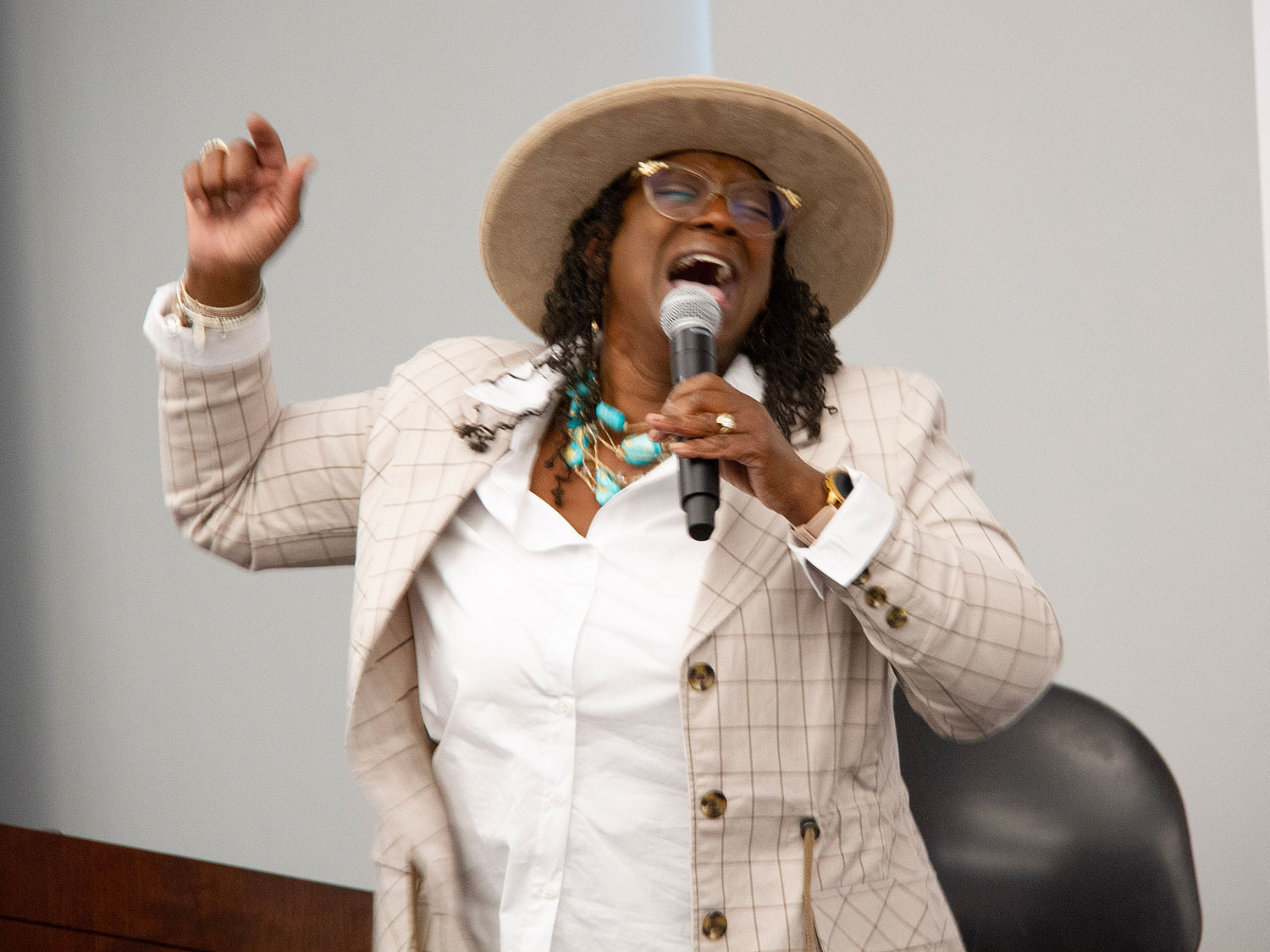 Shirley Davis on Thursday enthralled a room full of college students with a narrative of triumph and challenge. She punctuated the story with Gospel hymns and rock songs accompanied by pianist Janice Maxie Reid. Davis shook the room with an acapella rendition of "Hold On Just a Little While Longer."
The vocalist was invited to present and perform at Los Medanos College in Pittsburg by the office of Student Life and the Black History Month 365 Committee in honor of the contributions of women of color for Women's History Month.
Teresea Archaga, director of Student Life, said she met Davis during a long layover at an airport in January. The two struck an instant friendship, discovering a shared interest in helping others.
"She has this incredible way about her," Archaga said. "Her energy welcomes you. She has so much to offer our students. What that is and what that means for any given student, we'll see."
Davis – whose career spans over 40 years traveling nationally and internationally as a performer with the George Coates Touring Company and with the iconic Jerry Garcia and Jerry Garcia Band (Run for Roses Tour 1982) – spent little time discussing her musical bona fides. Rather, she shared the backstory of a girl born in Mississippi and raised in Oakland, California by a protective mother and generous church community.
In framing her story, Davis dropped a few nuggets of advice for students to consider as they discover their talents and search for their calling.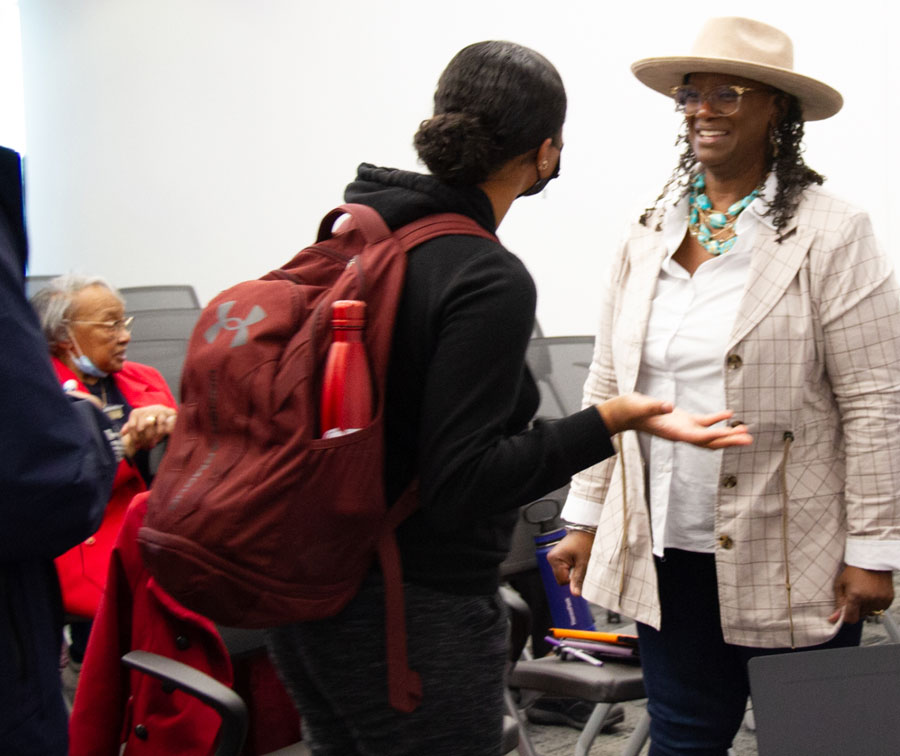 "If you stay ready, then you never have to get ready," she said. "Whatever you desire, your talent, your passion, learn it. Learn it well and become really good at it – so much so, that when the opportunity presents itself, you can fly. You can soar."
Davis took students through her experiences overcoming a paralyzing shyness with the help of her mentor Jessie Giles from the church she grew up in.
"Back in the day, people would pour into the children… They would just take you and pour into you, teach you," Davis said, adding that Giles taught her songs on Saturday to sing on Sunday until she was good enough to direct the congregation.
Sophia Yusuf, a second-year student double-majoring in American Sign Language and administrative justice, said she was captivated by Davis' story about her mentor "pouring into the children" and culture in the Black church.
"It seems like an ongoing theme we hear about everywhere, that a little kindness, one small action can directly affect others, can make a big difference in someone's life," Yusuf said. "I think that was a huge part of Shirley Davis' message to us."
Davis told of how she developed her voice and was encouraged by teachers at her high school to pursue her talent. She told of her dreams of attending The Juilliard School.
But when the time came to apply for colleges, she was dismayed by a sudden change in tone from her counselors and mentors. They discouraged her from reaching for her dream school, and instead steered her toward the music program at San Francisco State University.
"When I got there, I had a culture shock," she recalled. "I had never been in such a homogenous place. Everyone was white. The students were white, the teachers were white. I rode the bus and everyone on the bus was white. I was always by myself, except for dance class. That's where the Black students were, and the teacher was Black."
Still, Davis excelled in theater, dance, and music. She also explored studio recording, which was where she made the connection that would lead her to a "gig" with a man named Jerry Garcia.
At the time she did not know the extent of Jerry Garcia's popularity as the leader of the Grateful Dead or his touring band. She did not know any of his songs.
"I had to learn all the songs, and it wasn't anything I was at all familiar with," she said. "There was a moment early on the tour - I don't know what happened - I felt God speak to me, 'Music is like a smile. It's universal. Even if this type of music doesn't meet you, it meets other people. Just the way Gospel music opens your heart, that's what this music does for other people.'"
The experience, she said, became the highlight of her career.
This led to another bit of advice.
"Let your faith be greater than your fear," Davis said. "If you have an urge, a feeling in your heart to go a certain way, go in that direction. It may not look like what everyone else thinks… but don't miss out on the opportunity because it may not come again."
Her visit ended on a note of gratitude, even for the little things. She provided thank you cards for students to take and send to anyone who had done them a kindness, adding, "You will always be amazed what a lasting impression that leaves on people. This method of showing gratitude is a dying practice, but it will take you a long way in your life."
---