Steeltown Invitational Success
On March 2nd & 3rd, 2019 the LMC Debate Team hosted our 5th Annual Steeltown Invitational Debate Tournament on-campus. It was two days of debating and the were LMC Mustang Debaters were shining.
LMC hosted teams from Humboldt State, University of Nevada at Reno, Dominican University and the University of La Verne.
Felero Smith earned the 4th Speaker Award for the entire tournament.
Felero Smith and partner Kelly Williams took home the Top Community College Team award.
Felero Smith and Kelly Williams advanced to the FINAL ROUND of the tournament.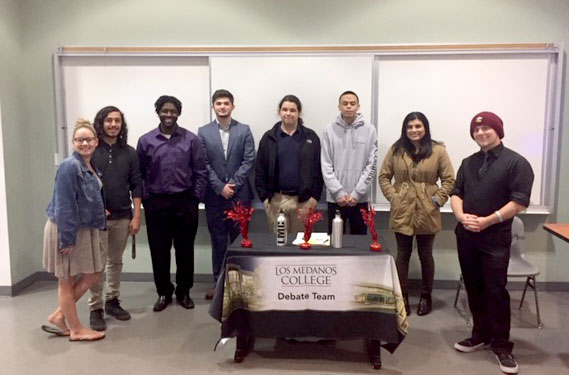 The Championship Title went to a partnership from Humboldt State but we feel good about that because we currently have three former LMC debaters who now compete for Humboldt State.
LMC was well represented in the Novice FINAL ROUND. The partnerships of Jensen Ready and Julian Samano as well as the partnership of Luis Martinez and Melissa Torres all advanced.
The Novice Championship title went to a team from the University of Nevada at Reno. The best part about that? One of those debaters, Cate, started to learn debate here at LMC before transferring!
We had 4 teams in the tournament and it was 4 students very first debate tournament!
If you see any of the following students please congratulate them on a job well done:
Gadai Bulgac Dominic Cambra* Luis Martinez Jensen Ready* Julian Samano* Felero Smith
Melissa Torres* Kelly Williams * = very FIRST tournament
We had many SPCH 160 students come and assist in various capacities this weekend: Emily Cabral, Allen Hagerbaumer, Aria Mallocra & Jasmine Rieger.
THANK YOU TO:
Professors Thalia Bobadilla (Speech), Zachary Feere (Speech) and Scott Hubbard (Math) for giving so generously of this time this weekend to Judge at the tournament.
Former LMC Debaters Grace Babayan (U.C.B. Graduate), Genaro Mauricio (currently at S.F.S.U.) and Richard Stanfield (currently at S.F.S.U.) for coming back to Judge and support LMC.
Professor Edward Haven for doing a guest lecture for the Debate Team leading up to the tournament that helped tremendously in rounds.
Dean Nancy Ybarra for coming out on Saturday to show her endless support for the LMC Debate Team.
Police Services, specifically Michael Hotton for making sure things were open and locked and safe all weekend.
All of the Classified Professionals who help us in so many ways when it comes to scheduling rooms, paying tournament costs, etc. What would we do without all of you?
Article in the LMC student newspaper The Experience
To learn more about the debate team please visit their web page