Pittsburg City Council presents college the César Chávez Celebration Day proclamation
Media Contact: Juliet V. Casey, Director of Marketing (925) 473-7322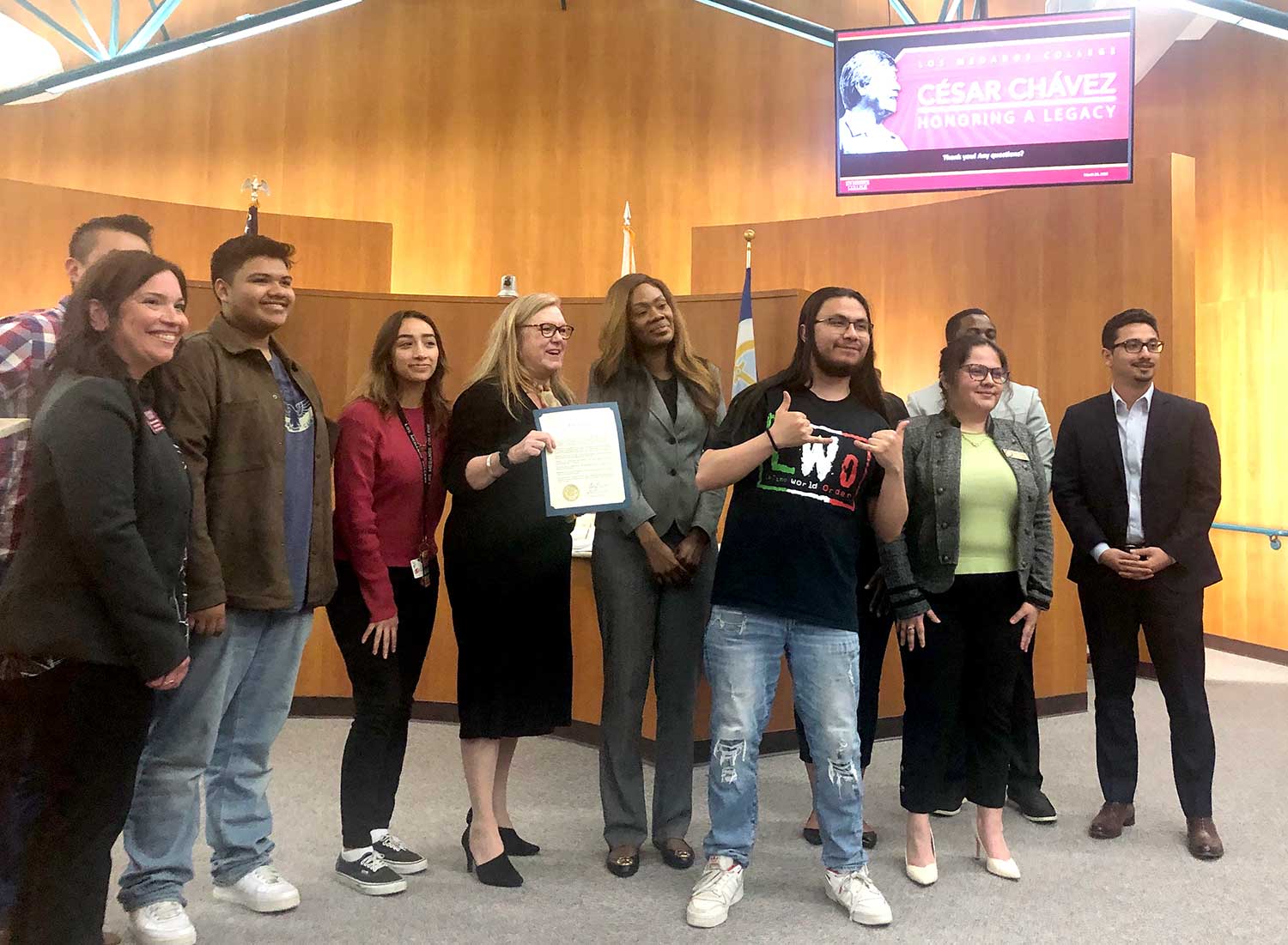 From left: Interim Dean Rosa Armendariz, student Joel Estrada, student Eliette Bustos, LMC President Pamela Ralston, Pittsburg Mayor Shanelle Scales-Preston, student Gabriel Perez, Councilmember Angelica Lopez, (rear) Councilmember Jelani Killings, Vice Mayor Juan Antonio Banales
---
Pittsburg City Council on Wednesday presented Los Medanos College a proclamation in honor of César Chávez, recognizing his legacy as a labor rights activist and champion of human rights and social justice, and declaring March 31 César Chávez Celebration Day.
During the presentation, LMC announced it will hold the Civic Leaders Luncheon with the Puente Program on April 4, and the César Chávez Awards Celebration on April 21. Both events will be at the Pittsburg Campus, 2700 E. Leland Road.
LMC has seen a steady increase in its enrollment of Hispanic students. The college in 2005 earned the Hispanic Serving Institution (HSI) federal designation when Hispanics enrollment surpassed 25 percent. Hispanic students at LMC now represent about 47% of the student body, and of those students at least 50% are low-income individuals.
"At LMC, we are focused and committed to the serving aspect of the HSI designation," Interim President Pamela Ralston said. "To us, this means ensuring a learning environment that is equitable and accessible for all our students. It means lowering barriers and elevating the strengths that come from the diverse perspectives and experiences our students bring."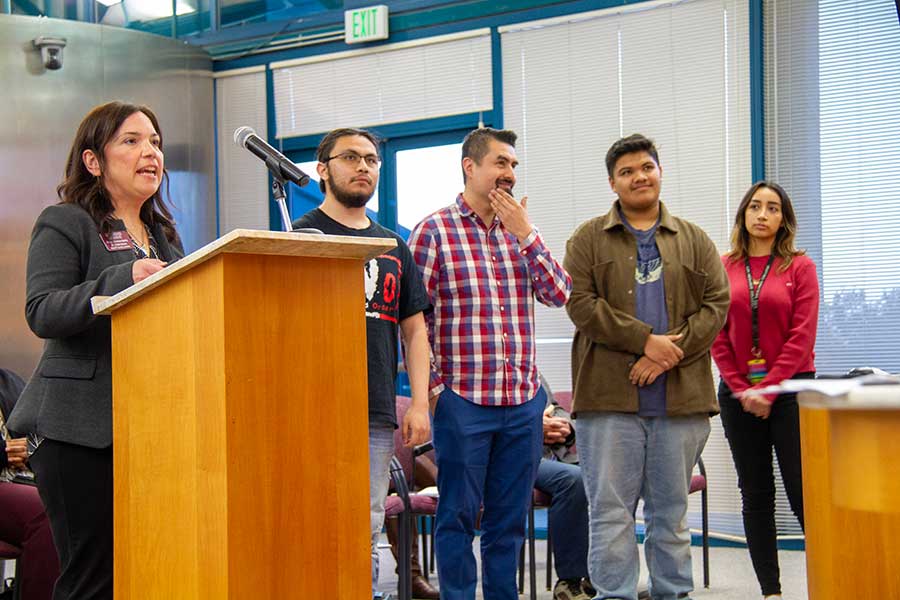 The council also heard from Rosa Armendáriz, interim dean of equity and inclusion at LMC. She explained the college's initiatives to support student success by providing stop-gap resources, such as free groceries and other necessities through The Marketplace at the Pittsburg Campus.
"We are committed to engage, inspire and empower our students," Armendáriz said, adding that the college has a student equity plan that also focuses on African American and Black students, particularly males. Part of the equity plan, she said, puts an emphasis on professional development for faculty to bring best practices into the classroom and to improve hiring to better reflect the diversity of the college community.
LMC students attended with Ralston and Armendáriz to share how they are working within the college to carry on the legacy of César Chávez. Eliette Bustos is co-president of the LatinX Club. Joel Estrada is a member of Puente, a program that aims to increase the number of students from traditionally underrepresented groups who transfer to four-year colleges. Gabriel Pérez works in the division of Student Life, is co-president of the LatinX Leadership Club and is a member of Puente.