Los Medanos librarian links his passion to helping patrons

Media Contact: Juliet V. Casey, Director of Marketing (925) 473-7322
Editor's Note: Los Medanos College kicks off the "College Your Way" series of features and profiles of faculty, student and staff success stories. Whether students seek academic achievement, career advancement or job training, they prevail with support from experts and professionals who can guide them to the right path for their college journey and beyond.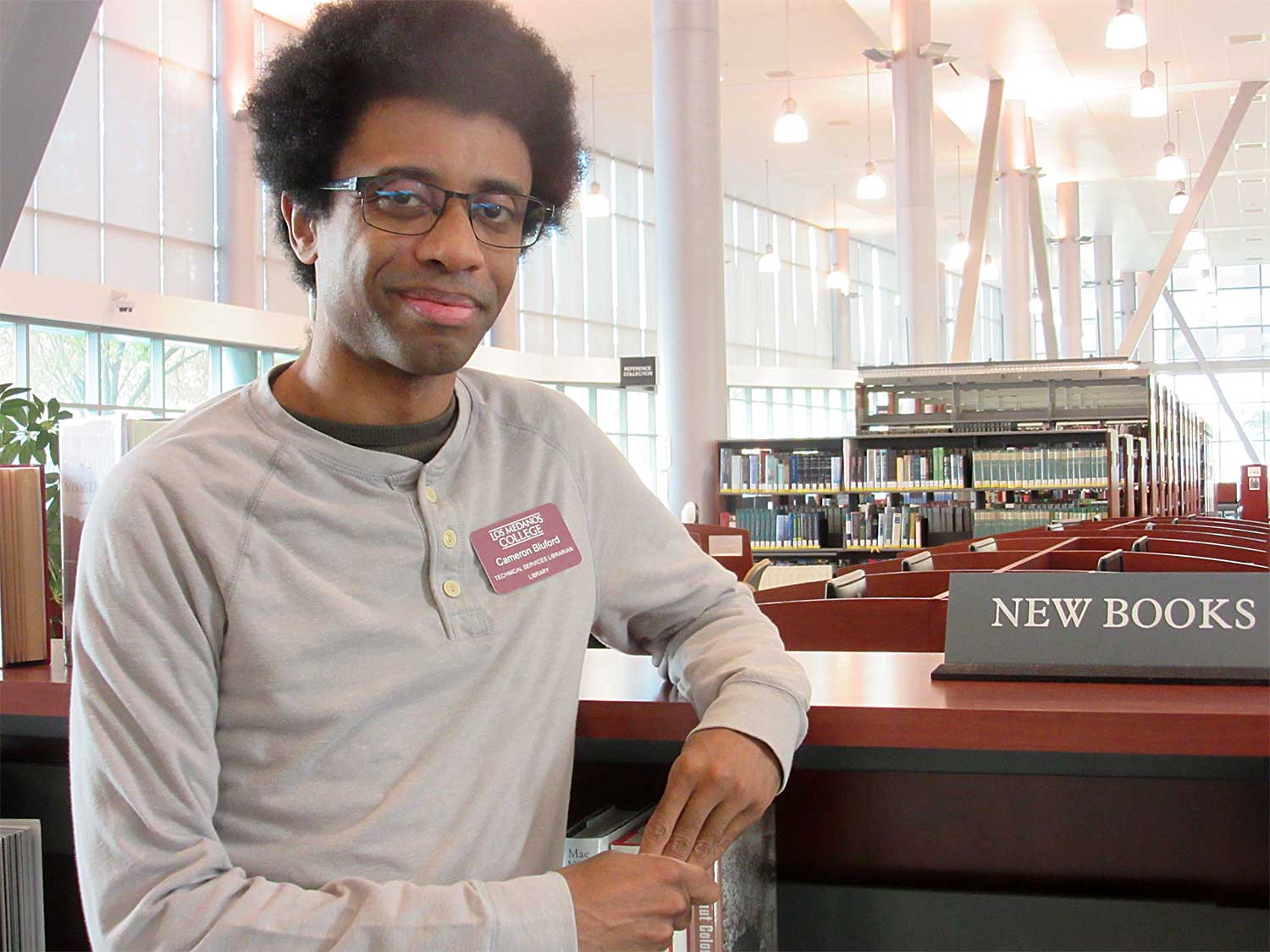 Anyone entering Los Medanos College Library is first struck by cathedral-like blue glass that filters soft daylight onto book stacks, study areas and displays of materials on popular themes. Just before Veterans Day, the entryway shelves offered book titles, such as, "When the Warrior Returns," and "Good Stress, Bad Stress," as well as biographies that reflect a culturally rich campus community, such as one about Frida Kahlo next to one about Aaliyah.
This careful curation is just one of the ways library staff works to ensure students, faculty and public patrons find information that matches their interests, either for academic or pleasurable pursuits.
For Cameron Bluford, the work is more rewarding than any job he could get chasing profits or making sales. Bluford, a librarian who joined Los Medanos College in 2018, said he grew up watching his mother hustle to succeed in high-stress, profit-driven retail jobs. He knew early on that path was not for him.
Following his gut and a revelation by a co-worker he met as a library assistant, he found his dream profession and has been succeeding at it ever since. He can be found at the reference desk at the Pittsburg campus, guiding students and other patrons through online searches or weaving between rows of hard-cover books. He also manages the online repository of e-resources and periodical databases. Mostly, though, he enjoys watching students learn to go beyond Google and generate research that could one day change daily life for the better.
What is your official title?
Technical Services & Systems Librarian
What is your job?
I oversee the library systems (including the LMC Library Discovery catalog), I manage the print book budget for the library, and I provide research help for LMC students.
What degrees have you earned and from where?
I have both a bachelor's degree and a master's degree in English from Sacramento State University. I also have a Masters of Library & Information Science (MLIS) from San Jose State.
Why LMC?
I wanted to be part of a college known for its multiculturalism.
What inspired you to become a librarian?
My mother worked in retail most of her life and told me the horror stories of retail when I was little. I knew then I wanted to be in a career that was less profit driven and more about giving back to the community. Libraries, which are repositories of knowledge, was the best way I could see to give back to my community.
Throughout your career, you have worked in different library environments, can you tell us about your experiences and how they inform your work in the community college setting?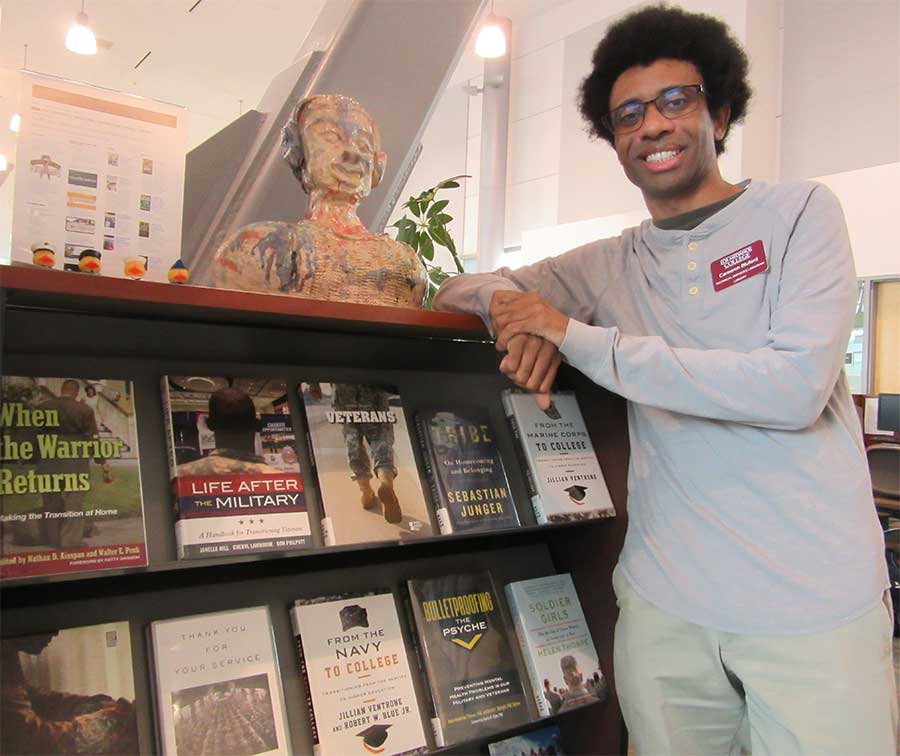 I worked for a public library system as a part time library assistant. This was where my love for libraries was first born as I loved encouraging reading and providing free access to information. I later worked at a California State University library for a little over four years as a full-time library assistant. This is where I learned more about academic libraries and how they have reserve textbooks that students can check out and access to study rooms. Once I arrived at LMC, I knew how meaningful and rewarding it is to provide high quality content and informational services to patrons, and in particular, to students. Both students and non-students use our facilities and resources, so it's good that I have the background to address both types of patrons and their needs here.
Would you encourage students today to explore library science as a major and long-term profession? What type of background is useful for those pursuing a career in this field?
YES, YES, YES!!!! I would absolutely encourage students to get a degree in library science. Getting this degree was one of the most rewarding and proud moments of my life. It's meaningful not just because I obtained the degree, but because I felt as though I could now do my part to encourage research and education and learning within my community. Anyone looking to get into this field in an academic library setting should have an interest in instruction (teaching library services to students), an interest in organizing physical library materials, and/or an interest in coding or other technical systems for the back end of maintaining library systems such as our catalog and databases.
How did you find your path to your profession?
I worked in a public library as a trainee and one day, one of my older co-workers told me she was going back to school to get her masters in library science. I was absolutely dumbfounded as I didn't even know that there was such a thing as a library degree and I knew at that point that I wanted to become a librarian full time. A few years later, I applied for the San Jose State MLIS program, got my degree, and here I am.
Any advice for students exploring various paths along their college journey?
College is a difficult journey and there will be many times you will want to give up, but it's important to keep persisting because college degrees really can take you places and help fulfill your dreams. Talk to your counselors, create a schedule for studying that works for you, and make it happen.
What are common challenges students have when first accessing a college library, and how do you help?
Students commonly come to us needing help with citing their sources once their paper is nearly finished. We tell students to check out the citation guide on our LMC Library website. The citation guide provides tips and examples for citing in MLA, APA, Chicago, and ACS formats.
What tips do you most commonly share with students regarding how to navigate the library and all the resources it provides?
For physical materials, we teach LMC students that the books in our library are arranged by subject, and that going to the subject section of their topic will help them find the right books for their research. For electronic materials, students incorrectly assume that one Google search is the end-all be-all of research. At the LMC Library, we teach students that doing one search on a term won't give you all of the results you need. It's important to use the LMC Library Discovery catalog to do multiple searches using different keywords and techniques to find print or electronic resources that can be helpful. The LMC Library also subscribes to several databases that students can use to find more sources.
What are some resources at the LMC library you wish more students (and faculty) knew about?
Students can make an in-person or zoom appointment with an LMC Librarian on our website to get help with their research. The LMC Library also has access to newspapers, such as the New York Times, Washington Post and Los Angeles Time, through our U.S. Newsstream database.
Do you have a favorite collection or section in the library?
I enjoy the social sciences section and in particular the sociology section that contains books about social issues involving discrimination, social media, and inequality.
You are surrounded daily by reading materials and media. Do you still read for enjoyment?
I read for enjoyment every now and then. I'm a very slow reader and it takes me time and sometimes multiple read-throughs to get through a single page. I like to really take in what I'm reading. I learn more that way.
What are you currently reading?
I'm currently reading "Golden Gates: Fighting for Housing in America," by Conor Dougherty. Even though this book came out in February 2020 right before the pandemic changed all of our lives, I think this book provides an in-depth look at the housing market in the Bay Area and the many problems associated with it. I find it very insightful and worth the read.
Where did you grow up, and what was that like?
I grew up in Oakland, California. I went to a Catholic Elementary school and a Catholic High School. I had a good upbringing. I didn't play any sports, but I loved video games back in the day. Nintendo and Sega Genesis were my two favorite gaming systems back then.
When you are not at work, what do you do for fun? Hobbies?
I like to go out for walks when I want to clear my head and relax for the day. I also like to stream movies and TV shows. I currently stream through Netflix, Hulu, Peacock, and Paramount Plus.
---