Article text originally by Kyle Szymanski on May 14, 2020 in the thepress.net


Los Medanos College students, currently completing their education remotely amid the COVID-19 shelter-in-place regulations, are likely to have a new Brentwood campus to attend if pandemic health guidance allows face-to-face services and instruction by the fall.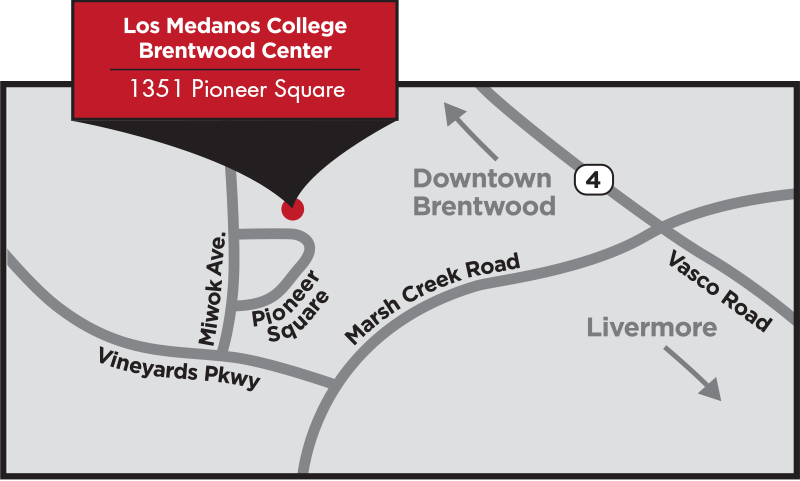 The $65 million, 55,000-square-foot facility at 1351 Pioneer Square (near Marsh Creek Road and Highway 4) is slated to fully open for the fall 2020 semester (at the end of August) if face-to-face instruction is allowed.
"The community has been looking forward to this for a long time," Los Medanos College President Bob Kratochvil said.
The sprawling new center, replacing the current 22,000-square-foot Brentwood Center on Sand Creek Road, is expected to feature 15 instructional classrooms, four science labs, a computer center, a bookstore, food services, "linger and learn" areas and increased space for other student services, faculty and staff.
Measures A and E, approved by voters in 2006 and 2014, are covering the project's costs.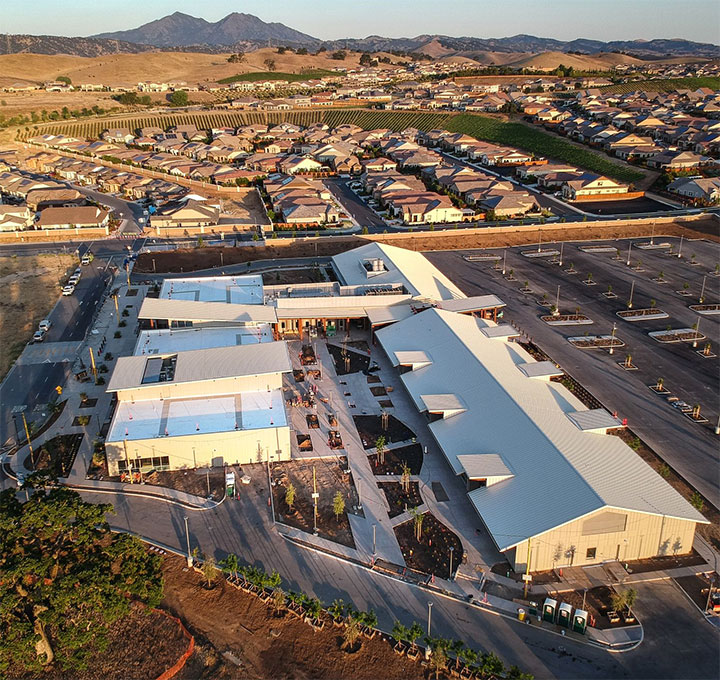 "We are essentially doubling the size (of the current center)," said Carlos Montoya, Los Medanos College's vice president of business and administrative services. "It's pretty exciting."
College leaders say the new center will significantly increase the institution's Brentwood-based resources, services and courses, meeting rising demand in far East County and streamlining access to educational necessities that often require Brentwood Center students travel to the college's main campus in Pittsburg.
The current Brentwood center — inside a leased former grocery store — has seen enrollment jump from 667 when it opened in 2001 to over 2,500 students today.
Its one science lab is used by both biology and physics classes; it lacks adequate student resources, such as a permanent bookstore; and its 300-space parking lot is shared with nearby stores and restaurants.
But those shortcomings will soon be history, college leaders said.
The new facility should feature chemistry, physics and biology labs; a permanent bookstore; increased computer access; tutoring centers; multipurpose, state-of-the-art classrooms; a grab-and-go food area; and space for students to sit, read or study.
"Students will be able to come here and treat it truly as a one-stop shop to complete their associate degrees and then be able to transfer," Montoya said. "When planned right with the course schedule, they may not even be forced to come back to the main campus to get all of their requirements to move onto the next phase of their professional or academic career."
The center's demand, already rising, seems likely to continue growing.
One 2018 district estimate projected that enrollment could rise to 3,800 by 2022.
The Liberty Union High School District's three main schools — two in Brentwood and one in Oakley — have had to add temporary classrooms to meet demand. Across the district's five-school senior population, around 1,932 students are likely to graduate this year alone.
Kratochvil confirmed that the yet-to-be unveiled campus could be expanded in the future, although the college district would need to find an additional funding source to carry it out.
For now, district leaders are excited for what's materialized since plans for the new campus began at least 10 years ago. The district purchased the Pioneer Square site in 2011.
"It was designed with the big picture in mind to create a center that has all the services students would need to be successful," said Ines Zildzic, the Contra Costa Community College District's vice chancellor of facilities planning and construction.
Tim Leong, the college district's director of communications and community relations, added that Brentwood officials have been instrumental in helping the facility materialize.
"The City of Brentwood, in particular the mayor and others, have made it very clear that having us stay in Brentwood is a key piece of their future, and they were critical at every step of the way to ensure that this project comes to completion," he said.
Thus far, the shelter-in-place restrictions have caused a couple weeks of construction delays and supply chain challenges, but the snags are not expected to affect the planned fall opening, Montoya said.
Montoya added that if the district must continue with remote instruction in the fall, then the center could still be used by faculty and staff, with safety protocols in place, to assist in delivering remote educational services. That could include using the new labs to conduct recorded experiments shared remotely with students.
"We want to open it as quickly as possible so students and the entire community can enjoy it," Kratochvil said.