2023 season marks the longest run for the Mustangs in LMC history
---
Media Contact: Juliet V. Casey, Director of Marketing (925) 473-7322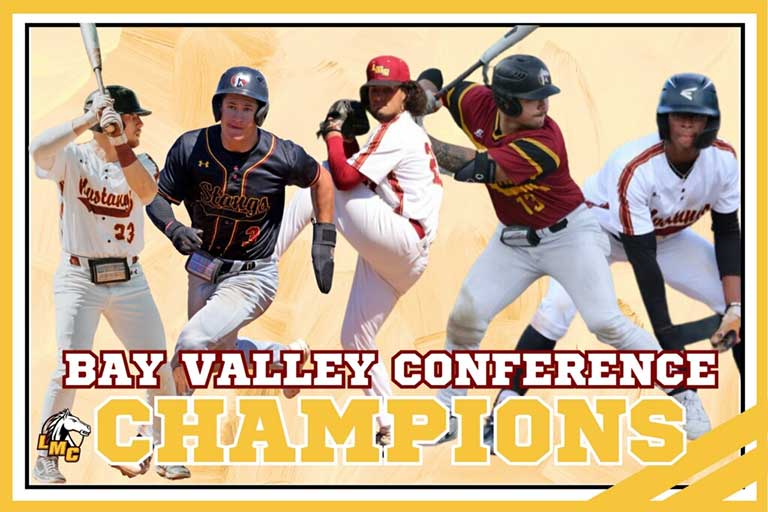 Pittsburg, Calif.: Los Medanos College is proud to celebrate the 2023 baseball season, which ended in round two of postseason "Super Regionals."
The Mustangs' valiant effort reflected the longest run for the team in college history.
Mustangs Baseball Head Coach Matt Lisle praised the team for its resilience and determination right up to the last play.
"With an 8-7 lead in the last inning and one out away from the Mustangs going to the Super Regional Championship, the other team hit a grand slam to end our season and our magical run and break our hearts," he said. "These guys gave everything they had of their bodies, minds and hearts, and that's all I could have asked of them. I am so proud."
Interim Athletic Director and Vice President of Student Services Tanisha Maxwell said also commended the team whose players earned multiple awards in the California Community College Athletic Association Bay Valley Conference.
"They made a valiant effort, and it is important to note that this is the farthest that our LMC baseball team has gone into postseason play in its history," she said.
Congratulations to:
Player of the Year: Ryan Pierce
Freshmen of the Year: Michael Weber
Coach of the Year: Matt Lisle (This is Coach Lisle's first year at LMC. What an amazing accomplishment!)
First Team All-Conference:
Ryan Radkey, Pitcher
Seth Gwynn, Outfield
Bubba Rocha, Catcher
Kris Leffle, Infield
Rocco Borrelli, Utility
Michael Weber, First Base
Second Team All-Conference: Colton Trudeau, Pitcher
Honorable Mention All-Conference:
Darrel Mays
Nico Torrez
Noah Tofan

Several players are eligible for All-State and All-American awards, though voting for those is a couple of weeks away.