Decisive victory against Laney College puts LMC on top
---
Media Contact: Juliet V. Casey, Director of Marketing (925) 473-7322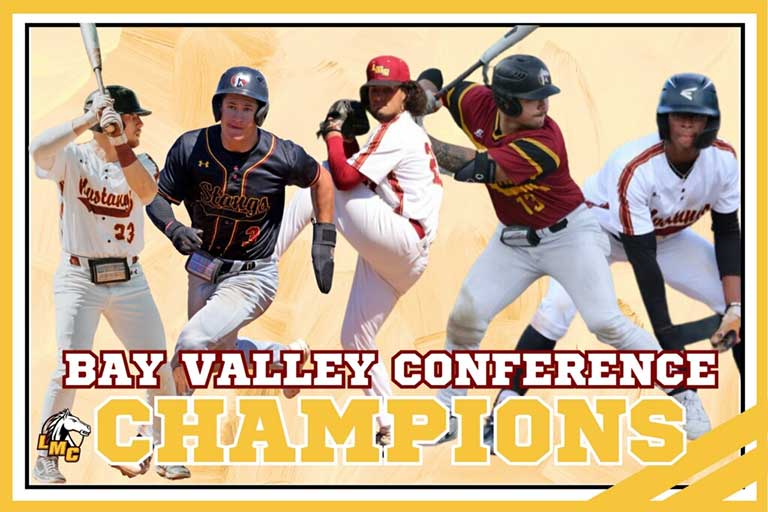 Pittsburg, Calif. – In a staggering 18-7 victory over Laney College, Los Medanos College baseball team secured the top spot as 2023 Bay Valley Conference champions.
"I'm just so proud of this group," LMC Head Baseball Coach Matt Lisle. "It isn't just one player that has stood out. I've preached since Day One, that we are in in this together and for us to win a championship it's going to take everyone all-in. All-in on the field, in the classroom and together as a family and that's exactly what we did. Truly a championship effort by each and every player."
The Mustangs head into post-season play with a 28-10 season record and 17-3 in conference. The team is poised to break the school record for season wins – the most wins has been 29 – with at least four games left.
The last home game of the season will be today at 2:30 p.m., 2700 E. Leland Road. LMC hosts the first round of postseason baseball competition May 5 and May 6.
"Congratulations to our new Baseball Head Coach Matt Lisle, his assistant coach, Sparky Bray, and our student-athletes for such a phenomenal season," said Tanisha Maxwell, acting athletics director and vice president of student services. "I hope to see everyone come out and support our championship team."
Lisle noted the team has shown outstanding character and attributed their success to "covenants" players adopted to keep each other positive, productive and accountable to each other on an off the field. Among the promises, "Make smart decisions off the field, make healthy decisions, represent LMC well and sharpen skills."
"Last night's victory is a testament of the quality program and tradition in place at Los Medanos College," Interim President Pamela Ralston said.
Several players this season are being recruited by NCAA Division I and II schools, and two players are being drafted by Major League Baseball teams for the upcoming June Amateur Draft.
Since the 2012 baseball season, 114 LMC baseball players have taken their athletic and academic careers to the 4-year level and 67 have received All-Bay Valley Conference Honors. LMC has had 67 Academic All Conference and 25 Academic All State selections. Since its founding, the Los Medanos Baseball Program has also produced 21 professional draft picks.
About Los Medanos College (LMC): LMC is one of three colleges in the Contra Costa Community College District, serving the East Contra Costa County community. Established in 1974, LMC has earned federal designations as a Minority-Serving and Hispanic-Serving institution. It offers award-winning transfer and career-technical programs support services, and diverse academic opportunities in an inclusive learning environment. With exceptional educators, innovative curriculum, growing degree and certificate offerings, and state-of-the-art facilities, the college prepares students to succeed in their educational pursuits, in the workforce, and beyond. LMC's Pittsburg Campus is located on 120 acres bordering Antioch, with an additional education center in Brentwood.