She is the fourth LMC student and second in her family to win the award
---
Media Contact: Juliet V. Casey, Director of Marketing (925) 473-7322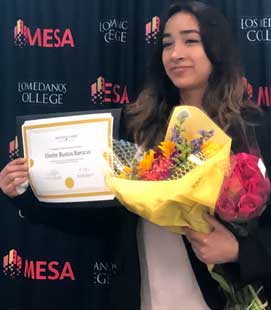 Los Medanos College is pleased to announce the Jack Kent Cooke Foundation this year awarded Eliette Bustos Barocio the Cooke Undergraduate Transfer Scholarship for up to $55,000 per year.
"I feel relieved and proud," Bustos Barocio said Thursday after learning she had been selected for the award. "It's hard economically to make it, and now that I have this scholarship, I can really focus on my goals. Otherwise, it would really drag my mind off academics if I had to keep worrying about how to pay for everything. It'll be better."
The Cooke Undergraduate Transfer Scholarship is a highly selective scholarship for the nation's top community college students seeking to complete their bachelor's degrees at four-year colleges or universities. Each Cooke Scholar has access to generous financial support for two to three years, college planning support, ongoing advising, and the opportunity to connect with the thriving community of fellow Scholars.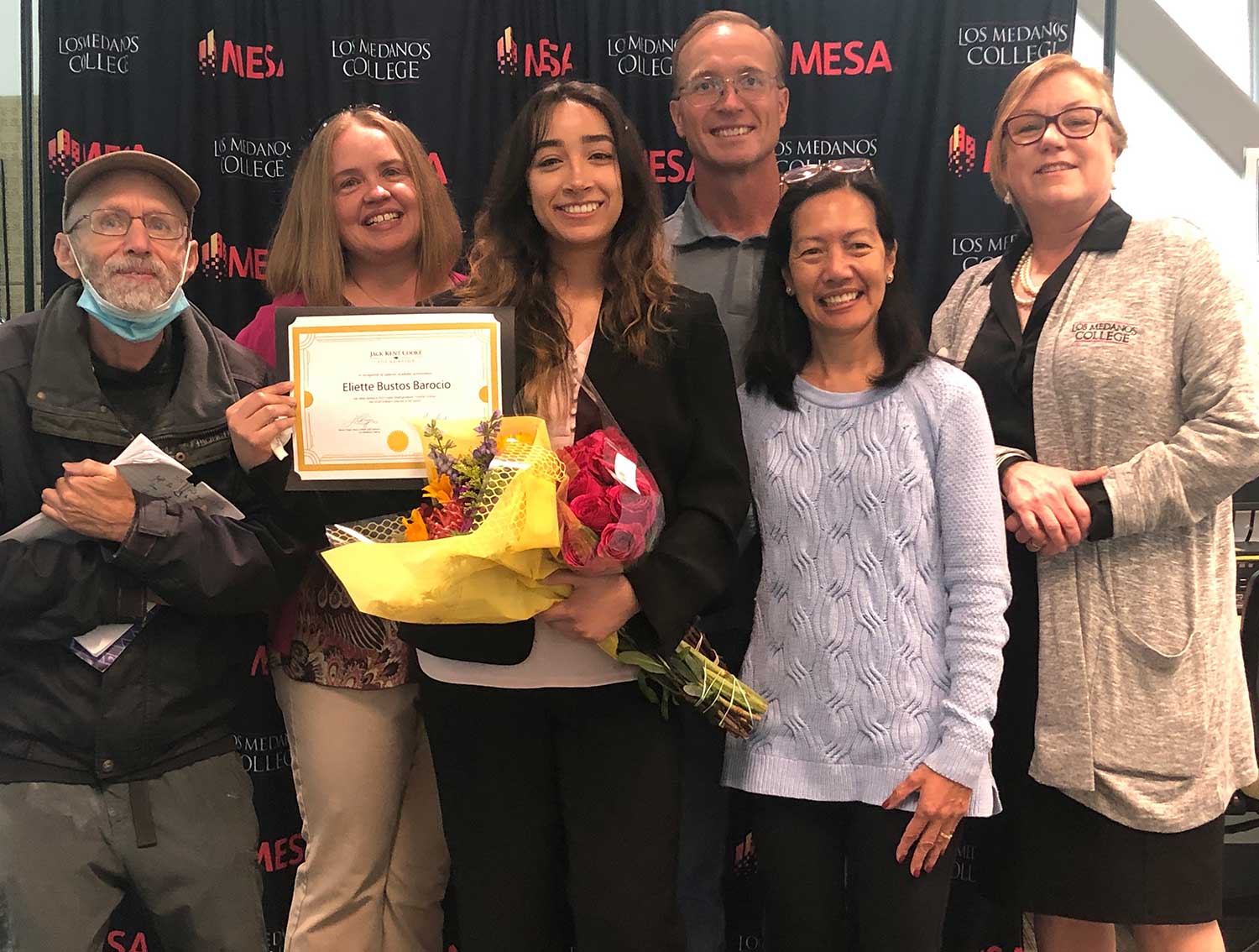 Busto Barocio, who graduates this spring, is the fourth student from LMC to receive the prestigious scholarship, and the second in her family. Her older sister, Sonia, received the award in 2018.
Her mother, Maria Barocio-Bustos, said Eliette is the youngest of four daughters, and that each has worked to earn the scholarships needed to pay for their higher education. Eliette is the youngest.
"I am proud of all my daughters," she said in Spanish. "They each have had a hunger to learn and come out ahead. But they could not have done it without the help and support of the college. Financially, our home could not have afforded college. If it wasn't for the scholarships and support, my daughters would not have been able to study."
Barocio-Bustos said the family initially lived in Bay Point, but moved to Stockton when Eliette was in middle school and her older daughters attended LMC. The family decided the opportunities at LMC offered the girls the best chance for successfully transferring to a four-year university. Barocio-Bustos said she would drive the whole family from Stockton to Pittsburg every day. She would warm up dinner in the MESA Center microwave while waiting for each of them to finish studying or wrap up activities on campus. Most nights, they would get home at 11 p.m.
Eliette now commutes the hour each way on her own.
Nicole Trager, interim dean of instruction, math and sciences, said Eliette's success in earning the scholarship validates LMC's focus on Learning Communities and wrap-around services that support students in and outside the classroom.
"When our students win scholarships like these," Trager said. "It means we are doing right by our students."
Eliette attributes her success to her family support system and inspirational professors. She also noted involvement in MESA, Puente Club, Honors Transfer Program, EOPS, Women in STEM and Latinx Club kept her engaged and focused. Eliette plans to pursue a career in veterinary medicine but has not decided where she will attend. She has been accepted to U.C. Davis, U.C. Berkeley, and UCLA.
"I would tell anyone who wants to apply for any scholarship to work their way up and stay motivated," she said. "I knew I had disadvantages being low income and having to commute. On days I felt low, or I got a bad score, I reminded myself of the end goal and got up and tried again. I was surrounded by hardworking people, and I've kept the mentality to work harder, make changes and find ways to be better."
About the Jack Kent Cooke Foundation: The foundation is dedicated to advancing the education of exceptionally promising students who have financial need. Since 2000, the Foundation has awarded almost $250 million in scholarships to nearly 3,200 students from 8th grade through graduate school, along with comprehensive academic advising, career pathway counseling and other support services. The Foundation has also provided $125 million in grants to organizations that serve such students.