Experience staff honored with 12 journalism awards The Los Medanos College Experience won 12 awards in the 2022 Northern Regional Publication contest of the Journalism Association of Community Colleges, presented at the annual regional journalism conference held Oct. 22 at Las Positas College in Livermore.
The student news organization won General Excellence in the Publications Contest for its print edition published during the 2021-22 academic year. The print edition, which had been on hiatus since March 13, 2020 when the pandemic forced the college campus to close, resumed publication March 11, 2022 with five spring issues. The online edition at lmcexperience.com continued publishing throughout the pandemic.
In addition to the General Excellence win, five current and former Experience staff members won awards in a variety of writing, photography and design contests, including two first-place honors: Editor-in-Chief Michael Benedian won three individual awards, including first place in Photo-Story Essay, second place in Inside Page Layout, and fourth place in News Photo.
Former Editor-in-Chief Sarina Grossi won three individual awards, including second place in Critical Review, second place in Front Page Layout, and honorable mention in Column Writing.
Former reporter Cara Rieber won first place in Column Writing and fourth place in Feature Photo.
Former Features Editor Joseph Giddings won third place in Sports Feature Photo.
Managing Editor Kai Arellano, who also edits the Perspectives page, won fourth place in Editorial Cartoon.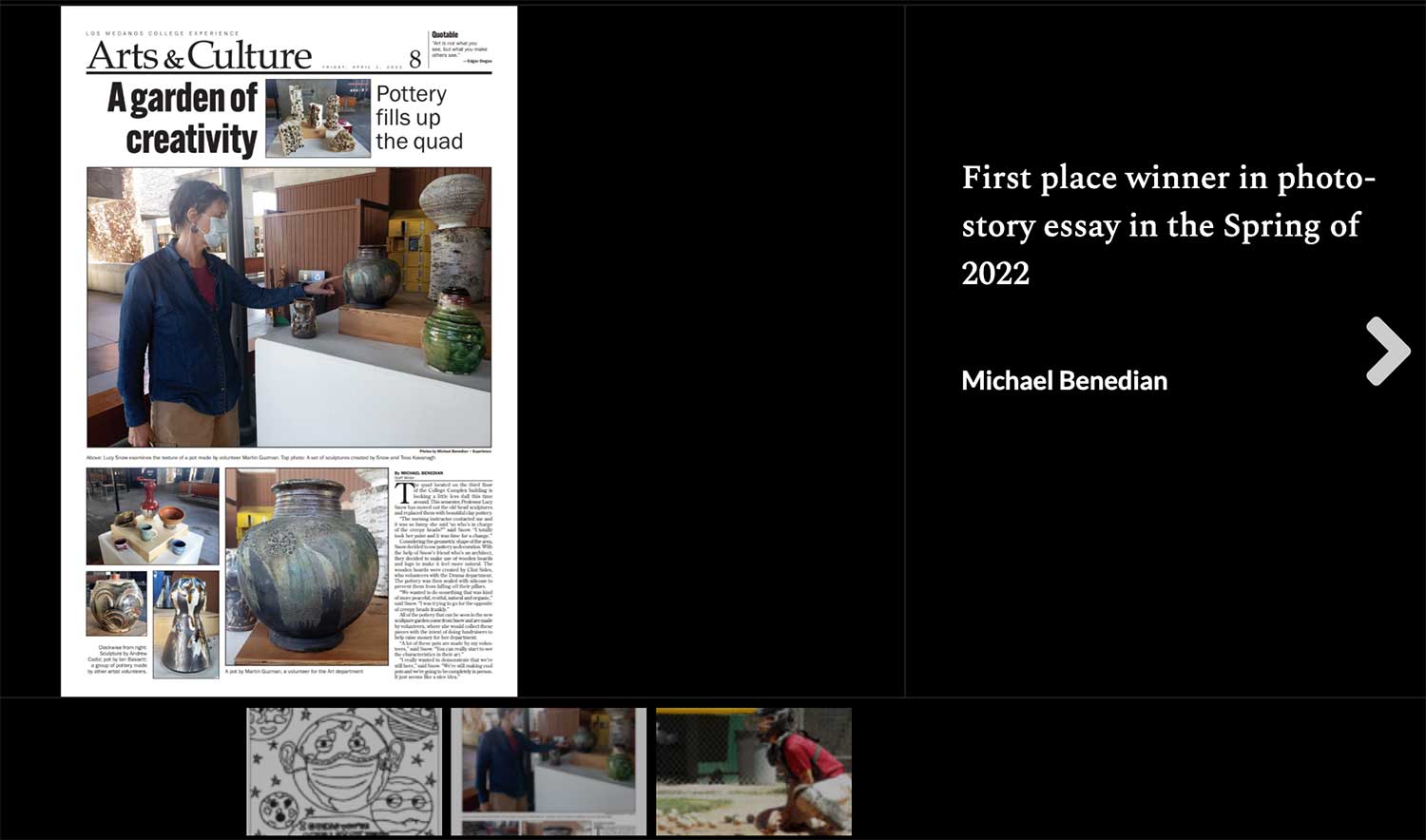 In addition to their individual awards, Benedian, Giddings and Grossi shared second place honors in the Photo Story-Essay contest for the photo spread: Bouncing Back: Campus activity returns in Student Union. They each contributed photos to the project.
Experience adviser Cindy McGrath praised the work of the LMC student journalists who won awards and emphasized that their pursuit and achievement of excellence continued in the face of challenges posed by the pandemic.
"The staff is undergoing a rebuilding process in the wake of the pandemic but despite the challenges, they have worked hard as student reporters and editors and remain committed to the importance of a free press on campus," said McGrath. "I am proud of them both for their perseverance, and for the quality of work they do." She added that while "awards are a nice acknowledgment of their efforts, the real prize is the experience that is preparing them for transfer to four-year schools, or for jobs in print, online or broadcast media when they leave LMC."
To learn more about how a journalism degree can lead to other fields of study visit the journalism home page or visit the Associates Degree for Transfer in Journalism.