May 2, 2014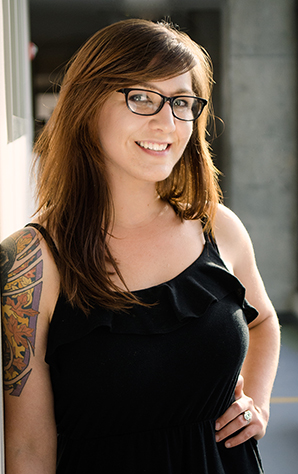 PITTSBURG: Ms. Kellie McCown, a journalism student at Los Medanos College (LMC), was named a semifinalist in a statewide media competition, The Generation Next, sponsored by the Entertainment Industry Council. McCown, from Antioch, was one of four semifinalists in the Journalism Category
The Generation Next competition received more than 100 proposal submissions from students in colleges and universities across California. Only 12 semifinalists in three disciplines of Film & Television, Journalism and Social Media were announced in Los Angeles on March 12, 2014.
Ms. McCown's proposal focused on the transitioning of youth (16-25 yrs) with special mental health needs as they move from supervised to unsupervised education environments. This takes into consideration the transition preparation a special needs high school student may receive before leaving high school, what happens when they arrive at their next educational institution, and next steps.
Semifinalists, with their initial proposal in hand, had the rare opportunity to work with a team of professional mentors in the creative and mental health fields. The mentors guided the college students and provided valuable feedback to ensure that students developed their stories and campaigns to their fullest potential. All projects were completed by March 24th. Judges convened in early April to select one winner in each category. Each winner received a $4,000 cash award and was recognized at the PRISM Awards ceremony on April 22nd.
Unfortunately Ms. McCown was not selected as a winner, but her reward was the amazing experience of working with her mentor team. Kellie's mentors were "just incredible". She explained, "I worked with Stephanie Welch, Senior Program Manager for California Mental Health Services Authority, who helped me see mental health issues through the eyes of mental health professionals. I also worked with Marjie Lundstrom, winner of the Pulitzer Prize for Journalism, 1991 and head of the investigative unit at the Sacramento Bee. Marjie helped me a lot with editing suggestions, interviewing tips, and pinpointing what the story should be about. Marjie encouraged me to be confident in my work and her support showed through."
Ms. McCown said, "This competition opened up my eyes to issues not getting any coverage. Society has a group of people either left out of media coverage, or, if mentally challenged, are often portrayed in a negative light. Our job as journalists is to provide checks and balances, to represent things fairly."
Kellie started early with her journalism aspirations. At age 5, she dreamed of being Diane Sawyer and interviewed her teddy bears. She has flourished in the Journalism Program at LMC. She stated, "Professor Cindy McGrath (department chair and student newspaper advisor) and Curtis Corlew (graphic communications faculty) have been the best instructors I've ever had. Through my experiences here, I have also found community through journalism. They have nurtured me and inspired me to strive harder. Professor McGrath told me about the competition and encouraged me to apply."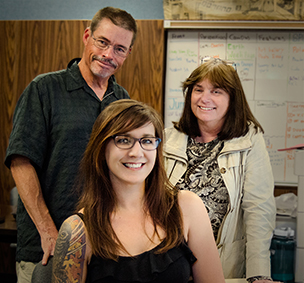 Kellie McCown and her instructors, Curtis Corlew and Cindy McGrath.
As a journalism student and on the staff of "The Experience", the LMC student newspaper, Ms. McCown has gone to statewide journalism conferences, meeting Sacramento State professors (amongst others) and professionals in the industry. While there, she also had the opportunity to tour news stations. "I now have contacts who can support me with ethics advise, free legal advise, along with professionals affiliated with television stations and other media. It's been a fabulous opportunity that will benefit me as my career continues to develop," explained Ms. McCown.
Kellie's story, entitled "Special ed transitional dilemma – mentally challenged students not fully college prepped", is now published in "The Experience", and can be found at http://lmcexperience.com/news/2014/04/24/special-ed-transitional-dilemma/.
She is set to transfer to Sacramento State University in Fall 2014, and plans to major in journalism. She selected this school she has had the opportunity to meet the school's journalism professors (at statewide journalism conventions), and because Sacramento is the California State Capital. She believes it to be the most important place for a journalist to be and the hub of good journalism. She hopes to focus on government journalism, but now has an additional interest in writing about mental health issues as a result of her participation in the Generation Next competition.
---