Media Contact: Barbara Cella, Director of Marketing, (925) 473-7322
Program Contact: Cindy McGrath, Chair and Professor, Journalism Department 925-439-2181 x3357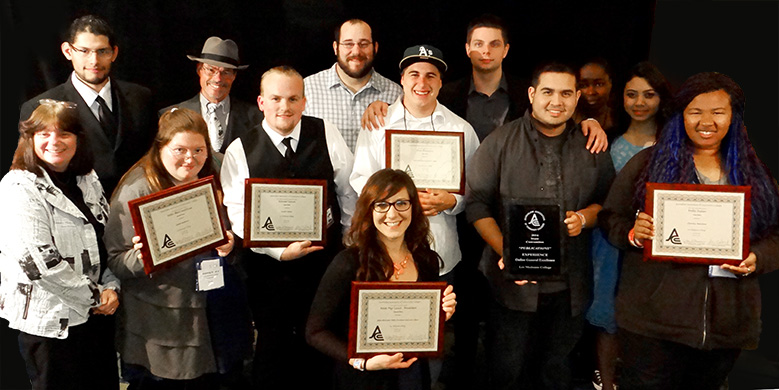 From left: Adviser Cindy McGrath, Photo Editor Irvin Trigueros, Perspectives Editor Aishling Doherty, Adviser Curtis Corlew, Campus Editor Joey Delano, Staff Writer Steven Luke, Sports Editor Dakotah Zabroski, Sports Editor Luke Johnson, Editor in Chief Brendan Cross, Perspectives Editor Jazmine Gordon, Features Editor Rattana Kim, Copyeditor Kimberly Stelly; kneeling in front, Special Projects Editor Kellie McCown.
PITTSBURG -The Los Medanos College Experience won eight awards in the annual Publication and On-the-Spot contests of the Journalism Association of Community Colleges (JACC), awarded at the 2014 journalism convention April 3-5 in Los Angeles. 545 students and advisers from 43 community college journalism programs attended the convention.
The Experience won General Excellence for its online news site at lmcexperience.com. In addition, Editor in Chief Brendan Cross and Special Projects Editor Kellie McCown each brought home meritorious awards. Cross won in the On-the-Spot Instagram category for a selection of photos shot and posted live of convention activities. McCown won in the Publication Contest Enterprise News Story/Series category for writing and editing an in-depth story about the issue of smoking on campus. The smoking package, which ran in the Dec. 6, 2013 issue of the Experience, was also the subject of other honors. Former Editor in Chief Peter Costanza and former Graphics Editor Jesus Chico won first place in Photo Illustration for a photographic image illustrating the smoking story. And Chico, Costanza and McCown shared second place in Inside Page Layout for their two-page design of the package.
Other winners include:
Former staff writer Christine Menchaca who won first place in Profile Feature Story in the Publication Contest for her article published Aug. 30, 2013 about student Carlos Torres who plays paintball competitively for Oakland Fuzion.
Campus Editor Joseph Delano won third place in On-the-Spot Editorial Cartoon for an illustrated opinion statement about a convention presentation on The Representation Project, which seeks to use film and media to expose gender stereotypes.
Cathie Lawrence placed fourth in Online Photo Story/Essay in a Publication Contest for an online slideshow posted on lmcexperience.com November 20, 2013 about the "Queer: The Now" exhibit in the LMC Art Gallery.
For more information about LMC's Journalism program and The Experience, visit www.losmedanos.edu/journalism.
---