East Contra Costa Educational Workshops Offer Tools To Foster & Adoptive Parents
By Paula King
Contra Costa Times
Posted: 06/09/2014
Dr. Lisa Cohen Bennett speaks during a child development/parenting series with Los Medanos College's child development department at the Delta First 5 Center in Brentwood on June 4, 2014. The workshops cover topics like bonding, attachment parenting, talking to kids, and helping heal childhood wounds. (Dan Rosenstrauch/Bay Area News Group)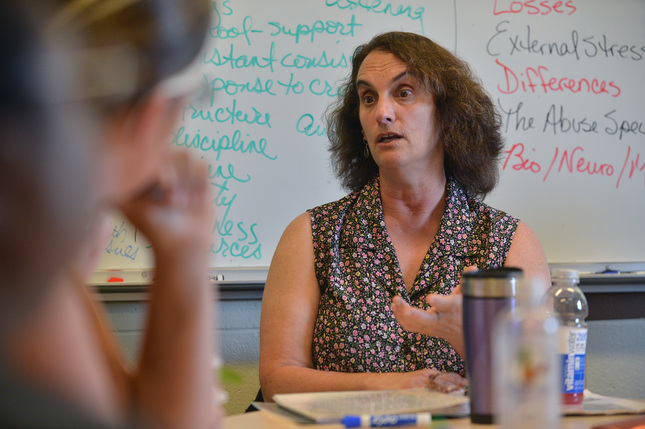 BRENTWOOD -- Jennifer Hunt spent five hours at workshops last week to improve her parenting skills. She learned about bonding and attachment at one class and healing childhood wounds at another.
"It is teaching me how to help my children. I can talk openly and freely with no judgment," Hunt said of the parenting workshops held weekly at the Delta First 5 Center in Brentwood.
Hunt has been taking advantage of this parenting resource for years as a foster mom who later adopted two children. She is dealing with the challenges of raising a special-needs child and one who is bi-racial.
Originally designed as a program through the Contra Costa Community College District for foster and adoptive parents, these workshops are also open to the general public for all parents countywide. Foster and kinship parents -- those such as grandparents, aunts and uncles who foster children of their same biological family -- must attend eight hours of workshops annually.
"These were originally set up for foster parents because they have to take these trainings," said Patsy Sherman, Los Medanos College's coordinator for the foster/kinship care education program. "We talk about foster parents, but it is open to anyone. So all parents can benefit from it."
For three years, the workshops have been held in downtown Brentwood, where the First 5 staff offer topic ideas that would benefit their local families. The classes are led by educators, social workers and child development experts and can range from one session to some that last several weeks.
"We have a strong partnership in working with (LMC) to provide informational programming to our families," Delta First 5 Director Lynnett Hernandez-Kinnaird said. "We sit down and develop what topics would be great for families to engage here."
Topics often range from advocating for your special needs child or supporting a gay or transgender child to controlling impulses or dealing with external life stressors. Upcoming topics include the child welfare system on June 18 and talking to teens about sex on June 25. Both of these workshops will be held from 9 a.m. to noon.
"We have parents that have kids from high school down. There can be a huge gap in children," Hernandez-Kinnaird said. "We want to help them balance raising children of different ages."
After the June workshops, there will be a summer hiatus, and they will resume in August. Free child care is offered during the courses by First 5 staff.
Hunt noted that she has built friendships with other parents in the group, and they often schedule play dates and gatherings outside the workshops. "It is also a support group when they are going through difficult times," Sherman said. "Attachment, bonding and discipline are major issues with parenting foster children."
In downtown Antioch, the workshops are held at the STAND office, and they also take place at the Pittsburg United Methodist Church. Sherman noted that anywhere from seven to 20 parents typically attend the workshops."They have been really helpful in parenting children from traumatic backgrounds," Brentwood resident Rebecca Hart said. "I have gained so many tools and tips."
Contact Paula King at 925-779-7174.
For more information on the parenting workshops and programs held at the Delta First 5 center, call 925-516-3880. The center is located at 760 First St. in Brentwood. Workshops are held on Wednesdays from 9 a.m. to noon or 6:30 to 8:30 p.m.