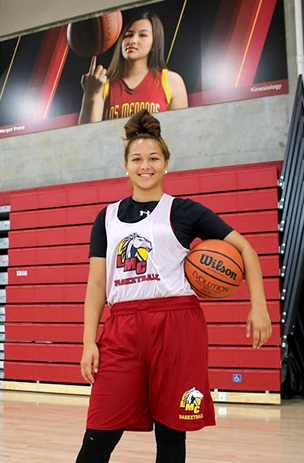 (PITTSBURG, CA) This fall, Los Medanos College (LMC) completed a $1.5 million gymnasium renovation at the College's Pittsburg campus. The interior renovation is the first phase of a massive upgrade to LMC's Physical Education and Athletics facilities. Originally built when the campus opened in 1974, the building was overdue for an upgrade. Now open, it provides enhanced functionality and a completely new and modern look.
LMC Vice President Kevin Horan explained, "The renovation was a capital improvement project funded by Measure E, a voter approved bond measure passed in 2014. We are excited that the project is now completed and our athletes have a 21st century facility for their practices and games. We appreciate the amazing support our community has given the college as we create modern, safe, and inspiring facilities for our students."
The renovation included:
Motorized ADA-compliant bleachers
Vibrant wall graphics & acoustic wall treatments
Replacement of all exterior doors
New paint throughout
A refinished and repainted wood floor
New configuration of volleyball practice courts and volleyball standards
New scoreboards, shot clocks and LED backboard lights
LED ceiling light fixtures
New center court divider curtain
New sound system
Richard Villegas, LMC's Athletic Director and Women's Basketball Coach shared, "The LMC coaching staff and I are excited with the outcome of our renovated gymnasium. I feel that our gym is now one of the top gyms in the Bay Valley Conference. We have eagerly awaited the renovations, and it has been quite fulfilling to experience our first semester of classes, practices, and games in this new facility."
Mercy Otumuli, a graduate of Antioch High School, plays on the LMC Women's Basketball team. She exclaimed, "It feels good to have a new gym – it is what we really needed."
"With the new lights, it is definitely brighter in here, and I can see much better while practicing and during games", explained Janessa Seei of the Women's Volleyball team and graduate of Pittsburg High. "The high quality sound system provides sound all around the gym; we used to have to bring our own speakers!"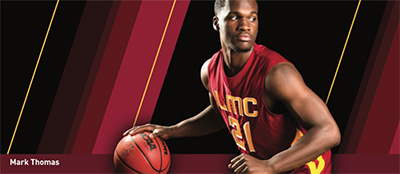 Basketball player, Mark Thomas
Some of LMC's athletes are featured in large wall graphics high above the bleachers. Margot Vrana of the Women's Basketball team and graduate of Pittsburg High commented, "Having my photo on the wall makes me feel honored and that I represent the school and team. I am proud to be attending LMC!"
Another immortalized athlete, Mark Thomas, a grad of Jessie Bethel High School (Vallejo) and member of the Men's Basketball team, shared his thoughts. "I really like the new gym. It feels like it has gone from night to day (with the new lights). I am honored to have my portrait displayed on the wall of gym. I have invited friends and family to games to see my photo and the new facilities. It even feels more like home now. I am proud to be an LMC Mustang!"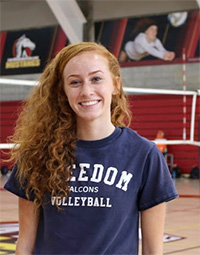 "I love the fact that at last the red bleachers, formerly blue, match our school colors," explained Freedom High grad and Women's Volleyball team member, Caitlin Sadler. "I appreciate that the wall images incorporate real LMC athletes and aren't just generic gym images."
Inspired by the revitalized gym, Albert Waters shared, "It feels like there is more to play for; it is motivation to take us farther as a team." A graduate of St. Ignatius High School (San Fran) and Men's Basketball team member added, "I find that I want to practice harder and play harder. For me, it actually is starting to feel like a top-level college, like a 4-year college that we are playing for!!"
Kevin Horan concluded, "Student interest and participation in our volleyball and basketball programs has increased tremendously this fall. We appreciate the support of the voters of Contra Costa County. We couldn't have done this without them. The renovated gym, with its modern design and equipment provides the students with the type of facility they deserve. The new facility beams Mustang Pride."
---