February 4, 2014
Media Contact: Barbara Cella, Director of Marketing, (925) 473-7322
Nick Garcia, LMC Drama Department Chair
Local performance of selected play presented free at California Theatre, Pittsburg, Feb. 12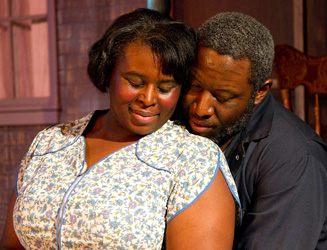 PITTSBURG/BRENTWOOD – A recent production of the Drama Program at Los Medanos College (LMC) has the honor of being selected to be performed at the Region Seven Festival of the 46th annual Kennedy Center American College Theater Festival (KCACTF) February 18-22, 2014. in Boise, Idaho. Fences, written by August Wilson, directed by LMC Drama Chair and Professor Nick Garcia, and performed by LMC student actors, is one of only four plays invited to perform at the festival. During the course of the year, the plays are selected for the festival to showcase the "best of the region."
This is the seventh of eight consecutive, weekly celebrations of excellence and achievement in theater in higher education. Individual participants and full-scale productions are eligible for awards in a number of disciplines recognizing excellence in the art and craft of theater. Individual awardees and representatives from selected productions will be brought to Washington, D.C. for an expense-paid trip to the national festival April 14-19, 2014 at the John F. Kennedy Center for the Performing Arts. A comprehensive listing of awardees will be announced in mid-March 2014.
In preparation for this festival, the LMC Drama program has raised $40,000 to help cover expenses for the festival and to re-produce the production. 27 LMC students will attend the festival held at Boise State University. In addition, the Drama Department will present a free performance of Fences to the public at the California Theater in downtown Pittsburg, 351 Railroad Avenue, on February 12th at 7:00pm. The City of Pittsburg is helping to sponsor this celebratory event. Please join the community in supporting the success of our students. This is a free performance; no tickets will be issued. Contact the California Theatre box office at 925-427-1047 regarding special needs requests.

"It is a real achievement for LMC's drama program to be chosen to perform at the Kennedy Center Festival. We are happy to have them at the California Theatre," said Joe Sbranti, City Manager. "The theater is a great place to see local talent on the stage."
Each year the Kennedy Center hosts a weeklong festival celebrating college theatre. This conference is designed to not only celebrate the arts but serves as a vehicle to connect all of the universities, state and private colleges and community colleges.
This year, Los Medanos College was invited to present its production of Fences by August Wilson on Wednesday Feb. 19th at KCACTF. This production is not only the only African-American play being presented at the festival this year, but Los Medanos College is the only community college presenting a play during the festival as well. This is an incredible achievement, since LMC is a new program and has production budgets significantly smaller than the other participating programs.
In the past five years, LMC has worked to rebuild its drama program and has attended KCACTF to not only have students compete for scholarships, but to seek transfer opportunities. Through attending this festival, last year alone LMC had seven students transfer to prestigious programs with scholarships no less than $10,000 each. Students use this conference to build relationships with faculty from the institutions they want to transfer to and take workshops with faculty to understand the styles of teaching provided at these institutions. This is also an opportunity for students to meet and network with other students who share similar passions.
In addition to these achievements the LMC Drama Department Chair, Nick Garcia was awarded the Meritorious Achievement award by KCACTF for 'Excellence in Program Development' in 2012. In 2013 Marina Ketchum won 2nd place in Stage Management (where she was competing against students from programs with 4-year degrees and graduate programs). Marina Ketchum also was awarded a weeklong Technical Theater intensive in Las Vegas by the Kennedy Center. Cesar Reyes also won 2nd place for Sound Design in 2013.
For more information about the LMC Drama Program,
visit www.losmedanos.edu/drama, or email Professor Garcia at ngarcia@losmedanos.edu.
Here is a list of all involved with the Fences production:

Fences
WRITTEN BY August Wilson
The Cast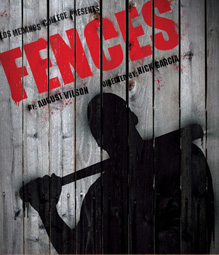 Troy Maxson, Olinza Headd, Rose Maxson, Arionna White, Jim Bono, Jarrelle Tramble, Lyons Maxson, Maurice Dominique, Cory Maxson, Mario Castillo, Gabriel Maxson, Xavier Ali Travis, Raynell Maxson, Du'Praiseja Smith
Production Team
Director Nick Garcia
Stage Manager Marina Ketchum
Assistant Stage Manager Ashley Curry
Costume Designer Sylvia Gregory
Set Designer Robert Broadfoot
Lighting Designer Nick Garcia
Sound Designer César A. Reyes
Sound Engineer Erin Tadena
House Manager Melodie Ketchum
Assistant to the Costumer Melodie Ketchum
Becky Williams
---