May 2, 2012
Media Contact: Barbara Cella, Director of Marketing (925) 473-7322
Program Contact: Kasey Gardner, Director of Forensics 925-439-2181 x3689, kgardner@losmedanos.edu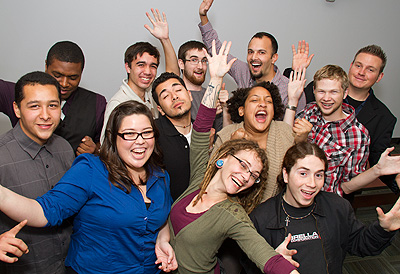 LMC Debate team having fun. LMC debate coach Kasey Gardner in the background on the right.
PITTSBURG: LMC's Debate Team has had a stellar competitive season, especially since the team has only existed for a year. They recently finished 3rd place amongst community college teams in this year's National Parliamentary Debate Association (NPDA) National Tournament in Bellingham, Washington. One pair of students, Ashley Curry and Mason Livingston, took 3rd place in the novice division among all 1st year debaters entered into the tournament.
"These are huge accomplishments by our students and I am proud of each and every one of them", explained Kasey Gardner, LMC Debate Coach and Assistant Professor of Communications. "At the end of this year's season, LMC finished in 50th place among over 270 institutions ranked by the NPDA for season-long sweepstakes."
50th place may seem a ways back, but one must consider that the ranking includes four-year colleges and universities, and debate teams and coaches well-established at their institutions. For a fledgling team, this year's results are stunning.
Determined to strive for success, Kasey explained during an interview early in his tenure, "My most coveted goal here at LMC is to build the best community college debate team in the United States. That team will give elite transfer and scholarship opportunities to our students and prepare them for critical thinking in life and the workplace. It is going to take a lot of time, sacrifice, and community from other faculty and staff; but I think we can win the community college national championship in parliamentary debate in the next ten years."
Ashley Curry was one of the first students to join LMC's new debate team, getting hooked on debate after a spring 2011 novice tryout. "Debate challenges my brain and my people skills", She explained. "It gives me a reason to learn as much as possible about what's going on in the world today. Learning how to debate makes me think more efficiently and quickly, has sharpened my public speaking skills and helped me gain more confidence and knowledge; basically become a better, well-rounded person." She continued, "Now as a part of the team, I have a connection to my school and other classmates that I never experienced before. And to have done so well at Nationals makes me feel proud of the team. Placing third makes me want to strive harder and aim for 1st place!"
Gardner expressed enthusiasm for the continued success of the team and offered that, due to success last August when LMC hosted the Northern California Debate Camp, the college has been selected to host the camp again in Fall 2012.
For more information about LMC's Debate Team, visit www.losmedanos.edu/debate or (925) 439-2181 x3103.
© Copyright Los Medanos College
---