California Connects provides new group of LMC's MESA students with laptops, software and Internet access to train others in their communities
November 17, 2011
Media Contact: Barbara Cella, Director of Marketing (925) 473-7322
Program Contact: Carol Hernandez, MESA Director 925-439-2181 x3247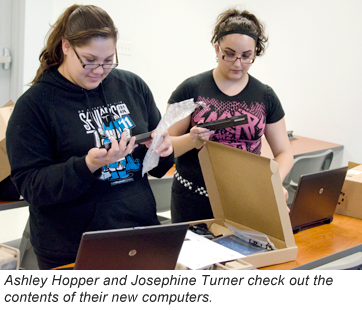 Mathematics, Engineering, Science, Achievement (MESA) students at Los Medanos College (LMC) have been awarded laptops as part of a statewide program designed to increase digital literacy rates among underserved communities in California. The laptops, which have also been distributed to 1400 students at 32 other community colleges throughout the state. This marks the second round of laptop distributions through this program, and advances an initiative to increase the number of broadband Internet users in California by more than 61,000 individuals by 2013.
At Los Medanos College, 40 MESA students received laptops from campus officials on November 16. Last spring, 70 students benefited from the program. The laptops were provided through California Connects, a federally funded statewide program designed to increase digital literacy and broadband access among underserved communities.
Students receiving the laptops are also provided intensive outreach and hands‐on training, enabling them to educate others and ultimately help increase the number of California broadband Internet users. Twelve hours of community service is required – training two people in their families plus five others outside their family. As community service, the MESA students teach others who lack access to or knowledge of navigating the Internet how to utilize it for essential tasks such as securing gainful employment, exploring higher education opportunities, accessing health and finance resources, engaging with social networks and advancing their general quality of life. Last year's student training efforts included a computer workshop on the campus where they taught their parents how to use basic computing skills.
MESA Program Director Carol Hernandez shared, "I am excited for our students and community. This is the first time that most of the students that were awarded a laptop in exchange for community service have ever owned their own personal computer. These computers will not only benefit the students as they prepare to transfer, but also their families and community."
This year's students receiving the laptops are primarily in their first year of college and very excited about the computers. All are receiving financial aid to support their college education and most are first-generation college students.
Ashley Hopper, a graduate of Hercules High School, is planning to transfer to UCDavis in hopes of becoming a veterinarian. As she waited to be handed her laptop, she expressed her enthusiasm. "This is just amazing! I've never gotten anything free before. It's great!" Ashley is eager to teach her grandmother basic computing skills and others in her community.
Click the small images above to enlarge
A graduate from Liberty High School in Brentwood, Julio Perez is busy preparing for a career in computer engineering. He hopes to transfer to UC Davis or Sacramento State University. "This program is helping those who can't afford to buy computers and also helping to expand people's awareness of how to use them." He explained that he anticipates helping his mom learn how to use the web to research things online and to use email. "I'd also like to help my friends at college who have challenges with computers and teach them PowerPoint, MS Word, or anything they might need to succeed in school."
Arthur Corona graduated from Liberty High School and is studying to be an electrical engineer. As he commutes to the college every day, he is enthusiastic to have a way to work on his assignments to and from school on the bus. For the training assignment, he is planning to help his stepfather develop a website and train his landlords how to use the computer.
Josephine Turner, a graduate from Freedom High School in Oakley, is on her way to a career in biochemistry after transferring to Cal State East Bay and earning her bachelor's degree. "This is pretty awesome! I'm very excited." Josephine explained, "I'm going to teach my older brother to use Excel and PowerPoint. He needs to know them both for his job. I have a friend here at LMC who doesn't know how to use the computer very well – I plan to help them also."
© Copyright Los Medanos College
---