August 25, 2011
Media Contact: Barbara Cella, Director of Marketing (925) 473-7322
Program Contact: Casey Coakley, Baseball Head Coach 925-439-2181 x3335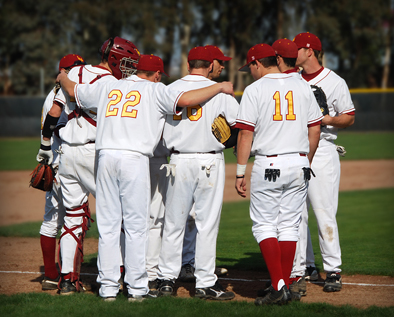 PITTSBURG: The coaching staff of the Los Medanos College (LMC) baseball team is proud to announce that most sophomore players for the past two years have received scholarships and all have moved on to play for four-year schools. This is an amazing feat for the college's team and coaches.
For those players who completed their sophomore year of play in spring 2011, all 12 transferred to four-year schools, three heading to University of California campuses. Ten of them received athletic scholarships. For those who completed their sophomore year in spring 2010, all 12 transferred to four-year schools and 11 of them were awarded athletic scholarships.
Head Baseball Coach Casey Coakley is extremely enthusiastic about the transfer and scholarship success of his alums. "Our last two years have been successful," Coakley explained, "because we have many young men who come with a good foundation and buy into the program we have in place here at LMC. As a program, we stress family, academics and baseball. These men put in a tremendous amount of work to better themselves on and off the field."
"In the program, we talk a lot about being an asset or a liability. I am quite proud that our program is contributing in the development of many young men who will continue on to be strong assets in our world."
Two standouts in the crowd include Vince Bruno who transferred to be a part of the Cal Berkeley World Series team this past spring, and Chaz Vink who was selected for the 2010 Scholar Athlete Men's Honor Roll with a GPA of 3.88.
Coakley is energized by his students' successes. "I do what I do because I love using baseball as a tool to mold quality men. I enjoy mentoring young men through the ups and downs of a year, and teaching them how to work relentlessly to pursue a goal. I also enjoy teaching PE because I like the interaction with non-athletes who want to take a course to learn about their body and how to better themselves."
Coakley came to LMC from Clayton Valley High School in Concord where he was Head Coach and physical education instructor. He had played baseball at Clayton Valley High, then continued on in play at Diablo Valley College, ultimately receiving an athletic scholarship from St. Mary's College in Moraga. He earned a bachelor's degree in health/physical education/recreation from St. Mary's College, a teaching credential from Chapman University, and a Master of Arts in Coaching and Athletic Administration from Concordia University.
For more information about LMC's baseball program,
visit www.losmedanos.edu/baseball or call 925-439-2181, ext. 3335.
© Copyright Los Medanos College
---