March 9, 2010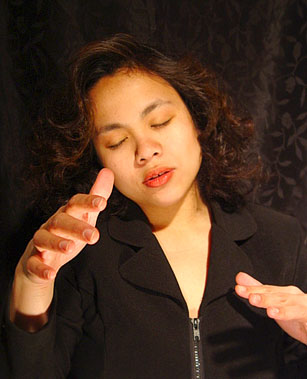 By Barbara Cella
When she was composing sweet ditties on the piano as a child, Ayn Inserto hadn't yet dreamed of a life as a composer, musician and professor. Playing the piano was the start of Ayn's musical adventure that continues to this day as she teaches at the Berklee College of Music; leads a jazz band, "The Ayn Inserto Orchestra"; and recently published her second album. And she certainly never anticipated that she would earn her Masters of Music in Jazz Composition at the New England Conservatory of Music.
Ayn moved to Concord while she was in high school and attended Clayton Valley High School. She was involved in the high school band and also played and composed with the Blue Devils Drum and Bugle Corps based in Concord.
Choosing Los Medanos College was not a difficult decision. Ayn didn't apply to any universities while in high school – in hindsight, she believes she knew she needed some time to figure things out. Going to LMC gave her that opportunity, while staying at home, taking music (especially jazz) classes and exploring other areas of study.
"When I got to LMC, I started with general music. I came in with a jazz background, and studied with Joan Cifarilli, who taught keyboarding (classical and jazz). I participated in both wind ensemble and jazz band. Mike Zilber was a huge influence – he introduced me to the history, basic foundation, theory, ear training skills, and encouraged me to not only listen to this and that artist and tunes, but also how to be flexible in how I thought about jazz. John Maltester also was great inspiration with big band music. One of the big band pieces we studied was by Bob Brookmeyer; I ended up studying with him."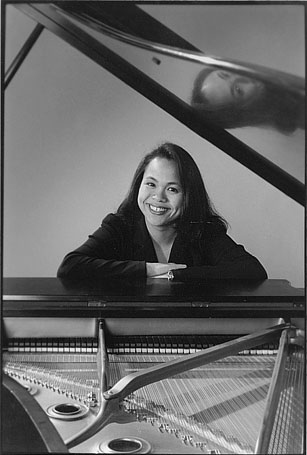 "My first year at LMC was the year the recital hall opened," Ayn explained. "It was spectacular, with the new practice rooms and performance areas. It was a treat to have such a facility. I also thought it was cool to be able to go to a liberal arts college and take other types of courses – I was amazed at ALL the different options available, compared to a more focused curriculum at a music school or another school where you have to focus on your major. At one point, I even thought I would be a history major because of that exposure."
"Music enhanced my LMC experience. The music program was extremely active. John and Mike lead many performances, the LMC Jazz Festival, brought in great performers, and encouraged us to get out and experience the local jazz scene. I felt like I was at a university rather than a small community college."
One of the things that Ayn enjoyed was that her classmates varied in age – there was an LMC biology teacher who played the cello, and there was an older woman was very active in her music studies. Ayn didn't realize how long term some of her classmates would remain close friends. She is constantly getting in touch with her musical peers from LMC days – a number of them have moved and are also working musicians on the East Coast, including Jennifer Warden who actively performs on Broadway.
Ayn currently resides in Boston, is an assistant professor at the Berklee College of Music and teaches privately in Massachusetts. She released her first album, Clairvoyance, featuring Bob Brookmeyer and George Garzone in 2006. Her second album, Muse, was released February 2009 and features George Garzone. She performs mainly on the East Coast.
"I love what I do. When I compose for a large ensemble – I can envision but can't execute the music myself – it is a big thrill when I hear my music played and performed by talented musicians. The thing with composition is that your process is thought out – you can think musically and stretch out your musical thought.. I also love performing. There is a joy, passion and satisfaction in playing music – jazz is very instinctual and interactive."
"When I look to the future, I seek to excel in composition and performance, and aspire to reach a higher level. I love teaching at the college level and, down the road, might pursue an associate professor position. I hope the future holds opportunities for me to perform more, work on another album and travel internationally."
© Copyright Los Medanos College
---