March 20, 2012
Media Contact: Barbara Cella, Director of Marketing (925) 473-7322
PITTSBURG: Two of last year's Los Medanos College (LMC) athlete stars have received statewide acknowledgment from the California Community College Athletic Association (CCCAA) for their great work. The CCCAA oversees intercollegiate competition at the 104 member colleges and nearly 27,000 student athletes of the CCCAA each year.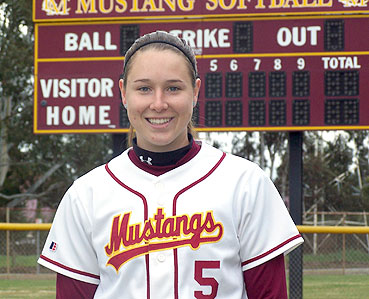 -Photo courtesy of Amanda Rupert -Photo by: THURMAN JAMES
http://thurmansworld.com
Amanda Rupert (LMC Women's Softball) was selected for the 2011 Scholar Athlete Women's Honor Roll with a 4.0 GPA at LMC. Amanda grew up in Antioch and graduated in spring 2011 with an Associate of Arts degree in Liberal Arts – Arts and Humanities. She is now on active duty with the U.S. Army. She graduated with honors from boot camp and is currently in Advanced Individual Training at Fort Lee in Virginia.
Aaron Hall, LMC Men's Football, was selected for the 2011 Scholar Athlete Men's Honor Roll with a GPA of 3.78. Prior to his time at LMC, he played football at Antioch High School. He is currently at Missouri Southern State University and majoring in kinesiology. While at LMC, Aaron was football team captain amd set a school record with five field goal blocks in a season.
LMC Athletic Director Richard Villegas explained, "Again, we have two student-athletes from Los Medanos College who are being recognized at the state level as scholar athletes. This is a testament to our athletic department and our counseling department of putting our student-athletes on the right path to succeed academically."
Amanda and Aaron, along with the other 2011 Honor Roll and Scholar Team award winners, will be honored at the Celebration of Scholar Athletes Luncheon at the 15th Annual CCCAA Convention on April 4th in Sacramento.
© Copyright Los Medanos College
---