EMS Information Night!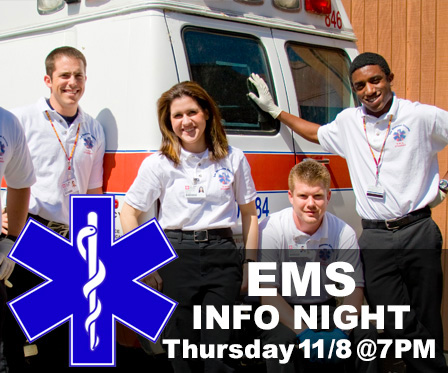 Are you interested in the healthcare field? Have you wondered what it is like to work on an ambulance? Do you know what an EMT does? If you answered yes, then the Los Medanos Emergency Medical Technician (EMT) class might be for you.
There will be an informational night on Thursday, Nov 8 at 7 pm in room SC2-229
Information on what EMS is and what EMT do will be provided, along with an overview of the EMS10 (EMT) course.
Counseling, financial aid staff will be available also.
What is an EMT?
An EMT is an Emergency Medical Technician, a professional health-care provider who renders emergency care to sick and injured patients. EMTs are trained at Los Medanos College to provide basic life support at the scene of an emergency, treat patients during transport, and monitor patients during interfacility transfer within an organized EMS system. Completion of the EMT course qualifies you to take the national certification exam administered by the National Registry of EMTs.
What Can I Do as an EMT?
There are many jobs available to EMTs. Most begin working on an ambulance, often starting with BLS Transport before moving into the 911 system. An EMT may also work as an Emergency Medical Dispatcher (a type of 911 operator), in private industry, in law enforcement, or as an Emergency Room Technician in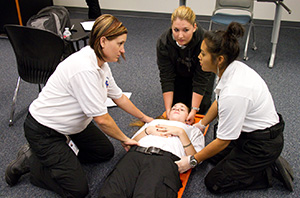 a hospital. EMT is also a prerequisite to attend the LMC Fire Academy or work for most fire departments. Some EMTs go on to attain more education in medicine by attending Nursing School or becoming a paramedic.
A paramedic is an advanced life support provider. Paramedics have more training, a higher skill level, and an advanced scope of practice as compared to EMTs, but all paramedics must start as EMTs. Paramedics are trained in intravenous (IV) therapy, advanced airway management, and medication administration. LMC does not offer a paramedic program, but there are local options available for this training.
Certification Exam Results
The EMS Program is designed to provide the education necessary for licensure eligibility and practice as an EMT-1. You can view Pass Rates for the EMT-1 California State Certification through the National Registry of EMTs for Los Medanos College at:
Prerequisites:
A current American Heart Association Card for BLS providers. It MUST be American Heart Association, no other cards are accepted.
Immunizations & Documents
Please have the documents below completed before attending the first day of our class. Documents will be collected the first day of classes.
MMR (measles, mumps, rubella)
Tetanus (within last 9 1/2 years)
Hepatitis B (at least the first shot of the series.
PPD (Tuberculosis Skin Test) no earlier than 1 month before class Start Date
Varicella immunization or proof of chicken pox as a child
Medical Exam - MUST be the NEW DMV DL 51 available at DMV offices or the LMC Physical Clearance Form
You may be required to obtain a flu shot