Events in the Library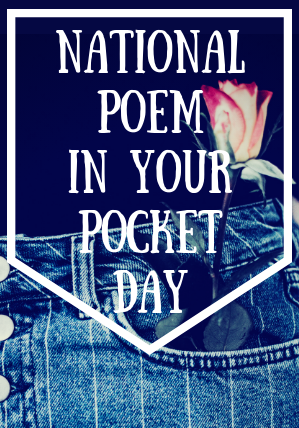 National Poem in Your Pocket Day at the Library!
National Poem in Your Pocket Day, part of National Poetry Month, is a simple way to celebrate the power of poetry by encouraging everyone to select a poem, carry it, and share it with others!
The week of April 15 is Poetry Week at the LMC Library!
Monday April 15-Wednesday April 17: Pick up a poem at the Library entrance. Carry it in your pocket all week!
Thursday April 18: Return to the Library and show us the Poem in Your Pocket to win prizes!!!
Library Poetry Activity Thursday April 18 12:00-3:00 PM
Create Your Own Poems
Learn to Find Poetry Books in the Library
Win Even More Prizes!!!
For more information, contact Roseann Erwin: rerwin@losmedanos.edu
Check out the Library's Poetry and Literature Research Guide: https://losmedanos.libguides.com/literature/poetry
Learn more about National Poem in Your Pocket Day and the National Academy of Poets at www.poets.org.
---