Degrees & Certificates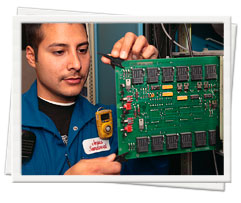 Our ETEC program offers you the opportunity to graduate with a Certificate of Achievement in four semesters (two years).
Electrical Technician
The Electrical Technician specialization is designed to train electricians to maintain complex electrical automation systems used in the manufacturing and power generation industry.
Instrumentation Technician
The Instrumentation Technician specialization is designed to train instrument technicians to maintain the process measurement and control systems used in refineries, chemical plants, biotech plants, pharmaceutical plants, water and waste treatment plants.
Certificate of Achievement
Graduate with a Certificate of Achievement in just four semesters. Courses in the first three semesters are common to both areas of specialization – Electrical and Instrumentation Technicians. In the fourth semester, the courses for each specialization vary, with the Electrical Technicians concentrating on the skills needed for electrical maintenance while the Instrumentation Technicians concentrate on the measurement and control of processes. The required curriculum for an Electrical Technician is 42 units, while the required curriculum for an Instrumentation Technician is 45 units.
Associate of Science Degree
An Associate of Science Degree in ETEC may be obtained by completing General Education requirements, in addition to the required courses for the major in ETEC. Graduation Requirements for the AS Degree are higher in English and Math. Physics 15 satisfies the Physical Science requirement for the AS degree. Consult an LMC counselor to help you develop your personal education plan to complete an AS Degree in ETEC.
Program Entry Skills:
Math 12 Pre-Algebra (4 units)
English 90 Integrated Reading, Writing, and Critical Thinking (5 units)
It is strongly advised that you either complete these courses or take the
assessment test to determine whether your Math and English skills are at this level or higher, prior to enrolling in the ETEC program.
Competency Requirements
Placement tests are offered by the Assessment Center in Room 524 at regularly scheduled times to determine the level of your competency in English and Math. No appointment is necessary but you must have a photo ID along with an LMC student identification number. It is strongly recommended that you take these tests before you begin the ETEC program.