2021 Graduation Ceremony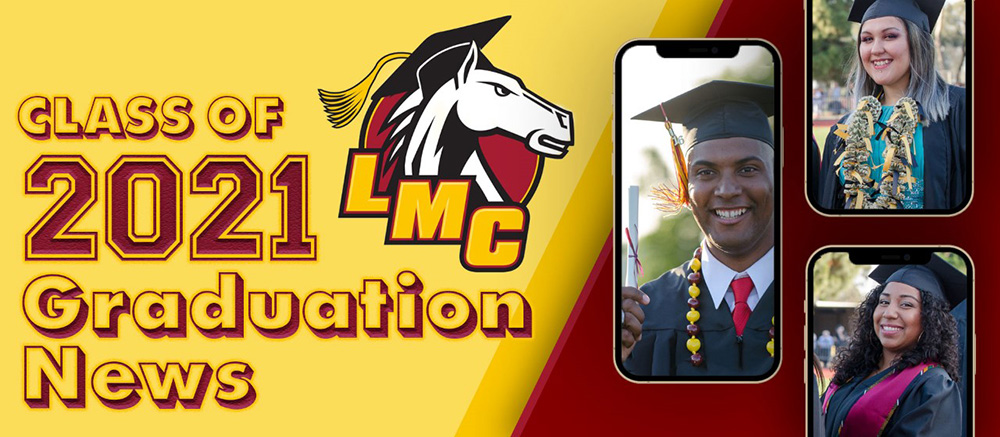 All students who are approved for Summer 2020, Fall 2020, and Spring 2021 graduation will be recognized in the online ceremony.
---
The 2021 Virtual Graduation Ceremony will take place on May 21, 2021 at 3:00 PM. A link will be provided on this web page at that time for anyone to view.
All graduates are encouraged to personalize their virtual graduation through the following methods:
Submit a photo and a quote:
All graduates will have a recognition slide in the ceremony which lists their degrees, scholarships, and academic honors. Graduates can personalize their slide by submitting a photo.
Graduates are also invited to submit quotes about their memories and love for LMC as well as messages to the Class of 2021. Deadline to submit is May 3, 2021.
Be the 2021 Graduation Speaker!
LMC is seeking graduating students to give a brief 3-minute speech in the 2021 Virtual Graduation online ceremony.
This is your opportunity to share your "pearls of wisdom," "words of encouragement," or "advice for the future" with your graduating classmates. Graduates are invited to submit a video of their speech for consideration.
Deadline to submit is April 22, 2021.
LMC provides you with an opportunity to order your Cap & Tassel set. . The deadline to purchase your sets is March 12, 2021. All orders are fulfilled within 6 weeks. The link to order will appear here soon.
Congratulations on reaching the important milestone of graduation!
We hope you will join us in celebrating your accomplishments in the LMC 2021 Virtual Graduation Ceremony!