As a teenager, young Ryan Pedersen loved the community feel he found at Los Medanos College (LMC).
Ryan had grown up as a home-schooled child, and he was enthused by the community he found with his newfound classmates. He also found it exciting and inspiring that he could ask questions of his instructors whenever he wanted.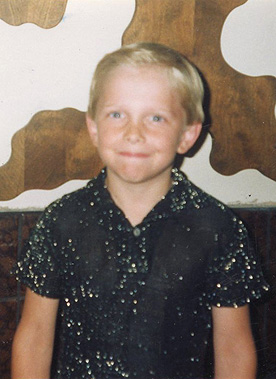 Ryan came to East County as a young child with his family. They settled in Byron after a stint in San Francisco (where Ryan was born) and San Pablo. At the time, Ryan felt Byron was really "the middle of nowhere". Then to top it off, being home schooled meant he was alone a lot after finishing his studies for the day and his friends were still in school. He finally got to join them in high school and graduated from Liberty High School in Brentwood.
Not sure of what he wanted to be or do, as soon as he could, Ryan headed to his nearby community college, LMC. Although he had done well academically in high school, he was not particularly motivated on his next steps. He also needed to find an economical option for college and with financial aid, LMC was a college he could make the most of, and he did.
"Right off the bat, I liked the community feel", Ryan explained. "I quickly started working with my classmates and building community with them. I was thrilled at being able to ask questions of my instructors whenever I wanted. At the time I didn't even realize how cool it was to have this type of interaction."
Several LMC faculty members had a lasting impact on Ryan's success and interest in college. Ryan explains, "I was constantly being pushed to perform to my full potential and not be lazy by a particular math faculty member here who, like Madonna, goes by just a one word name: Poku. I was also beaten soundly on the tennis courts by a math faculty whose class I was taking named Gil Rodriguez. The Honors Program was just getting started, and although I joined, it was just to take the cool classes like 'Honors Origins and Evolution of the Universe' taught by Kate Boisvert. I think that it was in this class that I fell in love with academia."
From LMC, Ryan transferred to the University of the Pacific (UOP) in Stockton, where he completed his B.S. with Honors in Mathematics, and B.A. with Honors in Physics. Then he earned an M.S. in Applied Mathematics, and as we write this, he is currently completing his Ph.D. at the University of Colorado at Denver (UCD).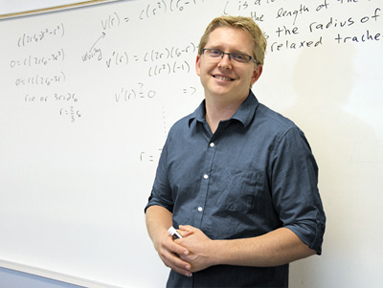 "My first teaching experiences were as an undergraduate tutor, teaching assistant and lab assistant at UOP. I went on to teach courses in graduate school at the University of Colorado Denver until I was awarded a research fellowship. I always really loved the teaching experience, but at the time, viewed these experiences as a way to make money while I went to school. I wanted to be a researcher, to ideally work in a lab or for a tech company. Fortunately for me, I had the chance to get a taste for this life with the research fellowships and through a project I worked on at Raytheon. I found I was miserable doing this type of work. It was not until my wife pointed out that I hated my job, and that I seemed so much happier teaching that I realized that this was exactly the case."
Ryan came "home" to LMC in 2008 after completing his master's degree, and got his start as a part-time faculty member.
"I returned to LMC to teach because my family is nearby and I feel a very strong connection to my community. As a former LMC student who benefited greatly from this school, I believe strongly in what we do here. We are making a difference in the lives of our students. These changes are transformational for them individually and for our community as a whole."
Now as a tenure-track faculty member, Ryan has become very involved in a broader view of transformation for the college as LMC Research and Planning Coordinator. Although this new assignment (and another as Co-Director of STEM Education) has taken Ryan out of the classroom, he still is very involved with the LMC community. Focusing on strategic planning and reporting, Ryan hopes that his work will assist departments and programs in focusing their efforts to lead our students to success.
Ryan has benefited almost as much as LMC has from his return to our college. "I feel so lucky to have a job where I get to be a contributing member of this institution and its surrounding community.
When Ryan isn't busy with his LMC life, he has an "awesome" wife and three children: Noelle (5) - "sharp as a tack", Vika (3) – "a beautiful daughter adopted 1.5 years ago from the Ukraine and diagnosed with Down syndrome", and Levi (3) – "lives life to the fullest, extremely active and feels everything deeply."
Ryan is an active member of a small local church and serves as the youth leader for middle school and high school students.
He also is an avid hiker with a fondness for Yosemite, and happy, active Giants fan.
---