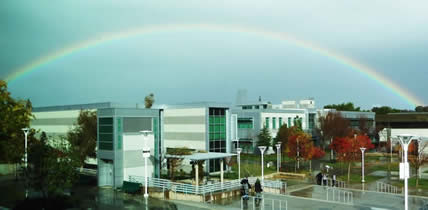 Good morning – and welcome to Opening Day!
Before we move into the program, I'd like to take a moment to share some information about the items you received as you arrived today. After a significant amount of work – and through a collaborative, cross-department effort – we now have checklists for 44 Associate degrees! There is a set of Degree Checklists for Counselors, for Faculty in the degree-awarding departments, and for Staff at the Information Desk. There are also stickers that can be given out to students who receive a Degree Checklist, as well as buttons that all of our LMC Educators – full-time faculty, part-time faculty, classified professionals, and managers – can wear to let students know about this new resource available to them. Many individuals were involved in this initiative – instructional faculty, counseling faculty, and classified, working together to support student success – and I'd like to ask all of them to stand. I'd also like to acknowledge one member of the Degree Checklist "team" for her above-and-beyond contributions (often behind-the-scenes) to the success of this project: Susie Hansen. And, of course, we can't talk about the Degree Checklists without recognizing Janice Townsend for her leadership on this initiative.
It's wonderful to see everyone this morning – returning from Winter Break, reconnecting with colleagues, feeling re-energized, and ready for Spring semester. And, with the weather we've been having, it's more and more common to see everyone carrying umbrellas. But, aren't we grateful for all this rain? It can present us with challenges as we travel through our day, but at the end of the downpour comes beautiful sunshine and a curved band of color in the sky. . . like the one in this picture. LMC: the figurative pot of gold at the end of the rainbow – the College of promise and opportunity for our students.
As you were arriving and settling into your seats this morning, you may have noticed music playing in the background – a famous and familiar tune, with well-known lyrics:
Somewhere over the rainbow,

skies are blue.

And the dreams that you dare to dream

really do come true.
At LMC, dreams really do come true…
. . . for our students, as they pursue their educational and career goals

. . . for our community, through workforce development and partnerships that foster economic vitality

. . . all because of YOU and the work you do.
The symbolism and aspirational elements of the rainbow provide another way to think about "the next level," the theme that we touched on in August during the Fall Opening Day program and at the District-wide Convocation on Innovation last January: the "next level" is that pot of gold we reach at the end of the rainbow, the goals we strive to achieve. Somewhere over the rainbow, our dreams and future vision – for our students and for LMC – really can and DO come true.
So, what does "the next level" mean to us – individually and collectively? What does LMC look like "over the rainbow"? Well, I think it can take many forms. It can happen in both big and small ways. It can be a simple idea that one person puts into action, making a positive impact on others – little by little, one by one. It can be a large-scale project – vast in scope with broad participation – that transforms the institution overnight.
It can be seen in many of the things that have already been accomplished across the College:
Creating new positions like the Umoja Coordinator, and full-time Counseling positions for MESA, Umoja, and Student Retention & Support Services;
Establishing a full-time faculty position to lead the MESA program and hiring a Student Equity Plan Coordinator
For the Brentwood Center, creating a full-time Librarian position and hiring a Financial Aid Assistant
Renovating 2nd floor smart classrooms in the College Complex
Converting existing facilities in the Science Building to gender-neutral bathrooms;
Launching a media equipment request tool (or "MERT") to manage/streamline the heavy workload of our IT Dept
And completing the Degree Checklists that were shared at the beginning of the meeting
These are just a few examples of "next level" happenings at LMC. In addition, there are many things that have been in the works that can take us to "the next level." For example:
Piloting the Starfish retention software and using Blue Jeans to provide opportunities for interactive, face-to-face, online student engagement
Career pathways partnerships with our local K-12 districts
Installation of interactive "smart boards" to help us teach and work smarter, and adding another water bottle filling station on the Pittsburg Campus
Creating an equity role at the institutional level, with the recruitment of an Interim Dean of Institutional Equity & Advancement
Providing student access in different ways and times via the web, online orientation, and non-traditional hours
Creation of the Professional Learning Center, which will open in several weeks
Opening the Veterans Resource Center this Spring
Planning related to new facilities (PE Complex, Student Union, and – of course – the new Brentwood Center)
And being one-step closer to installation of phones in classrooms, which will hopefully begin later this year
And, there's a growing wish list of things that definitely would catapult LMC somewhere over the rainbow, such as:
Meeting our students' mental and physical health needs
Technology that is not only state-of-the-art, but anticipates methods of teaching and support services that are yet to be developed
Sustainable resources and long-term fiscal health for the institution
Developing an equitable, inclusive, forward-thinking, and sustainable Educational Master Plan to guide us in the coming decade
And holding All-College meetings that actually provide opportunities for EVERYONE to attend, participate, and be engaged
At "the next level" – over the rainbow – LMC is at the forefront of student success and community college excellence: being nationally recognized for our transfer rates, equity and inclusion efforts, workforce development partnerships, completion outcomes, professional learning programs, closing the achievement gap, and innovative best practices.
At LMC, these dreams really CAN and DO and WILL come true – because of all of YOU and the outstanding work you do on a daily basis. I'm excited about what the future holds for Los Medanos College and confident in our ability to get to "the next level" together.
So here's to continued progress on our goals, success for ALL of our students, and a great Spring semester!
Bob Kratochvil, Ed.D.
President