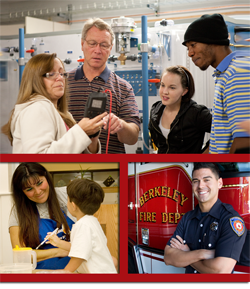 What is HOSTS?
HOSTS is an acronym for Helping One Student To Succeed.


Why donate to HOSTS?
Under HOSTS, donors have an opportunity to help one student with their educational expenses, without demanding a large financial commitment from them.


How will this program help students to succeed?
Supplementing college costs reduces financial stress, allowing students more time to focus on their studies, therefore increasing student success rates.


How are the students chosen?
Students must be referred by an LMC faculty, staff and/or manager.


Are there specific criteria HOSTS recipients must meet to be eligible?
Yes, in addition to being referred by LMC faculty, staff and/or managers HOSTS recipients must:

Be enrolled in at least six units
Have a 2.0 GPA, at the time of referral
Agree to apply for scholarships and financial aid in the future (as eligible)

Who will verify eligibility?
The Scholarship Coordinator will confirm that students meet the criteria and advise them about scholarship opportunities and other financial resources.


How will we know the money is being spent only on qualified educational expenses?
The Scholarship Coordinator will provide HOSTS recipients with a credit memo to use at the LMC Bookstore or take to the Cashier window to pay for books or tuition fees. No cash will be exchanged.


What types of students might benefit from HOSTS?
Students with financial need, i.e. single parents, veterans, students not receiving financial aid, or students who missed scholarship deadlines.


How many students can benefit from HOSTS?
By raising $20,000 potentially up to 80 students can receive these scholarships. ($250=80 students, $500=40 students)


Are students currently receiving financial assistance eligible?
They will be considered on a case by case basis for a loan, not HOSTS.


Is a student eligible for HOSTS more than once?
No


Will you have a tracking system to measure student success or that students haven't dropped out?
Yes, the Scholarship Coordinator will verify whether students successfully completed the semester HOSTS was awarded and if they applied for scholarships and financial aid assistance. The Coordinator will also track the students to see if they complete their required courses.


How many students need this kind of assistance?
Approximately 125 students per year indicate an unmet financial need and approximately 85% of LMC students qualify for some sort of financial assistance.


What is the minimum amount I may donate to be acknowledged for a HOSTS scholarship?
All donations will be acknowledged on the LMC Foundation website. Donations of $500 or more will have your name associated with a scholarship.


Can I have my donation named?
Yes, donations of $500 or more may "name" a scholarship.


Why did we choose $500 as the amount for a HOSTS scholarship?
The average cost of tuition or books per semester is $500.


How can you donate to the HOSTS scholarship program?
*The LMC Foundation can accept all major credit cards. If you wish to pay by credit card, you may either call the Foundation office at (925) 473-7317 for credit card processing OR if on-line by going to: www.losmedanos.edu/foundation which will take you to the PayPal site for credit card processing.
*You may pay by check; make checks payable to LMC Foundation, with HOSTS in the memo section and send to: LMC Foundation, 2700 E. Leland Road, Pittsburg, CA 94565
*If you have any questions regarding your donation, please feel free to contact the Foundation office at (925) 473-7317.