Finding her way while teaching and supporting others at LMC
Biology Professor Briana McCarthy has made it her mission to ensure that LMC students come out of her courses with an understanding of their environment from a scientific perspective.
"Biology lends itself so well to creative thinking, curiosity, and wonder about the world. I encourage my students to take an inquisitive approach to life and scientific literacy." Briana values creativity, inspiring her students to come up with unique answers to scientific questions about the world around them. "I try, whenever possible, to provide students with opportunities to connect the material with their everyday lives."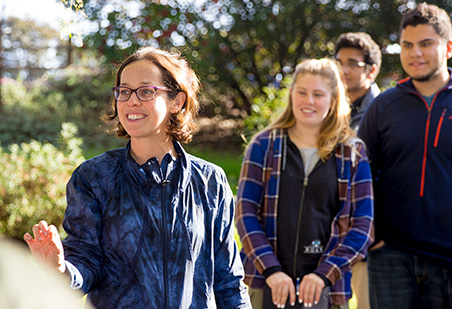 Before coming to LMC in 2014, Briana taught subjects such as anatomy, human sexuality, physiology, nutrition and environmental service learning. Teaching became her passion when she was in graduate school. It opened her eyes to the many ways in which she interacts with students, and the way students interact with one another.
For Briana, teaching isn't just a one-way process. Her students have taught her quite a bit as well. "Sometimes, I take my job so seriously, that I forget to find humor in material, discussions, lectures, etc. Students remind me to laugh and not take anything too seriously."
When you walk into any one of Briana's classes, you are greeted with a wide, beaming smile. Her apparent eagerness indicates she enjoys not only teaching, but interacting with here many diverse collective of students every semester. "I enjoy spending time with sincere, fun, quirky, quality people, and I have found that community colleges tend to draw those folks in, from students to staff to faculty," she explained. "There is something about working with students who are mostly in their late teens and twenties -- maybe because I struggled so profoundly during these years -- I feel that I can be useful in at least sharing what worked and didn't work with my students."
When asked about why she picked a community college to teach at, Briana talks about her upbringing, saying that growing up, she'd go to community college classes with her mom who was a nursing student raising three girls. "Even as a child, I was blown away by the supportive community she found in this setting."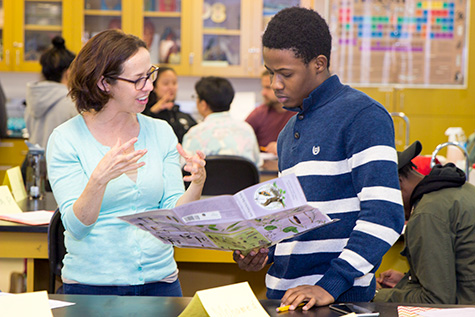 These experiences helped mold Briana's opinion of community college. When she realized she wanted to teach, she sought the same sense of community. This was an element she found at LMC, and it drew her in. "LMC has an incredibly unique student-centered culture; I've seen that faculty and staff go beyond talking the talk, which was a refreshing surprise when I came to interview here four years ago. As a full-time faculty member, I have a great deal of freedom in what I teach and how I teach it, which I also appreciate. I love exercising creativity in curricular decisions, and exploring collaborative projects with experts in many different fields who truly care about teaching and learning."
She does note that teaching has its challenges. That includes figuring out how to support so many unique individuals all with their own backgrounds and learning preferences and strengths. "As a person interacting with so many human beings, all going through their own share of challenges, I've had to learn to put my ego aside, said McCarthy. "Solving problems is not about being right, but rather about being heard and practicing active listening." However, her experiences at LMC have been predominantly positive and has expressed the ways in which these experiences have shaped her as a person. "I am a much more compassionate, patient, light-hearted, organized person than I would otherwise be."
"All in all, it's hard to have a bad day when teaching, especially biology. I love that I almost always leave the classroom feeling better than I felt when I entered it," she said. "I have worked 9-to-5 jobs amidst teaching gigs for the last decade, and I always come back to teaching as my happy place."
---