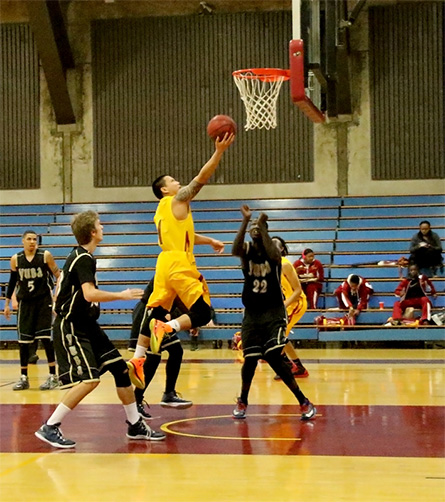 Brandon Silva is one very focused, determined young man - busy striving and realizing his dreams. He came to LMC from Clayton Valley High School, and after two years at LMC, is now attending Waldorf College in Forest Hills, Iowa. Fortunately it's a dream come true with the help of an athletic scholarship.
Brandon was a star on LMC's basketball team where he played point guard. He actually is the 73rd player to receive an athletic scholarship during Coach Derek Domenichelli's tenure as basketball coach at LMC.
Brandon explained, "The scholarship I got at Waldorf covers 85% of the school, and the school here cost around $28,000 per year. When I got offered the scholarship I was really happy. All of those hard years of playing basketball from elementary school, middle school, high school, travel basketball with my travel team, 'EastBay Bearcats', and my years at LMC paid off."
"I'm the first in my family to live more than 1,000 miles away for college and to play basketball, the sport I love, makes it even better. Representing for my hometown, family, all the schools I've played for is what it makes it even better! The school here at Waldorf is a new experience. Going to school with students from all over the U.S is something new for me. The teachers here are very helpful, the campus is nice, the food is good, and the school really wants its students to succeed."
Now that his year has started, Brandon continued, "I think playing at Waldorf College is really tough. You got to be mentally tough, and always be focused to play here. Playing here at a 4-year isn't easy, and it's a big challenge for me, I'm up to accept the challenge."
"I am extremely proud of the student/athletes in our basketball program who have receive athletic scholarships"

Brandon had the exclusive honor in 2015 of being the only basketball player to be awarded a scholarship for a transfer school from a 4-year institution. In 2014, four scholarship recipients from the LMC Basketball Team included Drew Cones, Humboldt State University; Patrick Lefiti, Cal State Monterey Bay; Marquise Aaron, Bellevue University; and Javon Primus, Bellevue University.
" I am extremely proud of the student/athletes in our basketball program who have receive athletic scholarships", explains Coach Domenichelli. "They have shown dedication not only on the basketball court but in the classroom as well. Having one of the top transfer rates in the state of California of players moving on to four-year institutions is something my staff and I are tremendously proud and excited about. Good luck to Brandon at Waldorf College!"
---