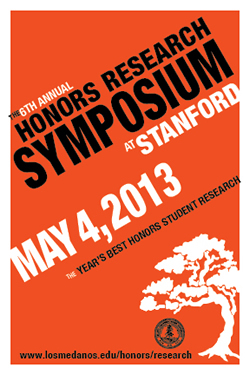 General 2013 Symposium Information
Join your fellow community college Honors Students on the beautiful Stanford campus for a day of intellectual stimulation. With presentations of original student research, inspiring speakers, a performance by a Stanford student group, an admissions workshop and opportunities for campus tours this event will be the highlight of your academic year!
Date: Saturday, May 4, 9AM - 4PM
Location: Stanford Campus
Registration Fee: $25
Online registration is now closed for the Symposium, however we are accepting walk-in registrants the day of the event. Be sure to arrive early to give yourself time to sign up, pay and make a nametag.
New Download the 2013 Program here
Proposal & Presentation questions: Katharine Harer , Skyline College
General questions: Jennifer Saito, Los Medanos College