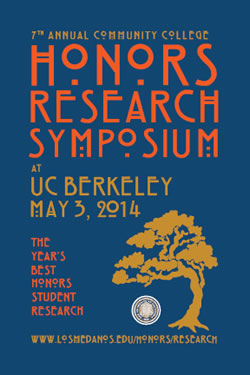 General 2014 Symposium Information
Join your fellow community college Honors Students on the beautiful UC Berkeley campus for a day of intellectual stimulation. With presentations of original student research, inspiring speakers, entertainment, an admissions workshop and opportunities for campus tours this event will be the highlight of your academic year!
Date: May 3, 9AM - 4PM
Location: Dwinelle Hall, UC Berkeley Campus
Registration Fee: $25
Online registration is closed for this event though you may attend as a walk-in. Be sure to arrive no later than 8:30AM if this applies to you to give yourself time to register.
Click here for Parking and Direction Information
New:

Download the 2014 Program here
Proposal & Presentation questions: Eva Mo, Modesto Junior College
General questions: Jennifer Saito, Los Medanos College