Los Medanos College women's basketball team, with its first-ever winning season, heads into playoffs
By Matt Schwab Oakland Tribune
Posted: 02/14/2011 07:13:07 PM PST
Updated: 02/14/2011 10:36:49 PM PST
Los Medanos College women's basketball coach Richard Villegas said he's glad to know that hard work eventually pays off.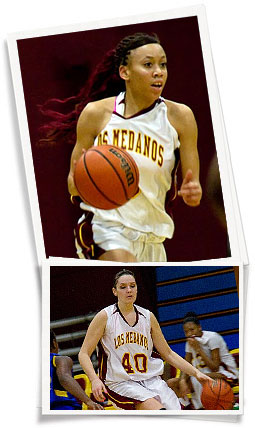 His emerging program is proof of that.
Los Medanos (21-7), which had not finished with a winning record before this season, enters Tuesday's 5:30 p.m. game against visiting Napa Valley in the Bay Valley Conference tournament ranked eighth in Northern California and 18th in the state.
Los Medanos' emergence stems from an infusion of size and speed.
Former Antioch High star Shelby Secor, a 6-foot-1 redshirt freshman, and freshman guard Khyia Slone (Heritage), a former MVP of the Bay Valley Athletic League, are key newcomers.
"Those two additional players give us a good competitive combination," Villegas said. "We can run, we can press, we can get big, and we can shoot it a little bit. Plus, we've played more tournaments this year to give us more exposure. But heck, 21-7, I would never have thought that."
The Mustangs finished second in the BVC Valley Division -- a game behind Solano (15-10, 10-1).
Los Medanos' roster boasts 10 former BVAL players. Local recruiting is going well.
"They're not driving by us anymore. We're starting to see some (recruits) here," said Villegas, who restarted the LMC women's basketball program eight years ago.
A transfer from San Francisco State, Secor averages 15.7 points and 10.7 rebounds a game.
Secor and 6-3 sophomore Keyontee White (Deer Valley), who's also averaging a double-double with 12.7 rebounds and 10.7 points, form a menacing tandem in the paint.
Slone, who joined her sister, sophomore Kyheria, in the LMC backcourt, leads the team with 138 steals and 106 assists and is No. 2 in scoring at 12.0 points game.
The Los Medanos-Napa Valley winner will face host Laney (18-10) in the BVC semifinals at 7 p.m. on Wednesday.
SIMMERING RIVALRY: The Coast Conference-North Division showdown between men's basketball rivals City College of San Francisco and visiting Chabot on Saturday got heated in the final seconds.
The Rams (26-1, 11-1), ranked No. 1 in the state, prevailed over No. 7 Chabot (18-7, 7-3) 69-66 to clinch the conference championship, but the game was marred by four technicals and an ejection of CCSF's Yoan Zola.
The Rams and Gladiators also did a "little bit of woofing" at each other when they met earlier in the season in Hayward, according to Chabot coach Denny Aye.
Of the theatrics in Saturday's rematch, Aye said that after Chabot missed a potential game-tying 3-point shot with 12 seconds remaining, players got tangled up underneath the basket, leading to the technicals. He said no punches were thrown and the benches did not clear.
Chabot has a big game at home Friday night against Canada (18-4, 7-3). The Colts and Gladiators entered the week tied for second place.
Chabot 6-6 sophomore Jourdan DeMuynck (Castro Valley) has been a two-way force, averaging a team-high 14.9 points a game to go with a team-high 52 steals overall. Aye describes him as a complete player and a strong rebounder who guards the opponent's best scorer.
QUICK HITS: Cal State East Bay guard Sarah Finlay, a freshman from Reno, was named California Collegiate Athletic Association player of the week on Monday after leading the Pioneers to a two-game home sweep of Chico State and Cal State Stanislaus. ... Diablo Valley coach Steve Coccimiglio said freshman guard Brian Goins, who is 5-foot-9 and 21 years old, is garnering a lot of attention from four-year schools. Goins totaled 72 points in the Vikings' two wins last week. "The thing about him that's amazing is he's not only so quick but he can elevate at the rim," Coccimiglio said. "You don't see a lot of his shots blocked or they don't get bothered that much."