Pay For Print
Pay for Print stations at both LMC campuses provide network printing access for students.
A Pay for Print copy card is required for printing, and may be purchased from a card dispenser near select printer release stations on campus.
Directions on how to send a document to print:
From the student workstation you are using, print the document you need.
The dialog box shown below will appear. Enter your name in the Client ID field.
Leave the password field blank.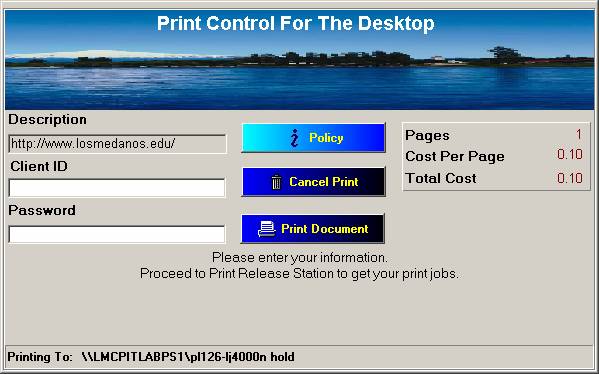 Next, go to a designated Pay for Print release station.
Insert your credited copy card into nearby payment card reader.
At the Print Release Station, enter the same name in the Client ID you entered above.
Retrieve your document from printer and copy card from payment reader.
Any issues contact the IT Service Desk at x37767.