LMC is delivering most classes online and a few classes on campus to minimize the spread of COVID-19. Visit the District Office COVID-19 information pages.
Please connect with your instructors via Canvas and check your College email often for updates. For assistance with LMC's online support services, use the Live Chat feature on this website or call (925) 473-7434.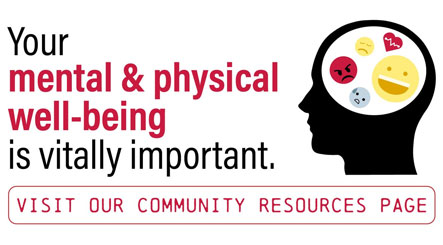 Search for Classes Search for classes Online Resources Help Videos Meet with a counselor Meet with a counselor
Frequently Asked Questions

I'm struggling with my expenses as a result of COVID-19. Is there emergency financial assistance?

LMC is offering one-time $500 COVID-19 Emergency Grants for currently enrolled LMC students who are facing unexpected expenses as a direct result of the COVID-19 pandemic and the transition to remote classes and services. These funds, which are grants, not loans, do not need to be paid back. Funding is limited and is subject to the rules and eligibility requirements. The deadline to apply is September 7, 2020. More information and the 5-minute application is available at: https://www.losmedanos.edu/financialaid/care.aspx

I need access to a computer, headphones, or a camera to complete my courses. Is there any support for me?

There are limited resources available for students with high need. Please fill out the following LMC Student Support Form.

I'm not in an emergency or crisis, and I want to talk to a Wellness Counselor or a Mental Health Therapist. How can I talk to someone?




For non-urgent concerns, Counselors in the LMC Counseling Department can provide resources on self-care and help you access community based resources for other mental health or wellness needs.

For non-urgent concerns and up to 8 sessions of free therapeutic counseling, please use this link to request services from a JFKU Wellness Counselor. Telehealth options are currently available. JFKU Wellness Counseling

I need some tutoring. How do I get help with that?

We have a web page that list all the virtual tutoring services that are available at this time and their schedules for individual time with a tutor.

I need to talk to someone in Admissions & Records, how do I do that?

The Admissions & Records Department is providing services via phone at (925) 473-7500, or visit the admissions and records webpage to email or chat.


Can I still talk to a Counselor?

Distance counseling appointments are available through video or phone with a Counselor. To schedule an appointment, please call our LMC General Counseling Department phone line at 925-318-1733 or you can book through the Counseling Website. You can also email a Counselor directly with any questions; a list of the Counselor emails and specializations are on the Counseling Website contact page.

Can I still talk to someone at Los Medanos College even if they are providing services online?

We have limited phone service so please communicate via email or chat. If you would like to talk to someone during hours of operation, you can reach the Welcome Desk at (925) 473-7434.

How do I stay up to date with changes during this time?

Make sure you are checking your InSite email frequently. This is the only email that staff and faculty at LMC can contact you at.

What if I do not have access to a computer or the internet?

Please contact your instructor for options on how to continue your course.

Can I withdraw if I feel I cannot complete the course? If so, who do I talk to?

Please talk with your instructor first, your instructor may have options for you. Please also consult with an LMC Counselor and Financial Aid Office before dropping a course as it may affect more than just your enrollment at LMC.

How do I drop a class?

You can drop a course on your insite portal through the Plan-Progress tile. If you are blocked from dropping a course online due to owing student fees or being on Academic Probation, you can email a request either by using the drop request form on the Admissions & Records Forms page or submitting an email request including course information to admissions@losmedanos.edu BUT it must come from your student InSite email to authenticate your identity.

What is an Excused Withdrawal?

Courses dropped for COVID-19 related reasons after the last date to withdraw to avoid a "W" will be considered an "Excused Withdrawal" (EW). This means that you will get a refund for the course you dropped and it will not count towards your allowable 3 attempts towards taking a course.

Note: For Anatomy, Physiology and Microbiology, you can only attempt these courses two (2) times and an Excused Withdrawal (EW) will not count towards these two attempts. For more information, please contact Admissions.

Is the library open?

The LMC Library building is closed until further notice. Library staff are working remotely and available to assist you. Librarians are available for reference assistance via email, chat, and Zoom. Visit their website to access online resources and get help.

What is the turnaround time for a response?

There is a 24-hour response window Monday-Friday and 48-hour response window on weekends. If there are assignments due over the weekend, communicate with your instructor to create a communication plan.

Will I still receive my financial aid disbursement?

All scheduled financial aid disbursements will continue.

How do I get help with Financial Aid?

The Financial Aid Office is open and providing remote services through email and phone.
Phone: 925-473-7525

Your Financial Aid Representative is based on the first letter of your last name and you can email them directly.

Last Names: A - E
Beverly Bui, bbui@losmedanos.edu


Last Names: F-L
Faidra Lopez, flopez@losmedanos.edu


Last Names: M -N
Tamara Carreon, tcarreon@losmedanos.edu


Last Names: O-R
Deborah Baskin, dbaskin@losmedanos.edu


Last Names: S-Z
Eva Monteverde, emonteverde@losmedanos.edu
Canvas, Internet, & other software help

---

Students & faculty: Access Canvas from the button above, or bookmark and go directly to https://losmedanos.instructure.com.

To access your Canvas account login with your InSite username and password.

Note: Any changes made to your InSite account, such as resetting your password or adding/dropping a course, will be updated in Canvas in three hours.

Using Canvas

For help with using Canvas you can use resources like the Canvas Student Guide, the Canvas Support Hotline (845) 592-2198, or the Canvas Support Live Chat.

If you want a quick tour of Canvas, check out this Canvas Overview video to learn how to navigate your courses!

---

Using Canvas FAQ

Assignments

Discussions

Quizzes

Gradebook

Mobile Device Support for Canvas

The Canvas by Instructure app is the mobile version of Canvas that helps you stay current with your courses anywhere you go. Please note: the apps are more limited in functionality than the desktop version of Canvas. We recommend submitting work in the desktop version of Canvas.

Do you plan to use the iPhone/iPad CANVAS mobile app? Read the Canvas by Instructure iOS guide. Check if you have the most up to date version of the Canvas app.

Do you plan to use the Android CANVAS mobile app? Read the Canvas by Instructure Android guide. Check if you have the most up to date version of the Canvas app.

Comcast

As the Contra Costa Community College District begins to transition face-to-face courses to online instruction for remote education, we want to make students aware of a resource for 60 days of complimentary internet access. If you live in a Comcast service area, you may be eligible for this service.

Internet Essentials: New customers will receive 60 days of complimentary Internet Essentials service, which is normally available to all qualified low-income households for $9.95/month.

For more information about eligibility and to apply, call 1-800-934-6489 or visit their website at https://www.internetessentials.com/covid19.

For a map of Xfinity WiFi hotspots, visit http://.xfinity.com/wifi.
Once at a hotspot, consumers should select the "xfinitywifi" network name in the list of available hotspots, and then launch a browser.

---

California Connects

Student Assistance Program (SAP)

These are uniquely stressful times for everyone, filled with rapid change and uncertainty, and we expect that many people could find themselves in need of additional care and support.

Los Medanos College (LMC) and Contra Costa Community College District (CCCCD) want to remind all of our students about a robust resource already in place called the Student Assistance Program (SAP).

SAP stands ready to provide up to five (5) individual counseling sessions, per issue, per policy year, either in person, or by telephone or web-video conference for problems related to:

Childcare and eldercare assistance;
Daily living services (arranging help with errands);
Stress, anxiety, changes in mood, sadness;
Grief, loss or response to traumatic events (like COVID-19);
Financial or legal services; and/or
Concerns about use of drugs or alcohol

These services can be accessed 24/7 either by calling

(800) 227-1060 (TTY users call 711)

– or by visiting –

https://members.mhn.com/external/public/default/login

LMC/CCCCD Student login code: ccccdstudent

Use of these services is confidential between you, the SAP, and the individual professional providers with whom you are connected.

No personal information is shared with LMC or the District.
Student Support Services
Need help with any subject?
Our tutors and labs are virtually online to help you. Visit the tutoring web page to learn the different ways and to view the different schedules.
Distance Counseling
Providing phone, video, and email counseling and career exploration for new, returning and veteran students.
| | |
| --- | --- |
| | Wondering about your future?Transfer and Career Services can help you explore your options and get ready for transfer. They can help you streamline the process and set you on the path that is right for you. |
Need some tech help?
Your fellow students are just a chat away to help you solve common problems with Canvas, Zoom, Microsoft office products and more!

If they don't know the answer they will find someone who does!
Have a writing assignment?
The Center for Academic Support has been providing online writing consultations for years. That's not all... they also provide peer tutoring in all subjects, not just writing!
LMC Marketplace
Weekly Hours
Mondays & Thursdays 1 PM-3 PM

Student Services at a glance (hours & services available)
Support Legend:
Live Chat , Email Consultations , Video Conferencing , Phone Support , Additional Support
Admissions and Records
Remote services only
Registration questions,
prerequisite assistance,
official transcripts, pe
tition for degree and/or certificate, CSU GE/IGETC certifications, special admit concurrent enrollment registration, and
much more!
Hours: Monday - Thursday
9:00am-
6
:00pm
(925) 473-7500
admissions@losmedanos.edu
Counseling
Remote Services Only: Distance Counseling Appointments and Drop-ins, Counseling Workshops,

Student Wellness Program

Program
Hours of Operation: Monday-Thursday:
9:00am-5:00pm
Friday :
9:00 am-1:00pm
Drop-in Hours: Monday-Friday: 11:00am-1:00pm &
Monday-Thursday: 3:00pm-5:00pm
E-Counseling
(925) 318-1733
Disabled Student Programs & Services (DSPS)
Remote services only:
DSPS counseling appointments
Learning strategies and other workshops
Canvas support shell for DSPS students
Alternative Media delivered remotely or by mail
Note takers & scribes working remotely through zoom & email
Support for instructors to provide testing accommodations through canvas
Remote training for assistive technology
ASL interpreting & captioning provided
Hours: 9:00am – 6:00 pm Monday – Thursday
Friday: by appointment only
925-318-1673
Financial Aid
Remote services only


Financial Aid advising, FAFSA and CA Dream Act assistance, help with filling out financial aid forms and completing outstanding items, view financial aid award package.
Hours:
Monday
-
Thursday 9:00am – 6:00pm

Note: The general phone line will close 30 minutes before close of business each day.
Scholarships
Remote services only
Scholarship advising, Application Workshops, Phone and/or virtual appointments available
Hours: Monday - Thursday 9:00am – 5:00pm
toranje@losmedanos.edu
(925) 473-7518
Transfer & Career Services
Transfer and career workshops, University representative appointments, individual meetings with transfer and career coaches and counselors,
work experience orientations,
and major exploration
programs

Hours
Live Chat Hours:
Monday-Thursday
9:00am-6:00pm
---