Brianne Visaya Wins Prestigious Scholarship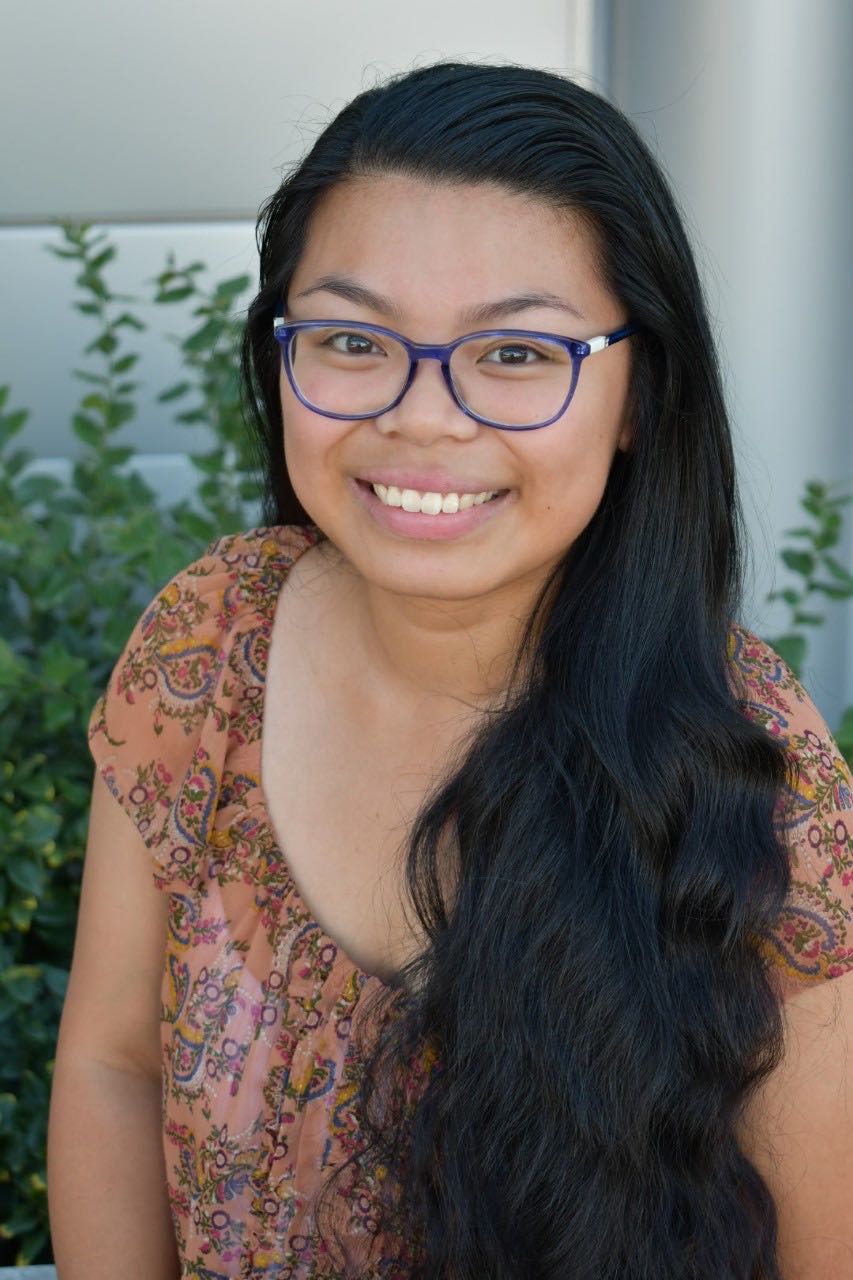 Brianne Visaya, a Civil Engineering major at Los Medanos, has been awarded the prestigious NOAA Hollings Undergraduate Scholarship. This 2-year program provides students with academic assistance ($20,000 per academic year), a NOAA summer paid internship for both years of the program, and an all expenses paid trip to the NOAA headquarters in Silver Spring, Maryland for a week-long orientation. The program aims to increase undergraduate training in ocean and atmospheric science, research, and education to improve environmental literacy and prepare students for public service careers.
Brianne has been studying at Los Medanos College for the last three years and will be transferring in the Fall. She says that Los Medanos has "made me into the person I am today." Through the Honors and STEM programs at LMC, she has had the opportunity to present her independent ecology research at Stanford and UC Berkeley and attend the Community College Undergraduate Research Initiative Conference in Nashville. Both the Honors Director, Jen Saito, and former Biology Professor, Danielle Liubicich, encouraged her to take risks and engage in these rewarding experiences through the college. In her time at LMC, Brianne has also been a presenter at the college's first TEDx event, has interned at NASA, and has worked at the City of Pittsburg as an engineering intern.
Brianne is interested in blending her interests in civil engineering and ecology to "change the world
through implementing energy efficient technology, sharing the positive effects of 'green' living, and conserving natural resources by using smart or recycled materials in construction processes." As an undergraduate and graduate student (and eventually a PhD candidate), she wants to learn and research more about sustainable technologies in order to build environmentally sustainable homes for people, especially in low income communities, to fight climate change and preserve our environment.
Brianne's passion for the environment and ecology stemmed from her Biology professor, Briana McCarthy. "She taught me that even though there are so many problems in the world caused by past and current mistakes made by humans, there is always hope," Brianne says. "There are so many peers, professors, and faculty at LMC that have helped me become successful and I will be grateful to them and this college for the rest of my life!"
Brianne's Background: Brianne Visaya was born in Sacramento, but grew up in Japan and spent most of her childhood living all around the world. She was inspired by the California Academy of Sciences and knew that she wanted to be a Civil & Environmental Engineer. She intends to build sustainable green buildings and educate others on the importance of the health and conservation of the environment. Living in Japan was also an integral part in deciding her future in helping the Earth - it was where she was taught to be environmentally aware. Brianne's hobbies include restoring aircrafts at the USS Hornet, mushroom hunting, and travelling.
UPDATE on Sonia! 4/10/18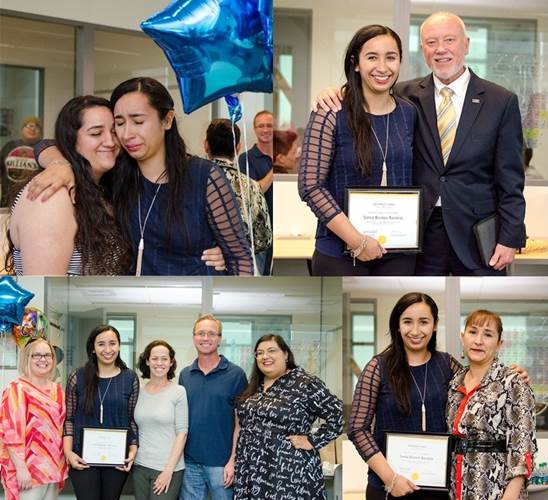 For the second year in a row one of our LMC students is a recipient of the prestigious national Jack Kent Cooke Foundation Scholarship. Ms. Sonia Bustos Barocio!
The Jack Kent Cooke Foundation provides the largest private scholarship in the country to high-achieving community college students who have financial need. This generous scholarship provides recipients with up to $40,000 per year for up to three years to complete a bachelor's degree at a four-year college or university. Cooke Scholars are eligible for graduate school funding after completing their bachelor's degree. The graduate award provides up to $50,000 per year for up to four years.
Sonia was suprised with the presentation of the award in the MESA center with her friends, family and mentors around. Congratulations Sonia!
Sonia Excels Through Involvement & Commitment
If you ask Sonia Bustos Boracio what helped shaped her love for biology, you will find a long trail of success leading back to Los Medanos College.
A member of STEM and MESA, Sonia has made her mark both on and off campus, most recently bringing home a first-place award for her Cell/Molecular Biology presentation at the National STEM Diversity Conference.
It was through the support of LMC's Society for the Advancement of Chicanos & Native Americans in Science (SACNAS), that Sonia was able to attend the conference, and then to be one of 117 college students to win. Not only did Sonia utilize her position as a member of SACNAS, but she was also a founding member. This isn't the only LMC organization she's had a hand in. She was also a member of the Calculus Club and Alpha Gamma Sigma (AGS), the honors society of California community colleges.
In addition to being a success on campus, Sonia also has an impressive off-campus experience. "During my spare time, I conducted independent biological research as a summer researcher at the Medical University of South Carolina. It inspired me to want to predict and discover genetic, optical and cardiovascular diseases. I was lucky enough to be selected to present my research at the Honor's Research Symposium. And then to win a national award for my presentation at the National STEM Diversity Conference is just amazing!"
Sonia has used her passion to reach out to younger people who might be interested in STEM fields. As a member of the STEM Ambassador program, she gave tours of LMC to elementary, middle and high school students.
Sonia has always had an interest in biology. "I absolutely loved learning about the human body and I knew I wanted to discover something in the field of biology that would help people in some way or another."
Sonia's road to success however, wasn't without its pitfalls. A long commute from Stockton to Pittsburg combined with working 20 hours of week took its toll. However, her hard work and perseverance prevailed. "I keep coming to LMC because I have found a community who cares for me and wants me to be successful. I love the teachers, mentors, counselors and students at Los Medanos College -- they make me feel like my commute is worth it in the end," she said.
"All of these campus activities truly helped me create a strong relationship with LMC community which I deeply care for"
– Sonia Bustos Boracio
After she completes her goal, of receiving a PhD in Biomedical Research Biology at UC Irvine, Sonia plans to return to this area and help educate others. "I would love to come back and teach biology here and keep inspiring people to finish their education," she said.
This would be her way of giving back to the intuition that influenced her career path and helped create the go-getter she has become.
"All of these campus activities truly helped me create a strong relationship with LMC community which I deeply care for," said Sonia. "I have learned a lot about the great benefits of giving back to the community which has made a significant contributions to the development of my character and to the person I am today. After earning my PhD in Biomedical Research, I would love to come back and teach biology at LMC, and keep inspiring people to finish their education and to follow their dreams, no matter how big!"
---