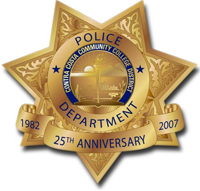 Non-Emergency
439-2181, x3228
Campus Emergency
439-2181 x3333
7:30 - 10:30 pm: Mon & Thurs
7:30 - 4:30 pm: Friday
8:00 - 4:00 pm: Saturday

Emergency Only
9-911 anytime from campus phones
911 anytime from payphones
District Alert Infomation Web Site
The Contra Costa Community College District Police Department is the primary law enforcement agency for the District Office in Martinez, Contra Costa College in San Pablo, Diablo Valley College in Pleasant Hill, Los Medanos College in Pittsburg, and the Center for Higher Education in San Ramon.

We are a district operation and provide services 24 hours a day, 365 days a year. We provide an atmosphere of safety, enabling the college community to focus on providing and attaining education of the highest quality.
The LMC Campus Police Office is located in room 132, phone ext. 3228. The police staff is available to assist in problems involving unsafe conditions, lost property, personal injury, theft, civil disturbance, etc.
Monday - Thursday
7:30am - 10:30 pm

Friday 7:30 am - 4:30 pm

Saturday 8:00 - 4:00 pm