Basketball
Men's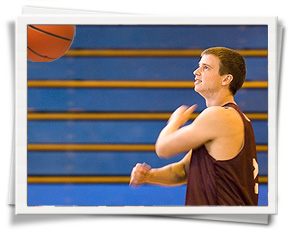 Los Medanos College men's basketball has enjoyed great success in recent years. With the improvement of the new gym floor and outstanding local players the Mustangs have competed in the post season four out of the last five years. In 2005, the Mustangs were winners of over 20 games, including a top 10 ranking in the entire state! Since the 2001 season, the men's basketball program has enjoyed tremendous success in matriculating student-athletes (24 players) to four-year institutions on athletic scholarships (100% graduation of second year players). The program is dedicated to providing each one of our student-athletes the best opportunity to develop his talents in the classroom as well as on the basketball court.
For additional information, contact coach
Domenichelli at 925 439-2181 ext. 3278
2009-2010 Men's Basketball Schedule
Women's
News Flash: Three Los Medanos College (LMC) Basketball Standouts Sign with Culver-Stockton College in Missouri
The lady Mustangs are led by Head Coach Richard Villegas, who has been a full-time physical education instructor at LMC for 11 years. In the women's Basketball program, his objective is to build a strong competitive team using athletes from the local area.
"With six returning sophomores to provide leadership and experience, and the recruiting class of eight freshmen from East Contra Costa County, we feel that this team can compete and qualify for post-season play."
To become a Mustang basketball player, or for
additional information, contact Coach Richard
Villegas at (925) 439-2181 ext. 3332
2009-2010 Women's Basketball Schedule