STEM Scholars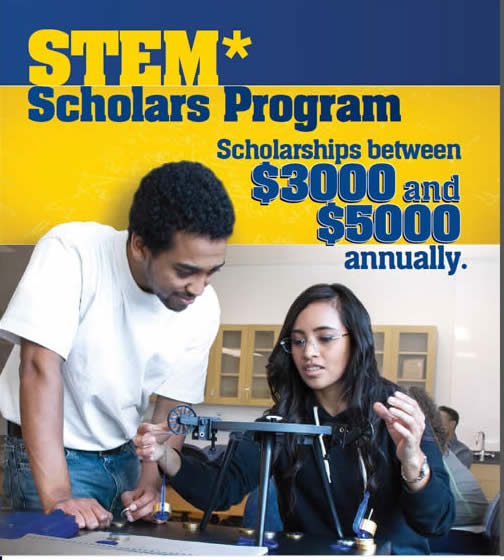 What is the LMC STEM Scholars Program?
The Science, Technology, Engineering, Mathematics (STEM) Scholars Program provides scholarships for LMC students who are majoring in one of the following STEM fields: biological sciences, computer sciences, engineering, mathematical sciences or physical sciences. Current LMC students and high school students who will enroll as STEM majors in the fall semester can apply for the STEM Scholars Program Scholarship if they meet the eligibility requirements below. The STEM Scholars Program is funded by the National Science Foundation (NSF).
Los Medanos College has extended the application deadline for the STEM Scholarship to March 31, 2017. The scholarship is up to $5000 per year (depending on financial aid need) and is available to current high school seniors who will be attending LMC in the Fall 2017 semester and majoring in one of the following STEM fields:
Biological Sciences
Computer Sciences
Engineering
Mathematical Sciences or Physical Sciences
The eligibility requirements are:
Hold U.S. citizenship or lawful national or alien status.
Have successfully completed pre-calculus by the time the scholarship dispersal
Demonstrate financial need, according to federal guidelines (Complete at 2017/18 FAFSA)
Upon selection, enroll full-time (12+ units at LMC) in a program leading to an associate or baccalaureate degree in a STEM discipline
Upon selection become an active participant in the MESA Program
Current High school students need:
A minimum overall GPA of 3.0
Please note: STEM recipients who continue to meet the eligibility criteria of the scholarship, can potentially continue to receive the scholarship throughout their time at LMC AND only students who receive the STEM Scholarship while attending LMC are eligible to apply for the STEM Transfer scholarship.
If you are selected, you must complete these requirements each semester you are at LMC to continue receiving your scholarship
Complete at least twelve (12) units each semester with a grade of C or better.
Maintain 3.0 overall GPA in STEM courses, cumulative GPA of 2.7 and no grade below 2.0.
Meet at least 6 times per semester with a STEM Mentor.
Enroll in the MESA Transfer Prep Course (Counseling 33 MESA).
Meet with STEM counselor at least once each semester to update the education plan, as necessary.
Attend field trips to at least two STEM transfer universities.
Participate in at least three program activities each semester (for example: speaker series, tutoring etc.)
Scholarship Program Coordinator
Student Service Center (SS3, Room 309)
Los Medanos College, Financial Aid Office
2700 E. Leland Rd.
Pittsburg CA 94565
Resources For Scholars
For more information please contact:
Nicole Trager
MESA Director
Science Building SC2-211