Physical Fitness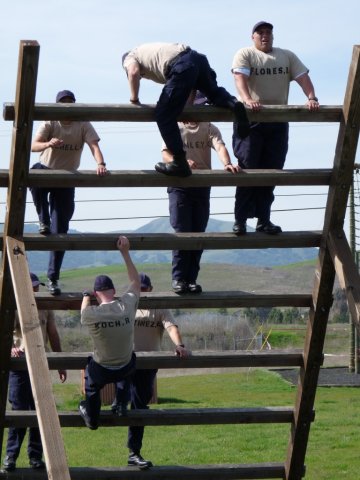 Congratulations on considering the profession of law enforcement. You have selected an exciting and rewarding field of work. One of the most important qualities of a successful law enforcement officer is maintaining good physical conditioning. Lifetime fitness will keep you physically and mentally strong throughout your career and beyond.
Physical training takes place almost every day at the Basic Academy. To successfully accomplish the physical activities portion of the Academy, you must begin training before the first day of instruction*. This will require conditioning in strength and endurance. Along with physical training, a balanced diet is essential for maintaining proper weight and energy levels.
* Always consult your physician before beginning a diet/exercise program.
Warm Up/Muscle Stretching
Prior to performing any exercise, you should always warm up. Proper stretching and warm up activities are essential for maximizing performance and preventing injuries. (A sample warm-up can be found in the "Forms" section of the LETC website on the PDF document under physical training).
Strength Program
We recommend you use a weight workout for strength training. However, if you do not have access to the necessary equipment, you should use a circuit workout. In any event, the program you chose (weights or circuit) should be accomplished every other day. You should alternate with an Endurance Program to develop cardiovascular stamina. (A sample weight workout can be found in the "Forms" section of the LETC website on the PDF document under physical training).
Endurance Program
The most difficult physical adjustments you will make at the Basic Academy will be those associated with endurance activities. Whether it is running in formation, running for test purposes or sustained resistance training, your body will be taxed almost daily. Distance for running can reach 15-20 miles each week. Students who do little or no exercise prior to the start of the training program find it difficult to keep up with the rigors of physical training along with academic studies.

Prior to beginning your training at the Basic Academy, you need to build up your endurance. Past experience has shown that those students who have participated in a good conditioning program prior to the start of the Academy had little problem keeping up with the class load. To meet the requirements, you should develop a running program similar to what is suggested below:
ENDURANCE TRAINING - DISTANCE RUNNING

Week

Distance (miles)

Men's Goal (time)

Women's Goal (time)

Repetitions (per week)

1

1.0

8:00

9:30

4

2

2.0

16:00

19:00

3

3

2.0

16:00

19:00

4

4

3.0

24:00

28:30

3

5

3.0

24:00

28:30

4

6

3.5

28:00

33:15

4

7

3.5

28:00

33:15

5

8

4.0

32:00

38:00

5
Injuries
The two most common physical problems during the Basic Academy PT program are shin splints and kneecap (patella) pain. If you have these types of problems while training for the Basic Academy, seek help from a qualified trainer or medical provider to correct problems before arriving at the Academy. Physical pain is often the result of poor training technique and or biomechanical problems that can be corrected with proper coaching and/or shoe orthotics.
Equipment
Using quality equipment in good repair is also vital to a conditioning program. Running shoes, clothing and other necessary gear should be high quality, well fitted and appropriate for a selected workout. Additional equipment (if you work out in a gym for example) should be in good repair, working properly, and appropriate to the exercise regimen.
Diet
Proper nutrition and hydration is important for any physical training program. A balanced diet is essential to achieve the desired results. Consult your physician or registered dietician to create a proper nutritional plan.
Overall Fitness
Your physical fitness level upon entry at the Basic Academy will be an important factor in determining your success. For people in good physical condition, exercise can be an excellent method of releasing stress. Likewise, if you are in poor condition, physical training could add tour stress level. Please do not take the preparation lightly. Any time spent properly exercising in preparation for your law enforcement career will pay dividends while attending the Basic Academy and throughout your law enforcement career.
Questions
If you have any questions regarding the physical training at the Basic Academy, please contact the Academy Sergeant at 925-427-8230.