July 17, 2008

Contact: Barbara Cella, Director of Marketing, Los Medanos College
(925) 439-2181, x 3242, bcella@losmedanos.edu

Three Los Medanos College (LMC) Basketball Standouts Sign with Culver-Stockton College in Missouri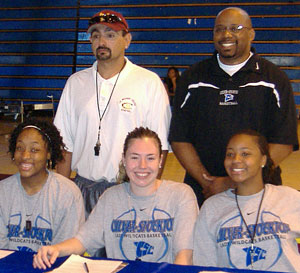 PITTSBURG, CA: Three Los Medanos College (LMC) basketball stars recently signed letters of intent to attend Culver-Stockton College in Canton, Missouri.

Shannon Reed, Jessica Trizuto, and Tia Witherspoon of Antioch have just completed their sophomore years at LMC and will begin attending Culver-Stockton College this fall.

"These three student-atheletes played a major role in making our women's basketball team a compettive program in the Bay Valley conference for the past two years", explained Head Coach Richard Villegas. "All three have been starters on the LMC women's basketball team for the past two years, this year culminating with the team placing 4th in the Bay Valley Conference."

Shannon Reed (transfer, liberal arts) graduated from Burton High School in San Francisco before joining the LMC women's basketball team last year as Point Guard. She averaged 15.4 points, 5.4 assists, and 1.4 steals. She has been ranked second in the conference in assists and eleventh in the state. She was named to the 1st team, All League Bay Valley Conference.

Jessica Trizuto (A.A., mathematics) graduated from Antioch High School. She held the position of Small Forward for her two years at LMC. Jessica averaged 14.0 points, 11.1 rebounds, and 3.2 assists per game. She is ranked 3rd in the conference in rebounds and 10th in the state.

Tia Witherspoon (transfer/English) also graduated from Antioch High School. Tia was Power Forward for the LMC women's team, averaging 10.6 points per game, 10.7 rebounds and 2.6 blocks. She is ranked 2nd in the conference in blocks.

Villegas said, "Tia, Jessica and Shannon dedicated themselves to the women's basketball program, not only on the court, but also in the classroom. They developed a work ethic that helped them each earn a scholarship to Culver-Stockton College to continue their academic and athletic careers. They also laid the foundation for the program at LMC and I appreciate their dedication and hard work."

For more information about Los Medanos College athletic programs, contact Art Alatorre at 925-439-2181 ext. 3121. For general information about Los Medanos College, visit www.losmedanos.edu or call (925) 439-2181 x3383.

Los Medanos College (LMC) is one of three colleges in the Contra Costa Community College District. LMC prepares students to excel and succeed economically, socially and intellectually in an innovative, engaging and supportive learning environment. It provides quality programs and state-of-the-art facilities to serve the needs of a rapidly growing and changing East County while enhancing the quality of life of the diverse communities it serves. LMC is located on 120 acres between Pittsburg and Antioch, with an additional education center in Brentwood.