There are three awards associated with the Honors Research Symposium, two for students and one for faculty. All proposals which are submitted are in the running for both student awards, though the same person may not win both.
The Heslet Scholar Award
This award is the top prize granted by the Bay Honors Consortium. It is named for Mary Lou Heslet, the former Honors Director of Foothill College whose leadership and motivation helped create the Honors Research Symposium. The Heslet Scholar is awarded to the student whose research was intensely impressive and whose presentation was of the highest quality. The winner receives a $200 scholarship and a certificate noting her/his achievement. S/he will also be invited to present the award winning presentation the following fall at the Mills College Honors Faculty Roundtable for honors teachers around the state.
The Proposal Selection Committee will choose a small number of finalists each year based on the submitted abstract, methodology and resources. These finalists are not told who they are so it could be any of the students presenting. A team of secret judges, chosen from colleges which do not have finalists in the competition, attend all the finalists' presentations to judge the ultimate results and presentation quality.
The Heslet Scholar award is presented at the Symposium's Closing Ceremony and the winner must be present to be granted the prize.
2015 Heslet Scholar Trevor Reynolds, Los Angeles City College
Click here to see the abstracts from the 2015 finalists.
The Katharine Award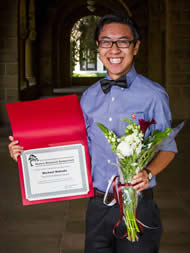 This prize is given to the student whose proposal showed noteworthy skill and flair with regards to its writing quality. It is named for Katharine Harer, the former Honors Coordinator of Skyline College, who led the Proposal Submission Committee for the first six years of the Symposium. As a poet and writing professor, Katharine's clear and refined prose graced our program and website.
The Proposal Selection Committee chooses up to three finalists for this award. Their abstracts are then sent to Katharine who chooses the winner. The award comes with a $100 scholarship.
2015 Katharine Awardee Michael Nakada, American River College
The Honors Faculty of the Year Award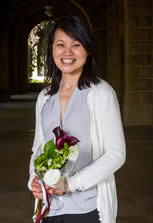 This prize is given to a faculty member from a participating Symposium college who has gone above and beyond in service to her/his Honors Program. Nominees for this award are solicited from the colleges and the winner is selected by the Symposium Organization Committee. The prize is awarded in the Symposium's Closing Ceremony and comes with a $100 honorarium. The recipient needs to be present to win.
2015 Honors Faculty of the Year Joyce Lee of Skyline College
Past Winners
2014: Tim Maxwell, College of San Mateo
2013: Sarah Harmon, Cañada College
2012: Danny Moriel Ramirez, Los Medanos College
2011: Matthew Kennedy, City College of San Francisco