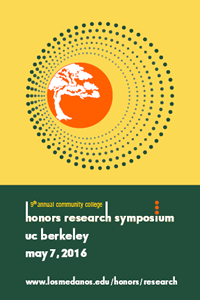 The deadline to submit a proposal was February 15, 2016. Proposals are no longer being accepted for the 2016 conference. This section gives information about what was required to submit a proposal.
The Proposal Abstract
The Methodology & Special Resources Section
Special Information for STEM Proposals
Top Reasons Proposals are NOT Selected
The Selection Process
The Proposal Abstract
The proposal abstract should do the following in 100-150 words:
Briefly describe the general content, driving question and results of your research.
Provide background information so the committee can understand your project.
Give a sense of the significance of your results. Why are they interesting? What are their implications? Why should anyone care about this?
The Methodology & Special Resources Section
For this section give 40-50 word description in the first person which does the following:
Explains exactly what you did in your project. How specifically did you go about answering your question?
Details any special resources, internships, programs or equipment you had access to in conducting your research.
Click here for sample proposals which impressed last year's proposal selection committee.
An Important Note for STEM Focused Proposals
We welcome research proposals in science, technology, engineering and math disciplines, but please note that this conference is for generalists, Therefore your proposal will be selected based on its ability to be understood and appreciated by an audience of educated lay people. Use clear, jargon-free language that makes your research question and methodologies clear, and pay special attention to making sure the relevance/import of your work is conveyed.
Top Reasons Proposals are NOT Accepted
Poor Writing. This is a highly competitive process and proposals with typos and grammar mistakes are quickly eliminated. Given the hundreds of applications we receive, each reader has only a few minutes to scan your proposal. If s/he cannot easily discern exactly what your research questions is and how you went about answering it, you will not be selected. Have fellow students read your proposal cold and tell you honestly whether they can follow it and find it compelling.
Ignoring Word Length Limits. We really do count the words in your abstract and methodology sections. If you go over the limits by more than a few words, your proposal will be eliminated.
Poor Quality Resources. This is a research conference and the quality of your resources is an indication of the likelihood of a strong presentation. Not only do we look closely at your references to see whether they're recent, relevant and of appropriate academic value, we also spot-check them ourselves to ensure they are credible.
Information Regurgitation. Any proposal that simply feels like you collected information from a variety of sources and summarized it will likely not be accepted. You need to insert your own analysis and inquiry in a way that adds something new to the conversation.
Sloppy Methodology How you went about answering your research questions is important. If you're conducting surveys, ethnographies or laboratory research, you need to be using discipline- appropriate protocols.
Outdated or Uninspired Topics Creativity and relevance are important. Academics have been discussing the ways the media perpetuates sexist stereotypes for years and a project focused on this lacks dynamism and originality. Think of ways to give your topic a contemporary twist. For example, perhaps you could ask whether social media sites tend to be more or less sexist than print media.
How the Selection Process Works
A committee of five faculty from diverse academic disciplines and colleges has been selected to choose the 2016 student presenters. Here is their general process:
A packet consisting of all the proposal content (title, abstract, methodology, resources) but without any identifying or demographic information is sent to each reader.
Every reader, reads every proposal independently and ranks it "yes", "no" or "maybe." In addition, if the proposal falls into the reader's academic discipline, s/he carefully reviews and checks the references to be sure they are of high quality.
The committee comes together in person, and in a one-day marathon session discusses every proposal. Any proposal which received unanimous yeses is automatically accepted. Similarly any proposal which received unanimous nos is rejected. This process normally takes only about 30-minutes.
The remainder of the day is spent discussing proposals which had split decisions and/or a lot of maybes. The committee aims for consensus about the 80-90 proposals which will be selected. This is a lengthy process. Last year's meeting took about 12 hours. Yes, there was a lot of coffee.
Committee members recuse themselves from the discussion as necessary should they recognize a proposal which came from one of their students.