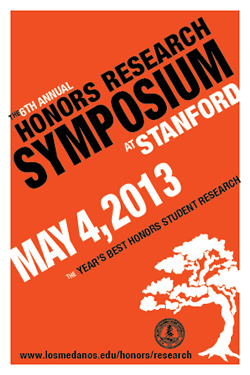 The Bay Honors Consortium and Stanford University invite community college Honors Students to present their original research at the 6th annual Honors Research Symposium on Saturday, May 4, 2013
With stimulating presentations of research in a wide range of disciplines, campus tours and Stanford University student entertainment, this promises to be a stimulating event you won't soon forget.
Registration for this event is now closed, however we are accepting walk-ins the day of the event. Talk to your Honors Director/Coordinator for more information.

.
.