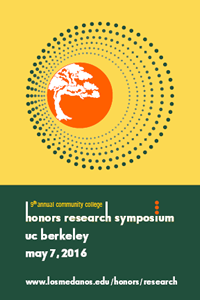 The Bay Honors Consortium and UC Berkeley invite community college Honors Students to present their original research at the 9th Annual Honors Research Symposium on Saturday, May 7, 2016.
With stimulating presentations of research in a wide range of disciplines, campus tours and dynamic entertainment, this promises to be an event you won't soon forget.
Click Here to see last year's Program
NEW The presentation proposal submission tool is now open. Click here to begin the process. Note that the deadline to submit your proposal is February 14, 2016

Questions? Contact Bay Honors Consortium President Jennifer Saito
.
.