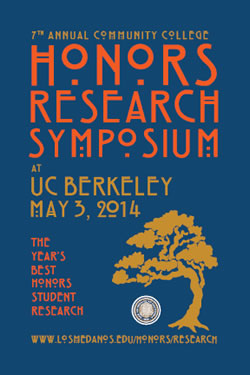 The Bay Honors Consortium and UC Berkeley invite community college Honors Students to present their original research at the 7th Annual Honors Research Symposium on Saturday, May 3, 2014.
With stimulating presentations of research in a wide range of disciplines, campus tours and dynamic entertainment, this promises to be a stimulating event you won't soon forget.
Online registration is closed for the Symposium but you may attend as a walk-in. Be sure to arrive no later than 8:30AM to give yourself time to register if this applies to you.
Click here for Parking and Direction Information
New

Download the Program Here

Questions? Contact Bay Honors Consortium President Jennifer Saito
.
.